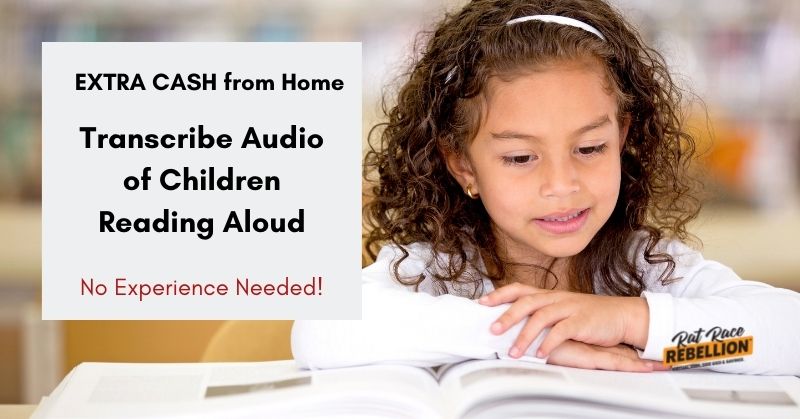 by Chris Durst      Sept. 28, 2021
At just over $10/hr. you won't get rich doing this job. But some RRRebels have reported enjoying the work and the self-guided schedule. And you'll get the transcription and work-from-home experience. So we're listing this one as an extra-cash option.
Sorry, but they're not accepting applications from CA, CT, MA, MT, NE or NJ.
Literably hires no-experience-necessary Transcriptionists (you'll actually be scoring as much as transcribing) to work from home. You'll be listening to recordings of elementary school students reading, and transcribing the students' errors. Literably provides training, and pay is "over $10 per hour," according to their job postings.
When the transcription is done, Literably generates a report on the student's reading level, with words correct per minute, percentage accuracy, and a comprehension score. Then it recommends a guided reading level for the student's teacher.
Here's what they have to say about the job:
Literably scores oral reading assessments for elementary schools.
Job Description
Listen to audio recordings of students reading and transcribe reading errors.
Make over $10 per hour
Work from anywhere
Make your own schedule
No experience necessary
Help kids
We ask applicants to do a short sample task (~30 minutes). You can complete the sample task in 3 quick steps:
Create an account at literably.com/scorer-signup
Read the instructions at literably.com/instructions
Score a total of six training recordings.
Qualifications
None. We hire based on the sample task.
You can set your own schedule, and hiring is based on how you handle the task of scoring six sample recordings. This takes less than 30 minutes, Literably says. You'll learn a bit about phonetics and phonemes to score the recordings, but it's basic and shouldn't be difficult. (Phonetics is just the study of speech sounds. For phonemes, the "l" sound in kill and the "s" sound in kiss are phonemes.)
This video will give you an idea of the job:
CLICK HERE to apply. For more jobs like these see our Newest Jobs & Gigs page. To be the first to hear about jobs we post, like our Facebook page. May you be working from home soon!
PLEASE SHARE this post – turn your friends into Rat Race Rebels!