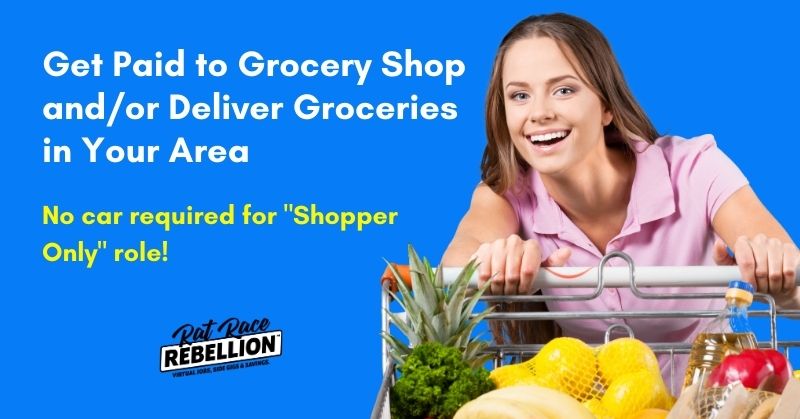 by Chris Durst    Jun. 4, 2021
Instacart is the leading online grocery delivery/shopping service in the US. Their same-day pick-up and delivery grocery service has become even more popular over the past year.
If you like grocery shopping (and helping others) and are looking for a way to make some extra cash, this might be a good option for you.
They are recruiting in many areas across the US.
NO CAR? NO WORRIES!
As an Instacart shopper, you can choose from two different shopper roles:
Full-Service Shopper: A full-service shopper is a contract role with Instacart and requires a car in order to deliver to customers' doors. As a full-service shopper, you have control over where, when, and how much you shop.
In-Store Shopper: An in-store shopper prepares orders inside one store as an Instacart employee and does not require a car. As an in-store shopper, you can schedule shifts up to 29 hours/week.
Here are some details to help you decide if Instacart is for you:
Note: I pulled these details from their ad for my area. Terms may be different in your neck of the woods.
"Why should I become an Instacart shopper?
Be your own boss. Work whenever it works for you
Earn extra money shopping for others
Qualify for Instant Cashout and get paid daily
Get to know your community by delivering to new and familiar areas
Sign up now and choose your orders, shop the ones you want, and cash out instantly, including tips. Pick the right Instacart role for your schedule and shop and deliver in your car or shop in-store only.
Instacart is committed to diversity and providing equal opportunities for independent contractors. Instacart considers qualified individuals without regard to gender, sexual orientation, race, veteran, disability status, or other categories protected by applicable law.
In order to shop and deliver with Instacart, you must:
Be at least 18 years old
Be eligible to work in the United States
Have a valid driver's license and regular access to a registered vehicle (this is not a requirement for in-store shoppers)
Have a smartphone that's compatible with the Instacart Shopper App (Android 5.0, iOS 9, or newer)
Be able to lift 30+ lbs with or without accommodation
Acquire a set of insulated bags (this is not a requirement for in-store shoppers)
Pass a background check
How are Instacart shopper earnings calculated?
Instacart shopper earnings are based on:
Size of the order
Time of day when the order is placed
Number of items in the order and size of items in the order
How difficult each item is to shop for
Estimated delivery distance
Batch incentives, quality bonuses, peak boosts, and customer tips
How do Instacart shoppers get paid?
Instacart shoppers are paid weekly via direct deposit and these payments correspond to services provided between Monday and Sunday of the previous week. If you don't have direct deposit set up, Instacart will mail you a check. Instacart also offers an Instant Cashout option for shoppers who may need the cash right away. You can access your funds via the Instacart Shopper App
Do Instacart shoppers see tips?
Yes! You keep 100% of customer tips as an Instacart shopper. Instacart does not take any portion of tip money.

How do Instacart shoppers pay for groceries?
Instacart provides shoppers with an Instacart shopper debit card to cover the cost of groceries with a pre-approved amount for each selected batch.
Does Instacart pay for gas, mileage, or car maintenance?
As a full-service Instacart shopper you are an independent contractor. Therefore, you use your own vehicle to handle deliveries and you pay for your own maintenance and fuel. However, as an independent contractor, you may be able to write off some of these expenses as business-related expenses when filing your taxes. Please consult a tax advisor if you have any questions."
CLICK HERE to learn more and to apply. For more jobs like these, check our Newest Jobs & Gigs page. To be the first to hear about jobs like these, like our Facebook page. Good luck in your work from home plans!
PLEASE SHARE this post – turn your friends into Rat Race Rebels!
[social_warfare]