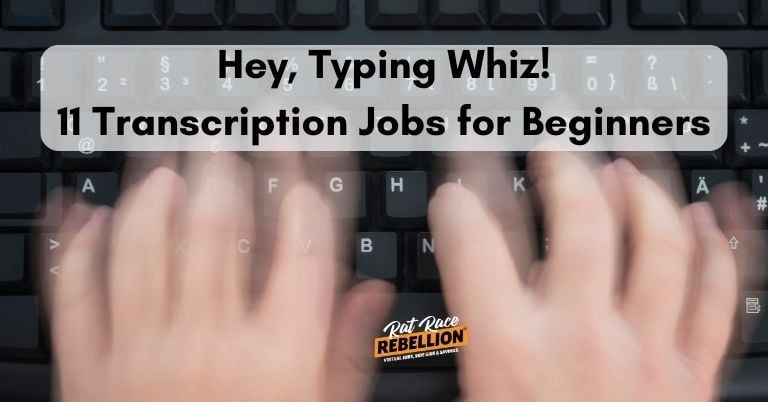 by Chris Durst    Oct. 10, 2023
For the many people who would like to work from home but who are not thrilled about a job that involves talking on the phone, these transcription jobs might be just what you've been looking for.
We've compiled a list of companies that give people with little to no transcription experience an opportunity to put their typing skills to work for pay.
Most of these companies are very flexible — allowing you to log in when you wish and complete jobs by the assigned deadlines.
It's important to remember that most pay is listed as "per audio hour" as opposed to per worked hour. Keep this in mind since it may take several hours to accurately transcribe one hour of recorded audio. The faster and more accurate your typing skills are, the more you can make. New transcribers may be a bit disappointed at first but, with practice, you can build up your speed and improve your income potential in time.
These kinds of gigs will not generally result in a regular source of full-time income, but they can be a great way to build your skills and boost your income.
Crowdsurf
In their own words: We are seeking English speaking individuals with media and audio transcription review experience in the Education, Entertainment and Business fields to review our online media and audio transcription content for high quality.
Convenient work from home at your own pace.
No commitments.
Paid by completed tasks.
You Must Be:
Detail-oriented.
Speak, read and write in English.
Accurate English spelling, punctuation and grammar.
Detailed at proofreading and editing.
Requirements:
Must have a PC or Mac.
Internet Connection.
Basic typing skills needed.
Detail Oriented.
Great listening skills.
*Familiarization with software tutorials a plus.
*Pass the transcription assessment
*Have a valid US or Canada ID
Reliable Pay:
Pay depends on level of proficiency and amount of work completed.
Work ranges from 5 seconds to 30 seconds for each audio clip.
Payment ranges from $0.03-$0.20 per media minute plus additional bonus rates.
---
Quicktate
In their own words: Quicktate transcribes voicemail messages, memos, letters, legal files, medical files, recordings of phone calls, conference calls and other audio files. Submit audio files using the Quicktate iOS app, voice recorder, email, or API, and then receive the completed transcription back online, by email, in Evernote, or via API.
What we require of our contractors
Accurate spelling and punctuation.
Individuals that know how to follow instructions.
Typists that can listen to voice files and accurately type what they hear.
Experienced and professional transcriptionists.
Typists with their own equipment, supplies, facilities (office/ work space).
Honesty, integrity and reliability.
No convictions of a felony or misdemeanor on your record. (Do not proceed if you have ever been convicted)
Take a typing quiz for each language or specialty you are interested in (examples: English, Spanish, French, Medical, etc.). You may also be given an opportunity to be tested to analyze audio files.
Take a test to ensure you understand Quicktate's requirements.
Depending on how you scored on your Quicktate typing test, you may qualify to be tested to also offer your services to iDictate.
As an Independent Contractor, you can select your own hours that you want to work. You can work as few, or as many hours as you want. We are open for business 24 hours/ day; 7 days/ week.
---
---
In their own words: To be a good transcriptionist, you need to meet the following qualifications:
Excellent written communication skills
Excellent command of English grammar and punctuation
Proficiency with internet research and reference resources
Ability to manage projects and work independently
Must be at least 18 years old
---
Babble Type
In their own words: Babbletype ONLY accepts applicants who are current or past long-term residents of the United States, Canada, the United Kingdom, Ireland, Australia or New Zealand.
Babbletype does not currently accept independent contractors from the State of California.
The transcripts we produce are mission-critical parts of market research projects, and completeness, accuracy and reliability are absolute requirements.
Our work requires a very high degree of skill in language, listening ability, and ability to deal with more sophisticated transcript formats. Because of this, we prefer to work regularly with a limited and select team who meet the requirements we need.
---
In their own words:
You must be at least 18 years of age.
You must live in one of our supported countries or states (see below for details).
You must be able to receive the type of payments we issue (see below for details).
It must be legal for you to work for us as an Independent Contractor under any applicable employment, tax, or other laws.
Freelancers: Transcribe, edit, and complete other short jobs online, at your own pace. Work as much or as little as you want, when you want. No fees – we pay you, you don't pay us.
---
---
In their own words:
Do transcription jobs from home

All you need is computer and an internet connection

Get paid reliably

Receive weekly payouts via PayPal for all work completed.

Work flexible hours

Work as much or as little as you want, whenever you want.

Receive great support

Our fantastic support team resolves issues promptly.

Choose your own projects

Freely choose which jobs to work on.

Grow your skills

Receive regular feedback and learn from the rest of the team.

Enjoy work variety

Transcribe a police investigation one day and book research the next.

Stay busy

We have a steady stream of projects waiting for you.

Transcription jobs online

We get new transcribing jobs every day. You'll always have something to work on.
---
Transcribe ME
In their own words: Our freelance jobs allow you to earn money from anywhere you'd like, while paying you competitively and providing career growth opportunities.
Freedom and Flexibility
Work from the comfort of your own home, on the road, or anywhere really – whenever you want and how much you want.
Transcribe short 2-4 minute clips (not long interviews). When one clip is complete our system sends another to transcribe – there is no limit to how many can be processed consecutively.
We believe in promotion from within. Our transcriptionists enjoy their work and have career advancement opportunities.
Gain insight into various industries and boost your resume for any job market. Develop your skills, and grow into higher-paying projects and positions.
---
---
Scribie
In their own words: Work at your convenience and earn $5 to $20 per audio hour. We provide automated transcripts to save you around 60% of the typing effort.
Listen – Required skills are listening ability and good comprehension of English
Correct – Apply context, identify mistakes and correct the automated transcript
Get Paid – Earn $5 to $20 per audio hour, paid into your verified PayPal account
Good English comprehension
Ability to interpret conversations
Ability to apply context and identify mistakes
A Verified PayPal account
Laptop/desktop computer and internet connection
Headphone/headset
---
Ubiqus
In their own words: Our transcriptionists come from all walks of life. Some transcriptionists are generalists, while others have prior experience in specialized fields, such as law or medicine.
Regardless of background or level of experience, transcriptionists are more successful when they are able to:
Listen carefully
Type accurately (even if it means typing a bit more slowly)
Pay careful attention to detail
Do research when something is unclear
Adhere to project guidelines
---
Rev
In their own words: Our freelance transcriptionists are skilled typists who convert audio files to text. Transcription jobs could range from creating a transcription of recorded interviews and focus groups to lectures and podcasts. Work as much as you want, from wherever you want.
Sign up and get approved to transcribe
Take a quiz and submit a transcript to demonstrate your mastery of the English language and Rev's styling rules. If you're approved, you can start working right away.
Choose from available transcription jobs
You'll find hundreds of transcription jobs to choose from. Select jobs you're interested in and work as little or as much as you prefer.
Get paid weekly via PayPal
As a transcriptionist, you'll get paid every Monday for all audio files transcribed and completed the prior week.
---
Transcription Hub
In their own words: Transcription HUB invites transcribers and editors to join their remote freelance transcription team.
You are just 4 steps away from finding your flexible and convenient work!
Get Evaluated– We evaluate all our transcribers for on-time and quality work before they can get on-boarded to our Live Transcription Marketplace.
Live Transcriber– Based on your evaluation, transcribers are rated (Gold, Silver or Bronze) along with access to our Live Transcription Marketplace.
Flexible Work – Transcribers can now enjoy the freedom of working from anywhere and anytime.
Get Paid!– Based on the amount of work you complete, you will get paid by Transcription HUB.
---
For more jobs like this, check our Newest Jobs & Gigs page. To be the first to hear about jobs like these, like our Facebook page. Good luck as you make your work from home plans a reality!