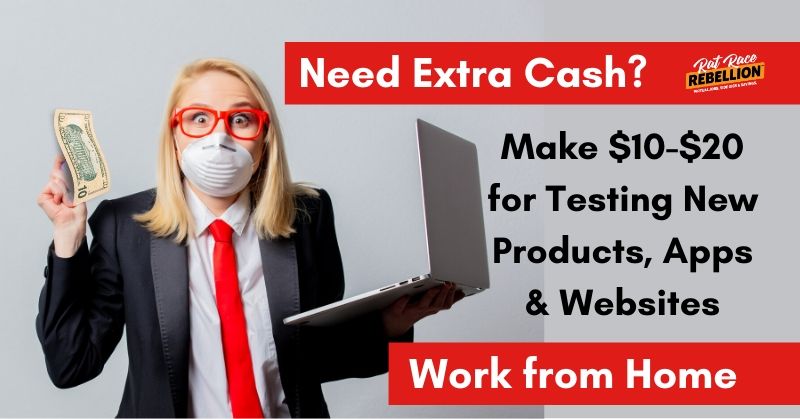 by Chris Durst          Updated June 22, 2020
BetaTesting.com, formerly Erlibird, is looking for people — beta testers — to test new products, apps, and websites.
This is an "extra cash" opportunity and you will have to wait to be invited to participate in a focus group/test group. When you do get an invitation WOW THEM with your feedback and you'll be more likely to get invited to participate in future test groups.
In other words, make yourself a valuable asset! Pay is about $10+ per product tested, so you'll want to get as many tests as you can to build your income.
NO EXPERIENCE NECESSARY.
Here's what they say about this extra cash opportunity"
"Join 200,000+ early adopters across all demographic and interest groups.
1. Test new apps, websites & hardware
2. Complete tasks, give feedback & bug reports
3. Earn $10-$20 for most tests (or more).
Who is eligible to participate?
You must be at least 18 years old.
Must be able to speak and write fluently in English.
Must own a PC or Mac or any devices required for a specific test.

How much money can you make?
BetaTesting is a fun way to make a few dollars on the side and help impact product development for exciting new products, but it isn't meant to replace a job. The number of tests you receive depends on how many clients match your interests and demographics, and your quality feedback history. You may receive anywhere form 0-5 opportunities each month.
How are payments made?
Payments are made via PayPal 7 days after the end of a project. This allows the product owners each time to review, rate, and approve your feedback.
CLICK HERE to learn more and to apply. For more jobs like these, see our Newest Jobs & Gigs page. To be the first to hear about jobs like these, like our Facebook page. Good luck in your next work from home steps!
PLEASE SHARE this post – turn your friends into Rat Race Rebels!