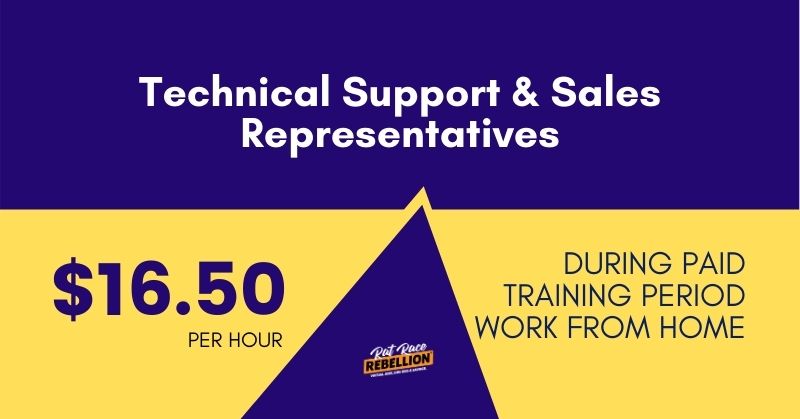 by Chris Durst      Mar. 9, 2021
Asurion provides insurance for smartphones, tablets, consumer electronics, appliances, satellite receivers and jewelry. I'm familiar with them because I have had to make two claims in the past for lost or broken Verizon phones.
The company has posted openings for work from home Technical Support & Sales Representatives.
No geographical limitations are posted to the job listing, and pay is noted at $16.50/hour during training. After that, there is a PAY PER EXPERIENCE compensation model (see below for more).
Here's what the company has posted about this role:
"As a Work at Home Technical Support and Sales Representative, you will provide exceptional customer and technical support on the phone or via messages through our website, chat, and/or e-mail, in a prompt, courteous, and efficient manner. After assessing the customers concerns, you will then identify and arrange solutions.
You will explain device capabilities and other product offerings. You will engage with the customer to understand their technology and sell protection/tech support solutions.
You will be responsible for selling our In-Home warranty service and other product offerings to customers on every call. You will engage with the customer to understand their technology and sell protection/tech support solutions. You will Serve, Solve and Sell!
Technical Support and Sales Representatives have a passion for selling services & solving problems!
Asurion offers an exciting new compensation plan called Pay Per Experience. Under this plan our team members are paid for every interaction they have with a customer versus a traditional hourly pay model.
On average team members on the Pay Per Experience compensation plan make 15% more than their hourly pay peers with the potential for much more.
Up until now this compensation plan was only available to tenured employees, for the first time ever we are offering this compensation plan to new hires in upcoming Work at Home classes.
During training (first 45 days) compensation will be hourly at $16.50 per hour, this is also the pay rate for 'nonproductive' times like coaching sessions and follow up training.
ESSENTIAL FUNCTIONS
Troubleshoot technical issues for our customers personal devices; evaluate concerns and issues, identify and deploy solutions, and help customers with troubleshooting steps.
Learn details of protect home and other product offerings to confidently and accurately sell to customers.
Communicate company policies and procedures to customers.
Meet metrics for call measurements and sales goals; receive feedback/coaching/training from the management team including Trainers, Quality Analysts, etc.
Utilize call center technology to input, track, and report customer issues.
Navigate company software programs, use web-based search engines, and troubleshoot customer issues.
Escalate calls outside the scope to appropriate tier of customer service support.
Understand the latest bugs and solutions in newly released hardware and/or operating systems to provide exceptional, knowledgeable service.
Follows directives from Call Center Management (Coaches, Managers, etc.).
Ability to be highly motivated and self-sufficient.
Drive to improve performance and exceed goals to maximize earning potential.
OTHER FUNCTIONS
Maintains excellent relations with all internal and external customers of Asurion.
Interacts and assists with others on the team and various support functions, including Quality, Tech Leads, Training, etc.
The ability to quickly adapt in an ever-changing fast-pace environment
Other duties as assigned.
MINIMUM REQUIREMENTS
Skills/knowledge:
Have a working knowledge (or the ability to learn) multiple hardware platforms and operating systems, including: Windows, Android, Blackberry OS, Apple iOS, wireless technology, wireless equipment, and applications.
Be able to handle multiple priorities, work in a fast environment, and manage time effectively. Be a strong communicator, with an emphasis on effective listening and empathizing with customers.
Must be able to understand, identify, and upsell new products and solutions based on customer needs.
Must be able to pass a hiring assessment, covering soft skill scenario modeling, business decisions, and product knowledge.
Must be self-disciplined and work without close supervision.
6 months of previous sales experience required.
6 months of previous call center experience required.
Experience/education: High school diploma or equivalent. Preferred 1-year experience in a customer service position (preferred call center experience). Bilingual skills a plus.
Physical demands: The physical demands described here are representative of those that must be met by an employee to successfully perform the essential functions of this job. While performing the duties of this job, the employee may spend 4-8 per day sitting and working at a computer. The ability to adjust focus, use hands to grasp, finger, handle, reach or feel and sit for prolonged periods are needed for this position. Typing or otherwise working, primarily with fingers rather than with the whole hand as in handling. Ability to receive detailed information through oral communication utilizing a headset. The employee is regularly required to talk 90+% of the time via a headset.

Work environment:
Work at Home locations – Required that employees work in a distraction-free workplace and is ergonomically set to meet the company's standards
Additional requirements:
Training – Routine training classes are required and/or offered during the employee lifecycle. Training may consist of classroom and/or Computer based training (CBT)
Schedules – Flexible to work all shifts as required (evenings, weekends, and holidays)
Pay – Hourly pay for first 45 days and then employees will be on our pay per experience compensation plan. Pay per experience employees, on average, make 15% more than hourly pay.
Attendance – Regular and reliable attendance is required"

CLICK HERE for full details and to apply. For more jobs like this, check our Newest Jobs & Gigs page. To be the first to hear about jobs like these, like our Facebook page. Good luck as you make your work from home plans a reality!
PLEASE SHARE this post – turn your friends into Rat Race Rebels!