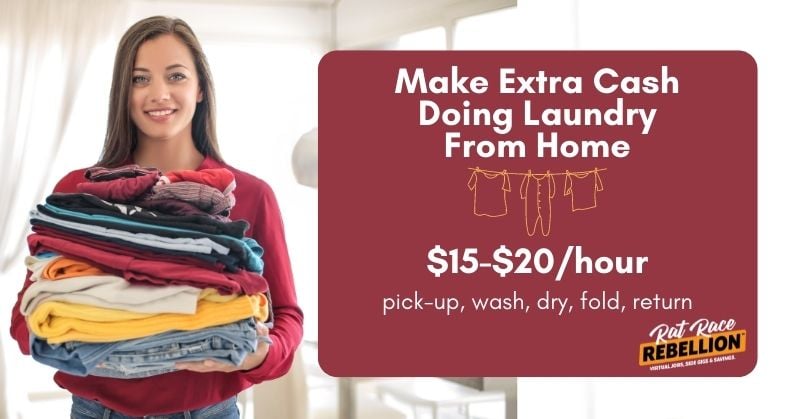 by Chris Durst     Nov. 9, 2022
Believe it or not, LOTS of people don't like doing laundry. Others might not mind doing laundry, but don't have the time, appliances, etc.
Either way, if you like (or don't strongly dislike) doing laundry and are great at it, this could be your way to make some extra cash.
SudShare is an app that matches "Sudsters" with people who need to have their laundry done.
This involves picking up customer's laundry, wash-dry-fold, and returning it the next day.
Most Sudsters earn $15-$20/hour, and the reviews from current Sudsters are pretty positive!
Here's a bit about it from the company's site:
"The New Economy
We tap and swipe to get things done. There's an app for everything, so we don't have to do anything. We outsource chores so we can enjoy life.
Laundry Left Behind
But then there's that pile of dirty laundry. It's relentless. Hours each week. There doesn't seem to be a way out. There's been no time-saving innovations since the washer/dryer in the 1950s.
Life without Laundry
SudShare is like UBER-for-laundry, transforming the chore with a nationwide app-based laundry service. Just tap and it's done (wash, dry, fold, pickup & delivery).
Quality of Life for All
Some people need more time. But others need work. SudShare is a work-from-home gig with a flexible work schedule, perfect for stay-at-home moms.
How it works:
1. Sign-Up – Simply create an account and watch some best-practices videos (Takes less than 10 minutes).
2. Accept Jobs – We send you jobs in your area. Accept the jobs you want. Reject the ones you don't.
3. Wash-Dry-Fold – Pick up your customers laundry, wash-dry-fold, and return it the next day.
4. Instant Payout – Instant payout for Diamond Sudsters. Standard 2-day payout for others.
"What are my hours and work area?
That's up to you. You're the boss. You set your hours and your work area. Work when you want; take off when you feel like it.
How quickly does the laundry have to be done?
Your customer selects a delivery deadline; usually next day.
What do I need to start?
U.S. Social Security Number (for background check)
Access to a washer & dryer
Access to a drying rack, clothesline, or something to air-dry clothes
Laundry Detergent
A car or some way to pick-up and deliver
A Basic Bathroom Scale
Plastic Bags
How much money can I make?
Most Sudsters earn $15-$20/hour. It depends on how efficient you work. It's impossible to predict exactly how much you'll earn monthly, however, successful hard working washers in high-demand areas can earn up to $5000/month.
To be clear, you're not paid by the hour. You earn $.75/LB. of laundry plus tips, but that translates into about $15-$20/hour."
CLICK HERE for full details and to sign-up. For more jobs like these, be sure to see our Newest Jobs & Gigs page. To be the first to hear about jobs like these, like our Facebook page. Good luck!
PLEASE SHARE this post – turn your friends into Rat Race Rebels!
[social_warfare]