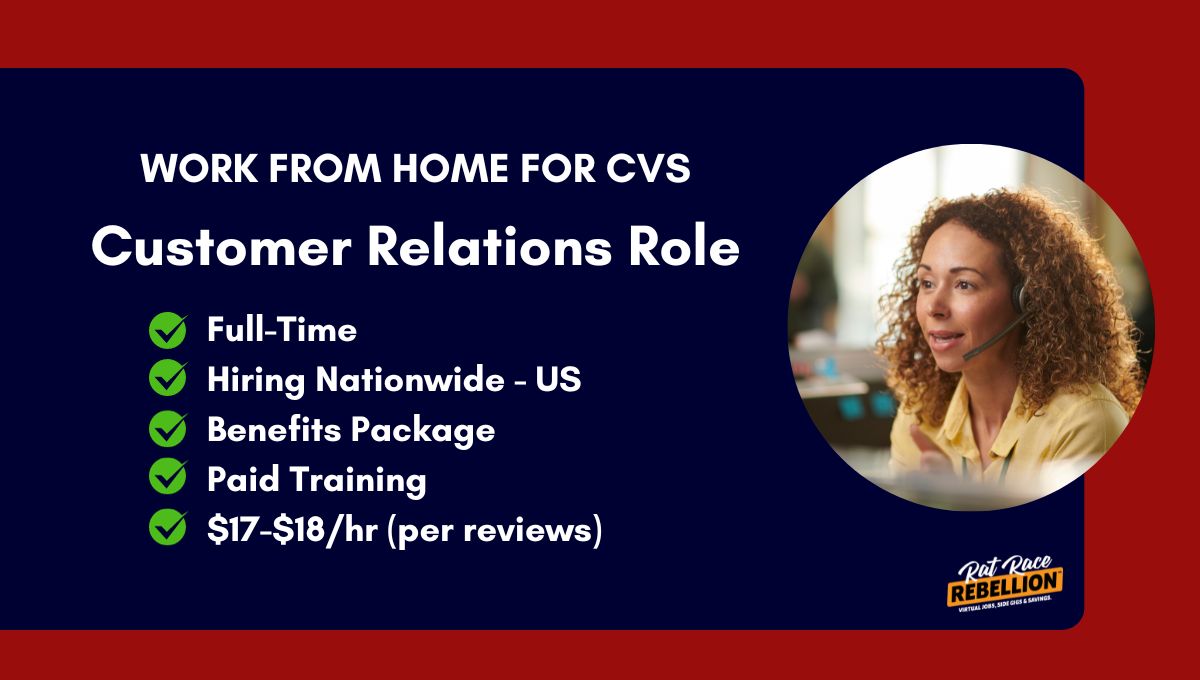 by Chris Durst       Nov. 2, 2023
As we write, this job listing is online and applications appear to be open. But jobs can fill at any time, so apply or share quickly if you're interested! Sorry, but we have no role in the HR processes of other companies. If you encounter difficulties in the application process please contact them directly. Good luck in your hunt, and may you be working from home soon!
CVS has posted openings for work from home Customer Relations Team members to their careers page. Recruiting is nationwide.
In this role, you'd be supporting CVS retail pharmacy stores by responding to customer calls made to the company's 1-800-SHOP-CVS line.
The pay rate isn't noted in the job description, but Glassdoor places it at around $17 – $18 per hour. The company does say, "The actual base salary offer will depend on a variety of factors including experience, education, geography and other relevant factors."
This full-time role comes with benefits that include, medical and prescription, dental, vision, and more.
Here's what the company has posted about this opportunity:
Bring your heart to CVS Health. Every one of us at CVS Health shares a single, clear purpose: Bringing our heart to every moment of your health. This purpose guides our commitment to deliver enhanced human-centric health care for a rapidly changing world. Anchored in our brand — with heart at its center — our purpose sends a personal message that how we deliver our services is just as important as what we deliver.
Our Heart At Work Behaviors™ support this purpose. We want everyone who works at CVS Health to feel empowered by the role they play in transforming our culture and accelerating our ability to innovate and deliver solutions to make health care more personal, convenient and affordable.
Position Summary :
*Opportunities available for candidates nationwide.
*Candidates local to our Orlando office can work full-time from home or work full-time on-site.
Exciting customer relations position available supporting CVS retail pharmacy stores. Responsibilities include responding to customer calls made to our 1-800-SHOP-CVS line in a manner that is reflective of the company's purpose and values. Must have superb customer service skills to assist pharmacy customers in an inbound customer contact center setting.
In this role, you will serve as a customer advocate when researching, responding, or interpreting company procedures or policies with the ultimate goal of delighting our valuable pharmacy customers. Excellent communication skills are needed as you review and process incoming phone calls, emails, and letters and as you respond to customers either on the phone or via written communications. Collaboration skills are needed as you partner with field management, category managers, and other departments to resolve customer concerns in a timely and proficient manner. This position will provide customer service upholding our goals of delivery through the execution of responsiveness, reliability, and professionalism.

Available Work Shifts
Monday-Friday, 10:30am to 7:00pm (EDT)
Sunday-Thursday, 10:00am to 6:30pm (EDT)
Tuesday-Saturday, 10:00am to 6:30pm (EDT)
Required Qualifications :
Must have a minimum of 1 consecutive year experience in customer service.
Excellent communication, organization and follow up skills.
Ability to articulate program details to customers over the telephone and in writing.
Strong PC skills along with the ability to toggle from different applications.
Microsoft (MS) Windows-based applications and MS Office proficiency.
Flexibility in work schedule and ability to complete paid company training program.
Preferred Qualifications :
Bilingual in Spanish
Prior inbound Call Center experience
Previous experience working from home a plus
Prior retail experience or Pharmacy experience
Pay Range
The typical pay range for this role is: [left blank in the job description]
This pay range represents the base hourly rate or base annual full-time salary for all positions in the job grade within which this position falls. The actual base salary offer will depend on a variety of factors including experience, education, geography and other relevant factors.
In addition to your compensation, enjoy the rewards of an organization that puts our heart into caring for our colleagues and our communities. The Company offers a full range of medical, dental, and vision benefits. Eligible employees may enroll in the Company's 401(k) retirement savings plan, and an Employee Stock Purchase Plan is also available for eligible employees. The Company provides a fully-paid term life insurance plan to eligible employees, and short-term and long term disability benefits. CVS Health also offers numerous well-being programs, education assistance, free development courses, a CVS store discount, and discount programs with participating partners. As for time off, Company employees enjoy Paid Time Off ("PTO") or vacation pay, as well as paid holidays throughout the calendar year. Number of paid holidays, sick time and other time off are provided consistent with relevant state law and Company policies.
CLICK HERE for full details and to apply. For more jobs like this, check our Newest Jobs & Gigs page. To be the first to hear about jobs like these, like our Facebook page. Good luck as you make your work from home plans a reality!
PLEASE SHARE this post – turn your friends into Rat Race Rebels!