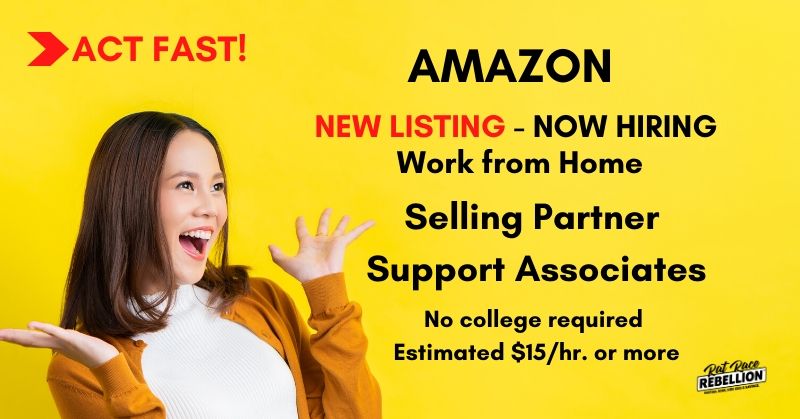 By Mike Haaren – Co-Founder, Rat Race Rebellion – June 30, 2020
Apply or share quickly if interested. These may fill fast.
Amazon has just posted openings for work from home Selling Partner Support Associates. No  college required, six month contract. Should pay at least $15/hr., maybe more. We'll update if we get more detail. You'd be supporting the merchants who sell on Amazon.
"Military spouses encouraged to apply," the company adds.
For these jobs, they're hiring from AZ, FL, GA, MI, MN, NC, ND, OH, PA, TX, VA and WA.
Here's what Amazon has to say about these full-time openings:
The Selling Partner Support Associate acts as the primary interface between Amazon and our business partners. The Selling Partner Support Associate will be responsible for providing timely and accurate operational support to Merchants selling on the Amazon platform. The successful candidate has an immediate, distinct effect on the experience of customers of Amazon, making a strong record of customer focus a high standard for the role. A Selling Partner Support Associate is expected to address chronic system issues, provide process improvements, develop internal documentation, and contribute to a team environment, all while adhering to service level agreements for phone and/or email cases.
This role is a 6 month contract position with Amazon, working from home.
Summary of Responsibilities
— Demonstrates effective, clear and professional written and oral communication.
— Provides prompt and efficient service to Amazon Sellers and Merchants including the appropriate escalation of Sellers' issues.
— Maintains a positive and professional demeanor always portraying the company in a positive light and effectively managing sensitive issues.
— Demonstrates excellent time-management skills and the ability to work independently while using departmental resources, policies and procedures.
— Contributes to a positive team environment and proactively aids team members with difficult contacts as needed.
— Maintains acceptable performance metrics such as quality, productivity, first contact resolution, and attendance.
— Actively seeks solutions through logical reasoning and data interpretation skills and identifies trends to appropriate channel including improvement suggestions.
— Liaise with other departments such as Customer Service, Merchant Investigations, or Payments teams as required to resolve Seller's issues and questions.

BASIC QUALIFICATIONS
— Language: Fluent English
— 6 + months experience within a customer service /contact center environment would be an advantage.
— Demonstrated desire to expand skills into new areas.
— Technical (Computers & Internet) savvy is required. Desired skill-sets include MS Office Application Excel and Internet Explorer / Mozilla Firefox.
— Business acumen in areas of e-commerce and retail is advantageous.
— Process improvement awareness and experience.
— Enthusiasm and strong self-motivation.
— Strong prioritization and time management skills, with a high degree of flexibility.
— Ability to embrace constant change with flexibility and good grace.
— Demonstrate appropriate sense of urgency and adaptability in response to changing business needs
— Demonstrates effective communication, composure, and professional attitude
— Must have (or be able to obtain) high speed internet with up to 5Mb download and 1Mb upload (must be installed before you can start)
— Must have a separate means of communication in case of emergency and/or system issues
(Example: personal cell phone or landline)
— Must be willing to adhere and uphold Amazon's policy on confidentiality