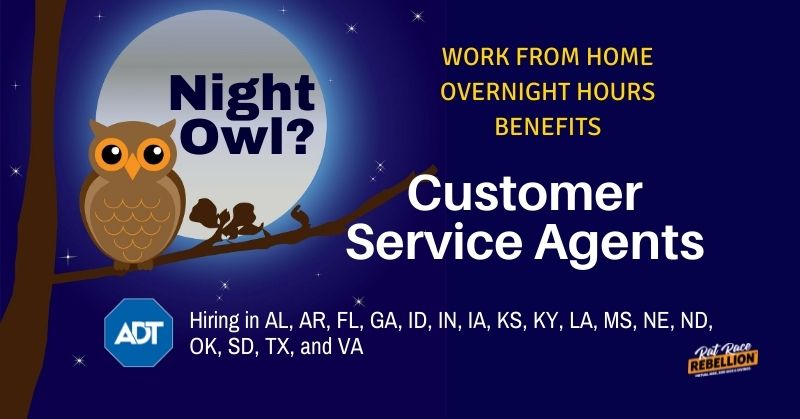 by Chris Durst        Feb. 15, 2022
ADT has been in the business of saving lives for more than 145 years. The company is, " the leading provider of electronic security, interactive home and business automation and monitoring services for residences and small businesses in the United States."
If you prefer overnight hours, ADT has posted openings for Work from Home Overnight Customer Service Agents in AL, AR, FL, GA, ID, IN, IA, KS, KY, LA, MS, NE, ND, OK, SD, TX, and VA.
In this role, you will, "Provide outstanding customer service and technical assistance to our customers through live troubleshooting and problem isolation."
The pay rate is not listed, however, they mention a "competitive base pay" and "monthly performance incentive that corresponds with career path movement."
ADT also offers a comprehensive benefits package.
Here's what the company has posted about this opportunity:
"ADT has been in the business of helping save lives since 1874. As the #1 smart home security provider in the U.S., we help protect and connect families, businesses, and larger commercial customers every day. Our continuous innovation, advanced technology and strategic partnerships deliver products and services that help protect life and valuables, whether at home, your business or on the go. And as times change, so do we. Above all, our mission is clear: we help save lives for a living. Looking for a career where you can make a real impact? Join our team today and put purpose behind your paycheck. #WeAreADT
The right candidate for the job:
You are a people person with a great attitude and a calming demeanor. You are someone who can help our customers during stressful situations during critical overnight hours. As a part of our Overnight Call Center team, you're the first line of defense in safeguarding the lives and property of our customers. You will handle alarm signals, customer inquiries, and provide technical support to both internal and external customers. Our teams are trained to provide efficient solutions, with the goal to have first call resolution for every customer. Ready to become an Everyday Hero and make a difference by helping others protect what matters most to them?
Duties and Responsibilities:
In our overnight call center environment, you will:
Provide outstanding customer service and technical assistance to our customers through live troubleshooting and problem isolation.
Proactively take ownership of open issues and interface successfully with other departments and multiple levels of management.
Ensure customer satisfaction by resolving issues on the first call whenever possible.
Determine further action or completion on customer cases received.
Follow-up with the customer until the issue is resolved.
Multi-task while keeping the customer engaged
Make decisions independently
Diffuse escalated conversations
Read and comprehend documents
Update account information including billing
Basic understanding of home security, home automation, as well as how the internet, computers, and phones work
Identify, analyze, troubleshoot, and solve software and hardware issues for connectivity, communication, and reliability of a home security system.
Constantly learn, expand, and share your knowledge.
** Note: As part of this specialized overnight team, at times you will also handle calls from VIP customers as well as our custom homes division; this can include celebrities and corporate board members.
Required Skills and Experience:
Customer service oriented with excellent communication and troubleshooting skills.
A calming voice.
Be a team player.
Creative troubleshooter, driven to solve an issue.
Knowledge of Mac/PC, Android and iOS operating systems desired.
Knowledge of home networks including wireless configuration.
Regular, consistent, and punctual attendance.
Strong understanding of internet, networking, home automation, and computers a plus, but not required.
Prior Customer Service &/ or Call Center experience a plus, but not required.
Employee Compensation and Benefits:
Competitive base pay
Monthly performance incentive that corresponds with career path movement
Medical, Vision, Dental
401K, Health Savings Account, Flex Spending Account
Paid Time Off
This position is more than a job, it's the start of a career and an opportunity to work in a fun and exciting environment, make new friends and have a rewarding future!
NOTE: Qualified candidates will be required to pass a criminal background check and drug screening. Training hours may be different from your scheduled shift."
CLICK HERE for full details and to apply. For more jobs like these, check our Newest Jobs & Gigs page. To be the first to hear about jobs like these, like our Facebook page.
PLEASE SHARE this post – turn your friends into Rat Race Rebels!
[social_warfare]