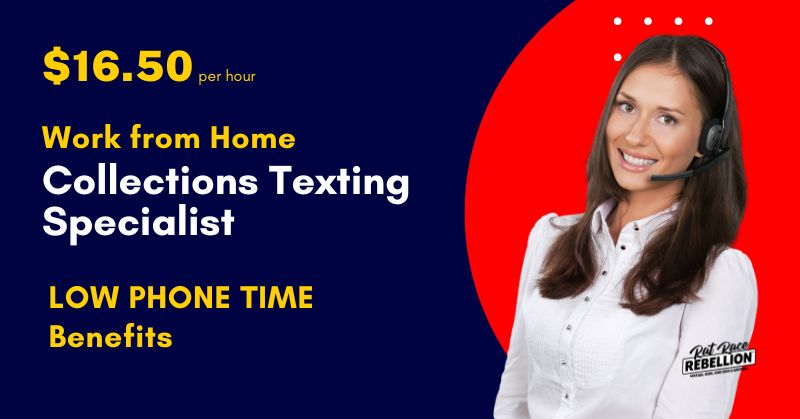 by Chris Durst       Aug. 22, 2023
As we write, this job listing is online and applications appear to be open. But jobs can fill at any time, so apply or share quickly if you're interested! Sorry, but we have no role in the HR processes of other companies. If you encounter difficulties in the application process please contact them directly. Good luck in your hunt, and may you be working from home soon!
Intoxalock, the company that developed the technology used in breathalyzers in vehicles, has posted a work from home Collections Texting Specialist job to their careers page.
In this role, you will be communicating, via the company's texting platform, with customers. In most cases, the communications will be text-based, but may sometimes transition to a live call.
Pay for this position is posted at $16.50 per hour.
Benefits include Paid Time Off, 401(k) & Health/Life/Vision/Dental insurance.
No state hiring exclusions are noted in the job posting.
Here's what the company has posted about this opportunity:
Consumer Safety Technology (CST) and our family of brands have helped millions of individuals to live and drive responsibly. We provide products and services to consumers and program monitoring authorities to effectively deter impaired driving and support individuals as they navigate the license restoration process. We are the largest provider of Ignition Interlock Devices (IIDs) in the United States and the only company working to assist individuals in successfully navigating the often daunting DUI process.
We hire people who we expect will produce exceptional results, deliver amazing service to our clients including customers, attorneys, state associations and more, and inspire positive change within the company.
Job Summary:
The Texting Specialist is responsible for communicating with current customers, with the objective of getting them on the phone with a member of our Collections Department.
Duties and Responsibilities:
Communicate, through Intoxalock's texting platform, with current customers.
Communicate important Intoxalock information, as needed to transition customers from texting conversation to live call.
Texting specialist will provide customer service to our current customers to resolve issues with customer accounts.
Provide feedback to supervisor on customer issues and other aspects of texting platform to drive continuous improvement.
Texting Specialist will be responsible for additional tasks to further company goals.
Texting Specialist will be responsible for the inbound phone line attached to the texting line.
Provide support to handling of both inbound and outbound calls as necessary due to the texting inbound line.
All other duties as assigned that may include some outbound calling.
Job Requirements:
High School Diploma or GED; Bachelor's degree preferred.
Strong written communication skills, computer skills, typing skills, including Microsoft Office programs and adaptability.
Demonstrated ability to communicate professionally and persuasively through written text.
Ability to type 40+ WPM
Schedule is 8:30 am – 5:00 pm.
Why work for us? Check out this list of just a few of the many good reasons why…
Position pays $16.50/hr.
Our Mission is to help people live and drive responsibly. Last year our product stopped 243,000 illicit startup attempts by people who were too intoxicated to drive.
CST Holdings won the 2023 Top Workplace Award locally and nationally–and 2023 Best Place for Working Parents Award
We are the nation's largest interlock provider
Growth Oriented- 7 years of over 10%+ growth annually. Doubled in size over the past 2-3 years
Full-time/40 hours guaranteed weekly
Benefits include Paid Time Off, 401(k) & Health/Life/Vision/Dental insurance
Ongoing Professional Training online via Litmos
CLICK HERE for full details and to apply. For more jobs like this, check our Newest Jobs & Gigs page. To be the first to hear about jobs like these, like our Facebook page. Good luck as you make your work from home plans a reality!
PLEASE SHARE this post – turn your friends into Rat Race Rebels!