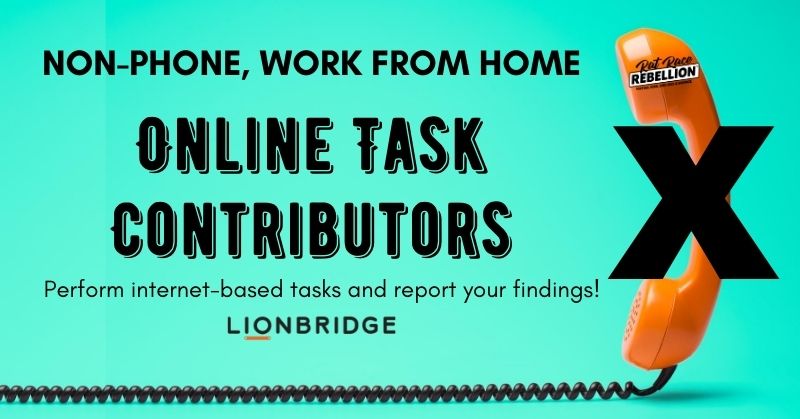 by Chris Durst       Aug. 25, 2020
Rat Race Rebellion® regularly shares a variety of Lionbridge's work from home opportunities with our followers and many of our RRRebels are working with them now.
If you are looking for a work from home position that does not require you to be on the phones, the company just posted new openings for Freelance Online Task Contributors that might be a good fit!
In this NON-PHONE ROLE, you'll use your laptop or desktop PC to evaluate websites and products and provide feedback on the content you find. Some tasks will be also require that you use your Android or iPhone mobile device.
Here's what Lionbridge has posted about this opportunity:
"Are you looking for an opportunity to join one of America's top 100 most trusted Companies while also supplementing your income from the comfort of your home? Then why not join Lionbridge as a part-time Independent Contractor. We are currently recruiting for the role of English Online Task Contributor in the United States.
What does the job involve?
As an Online Task Contributor your ultimate goal will be to contribute towards evaluating websites and products over time and making internet search more exciting, relevant and interesting for all end users in the United States. In this job you will be accessing tasks from your laptop or desktop PC at home, you will be evaluating online search results in order to improve their content and quality. You will be required to provide feedback on content found in new products and search engine results. You will play a part in improving the quality of one of the largest search engines in the world using both your laptop/desktop PC and Android or iPhone mobile device.
Who is suitable for this job?
We are currently seeking highly tech savvy, dynamic and creative Internet users who have a familiarity with a wide variety of Apps and have a strong interest in all forms of social media, specifically those who are an active daily user of their Gmail account.
We require suitable candidates to own & use a desktop/laptop as well as an Android or iPhone mobile phone preferably running the latest OS version, you must be familiar with downloading Apps on your phone and you should also be willing to download certain required Apps. Hours for this role are up to 10 hours per week depending on task availability but will not exceed 10 hours per week.
You should be a flexible, reliable avid internet user. In this role you will have the freedom to complete tasks from your own home, scheduling your own hours, this opportunity should not be considered as a primary or guaranteed source of income but is designed to supplement your own income. The volume of available tasks can vary on a weekly basis. You will receive push notifications when tasks are available through the custom App that you will be required to download. We are seeking people who specifically have a desktop PC and an Android or iPhone mobile phone running the latest OS version and the Google Search App installed to complete tasks.
What are the main requirements for the job?
You must be fluent in written and verbal English
You must be living in the United States for the last 3 consecutive years
You must own a Desktop/Laptop PC
You must own an Android or iPhone smartphone running the latest OS version
Gmail must be your primary Email account and used frequently
Active daily user of Gmail and all forms of social media, some tasks may be social media based.
Latest version of the Google Search App installed on your mobile device
You must be highly Tech-Savvy and familiar with a variety of Apps
Willingness to download Apps
You must have familiarity with current and historical business, media, sport, news, social media and cultural affairs in the United States
PLEASE USE A LAPTOP OR DESKTOP TO APPLY! CLICK HERE to submit your application. For more jobs like these, check our Newest Jobs & Gigs page. To be the first to hear about jobs like these, like our Facebook page and check your feed for our posts. May you be working from home soon!
PLEASE SHARE this post – turn your friends into Rat Race Rebels!