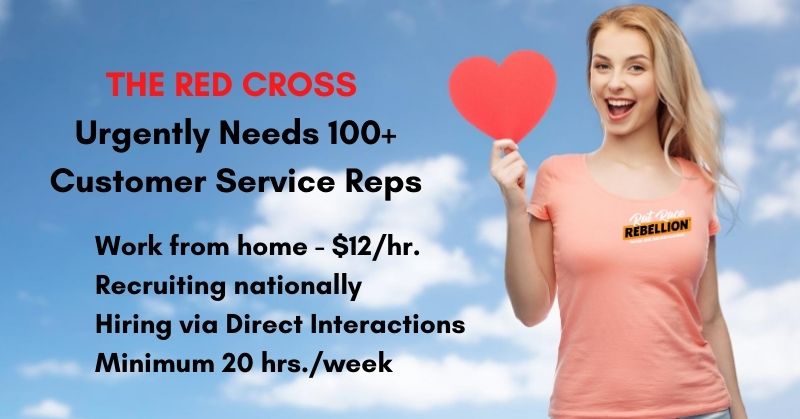 By Mike Haaren – Co-Founder, Rat Race Rebellion – Aug. 19, 2020
"People should expect to be working by next week." Hiring nationally.
If you're looking to get hired quickly, the Red Cross needs 100+ Customer Service Reps immediately. Pay is $12/hr., no college required. Minimum 20 hours per week. "Work as many hours as you would like."
Red Cross is a client of Direct Interactions — who just contacted us about the openings — and you'll be working for them.
Here's what they have to say about the positions. You'd be working as an independent contractor.
Based in Seattle, Direct Interactions operates contact centers staffed by American agents nationwide. We are socially responsible in our business practices and provide work-at-home opportunities for all Americans, including people with disabilities and military spouses.  There is a work at home revolution happening and we need your help.
The COVID-19 virus has disrupted traditional contact centers worldwide. Clients are turning to Direct Interactions for help. While our primary work is handling inbound calls, there will be opportunities to handle outbound calls, chats, emails and more. (Note: The outbound calls are customer service or B2B inquiry calls, not telemarketing). We encourage you to submit an application, there has never been a better time to start your work-at-home career!
At Direct Interactions, you will work with some of the kindest and most professional contact center agents in the country. You will help people in need and know that you made a positive difference in their lives. Even if you have not worked in contact centers for very long,  we are interested in learning more about you!
About the Position  
We pride ourselves on being all about the people we serve as well as those we work with. Most people spend more time at work then they do with their own families, so why not join the  DI family? We partner with various companies and states to provide their customers with white-glove service.  We are currently experiencing a very high number of calls. This means you'll be on the phone most of the time during your shifts. We have a wellness program (15-minute  video) led by a personal trainer to help you recover and relax during breaks if necessary. We offer flexible scheduling that will still allow you to have a work life balance . Ideal applicants want to work between 30 and 40 hours a week.
Requirements  
Excellent verbal communication skills including correct  grammar and pronunciation
Ability to remain calm under pressure in a fast-paced contact center environment
Ability to show empathy for those that may be frustrated or anxious
Ability to pay attention to detail and multitask
Ability to use a computer quickly and accurately
All people start as Tier One staff and must pass a criminal background check
Legally able to work in the USA; must be a resident  in the US.
 Pay Rate
$12.00 per hour [for the Red Cross positions]. We are paid once per month via direct deposit, but plan to move to payments twice a month this fall.
Shifts   
Shifts are available 7 days a week
Up to 40+ hours per week available (you select the hours you would like to work)
Shifts are scheduled in 1-hour increments for max flexibility
Weekly minimum hour requirements vary by client 20-40+ (depends on the client you are offered)
Technical Requirements  
high-speed Internet and computer running Microsoft Windows 10 operating system (no Windows 7 or 8.1)
headset with USB connection to the computer and mute button (headphones will not suffice)
Google Chrome or Internet Explorer browser
8GB of RAM or higher
At this time Apple Computers (Macs) are not compatible with any of our client's software
For more detail and to apply, click here. For more jobs like these, check our Newest Jobs & Gigs page. To be the first to hear about jobs like these, like our Facebook page. Good luck in your next steps toward working from home!
PLEASE SHARE this post – turn your friends into Rat Race Rebels!