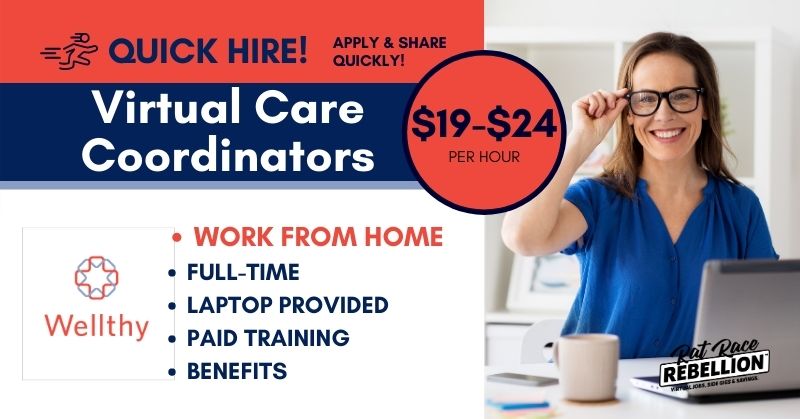 by Chris Durst     Sep. 11, 2020
THESE POSITIONS FILL QUICKLY, SO APPLY AND SHARE QUICKLY!
A recruiter from Wellthy just emailed us that they're hiring Full-Time Virtual Care Coordinators. Applicants hired in this round will start training on SEPT. 17th or OCT. 19th, so the hiring process will be FAST!

The recruiter has confirmed that this position pays $19-$24/hr.
Laptop provided and there's a great benefits package, too. No state hiring restrictions mentioned.
Wellthy is a chronic and elder care concierge that helps manage healthcare for families with sick and aging loved ones.
Families are assigned a dedicated Virtual Care Coordinator who creates a plan and starts getting tasks done, providing a convenient online experience. The company's goal is to take the pain out of care – scheduling appointments, refilling prescriptions, finding the right aide, handling the move into a care facility, contesting insurance bills, etc.
Here's what the company has posted about these opportunities on their site:
"Departmental Requirements and Preferences
A successful candidate is a great self-manager, good communicator, proactive, and is comfortable adapting to new programs and situations autonomously
Bachelor's degree required, healthcare-related and/or advanced degrees are a plus
2+ years work experience in healthcare / caregiving required, 6+ years preferred
Proficiency in more than one language is a plus
Proficiency with macOS, GSuite, Slack, and 1Password
This is a U.S. based position and U.S. work authorization is required.
Duties
Help customers (Care Team) using your expertise, skills, and judgement to advise, research, coordinate, and "get done" any healthcare-related tasks
Support with improving and updating Wellthy guides and Community Resources
Occasionally represent Wellthy at events such as health fairs and open enrollments
Other non-client-specific work including, but not limited to: supporting other service team members, feedback and suggestions related to Wellthy's product, service, marketing, and guides
Location
This is a remote position, so you can work from any location that is:

Private, with secure (not public), fast, and reliable internet and phone access
Suitable to safely and securely accommodate the sensitive information that you will be handling and communicating
Training and Certification
In the first two weeks as a Care Coordinator, you will go through a 40-hour training program that includes hands-on work with actual customers. You will then have the chance to show us you are ready by passing the Wellthy Certification, demonstrating proficiency in:
Technical knowledge
Use of the Wellthy platform
Customer service
The Wellthy way of communicating
Schedule Requests
Availability to work up to 20 hours per week (on average 4 hours per day)
Working at least once before noon and once after 4pm every workday (to ensure customer requests and calls are responded)
Note: the amount of work you will get after training will depend on your skills and the new care projects created by our customers
Benefits and Paid Time Off
You will receive a laptop computer for business purposes, to be returned to Wellthy upon the termination of your employment
Access to Wellthy's services to help with your own family's care
Benefits and Paid Time Off
Health, dental, and vision insurance coverage
Long-term Disability Insurance
Commuter Benefits
401K and HSA
Vacation
As a full-time employee, there is no set guideline or limit on how much vacation each employee is permitted to take. We encourage all employees to take at least two weeks vacation per year, and ask that you consider your workload and fairness to your colleagues when doing so. All vacation requests should be submitted to your supervisor.
Equity Grant
You will be granted a right to purchase shares of the Company's common stock"
CLICK HERE to learn more and to apply. For more jobs like these, check our Newest Jobs & Gigs page. To be the first to hear about jobs like these, like our Facebook page and check your feed for our posts. May you be working from home soon!
PLEASE SHARE this post – turn your friends into Rat Race Rebels!
[social_warfare]