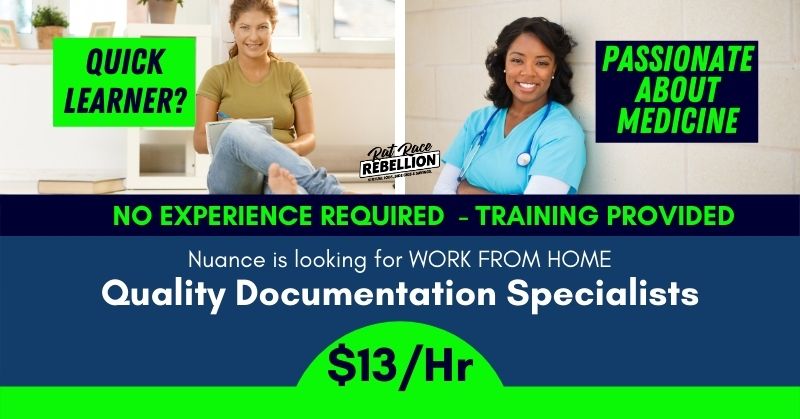 11/18/20 14:12 – Nuance has received all of the applications they need at this time. For more jobs like these, see our Newest Jobs & Gigs page. Good luck to everyone who applied!
by Chris Durst      Nov. 18 , 2020
Nuance is looking for Quality Documentation Specialists (Medical Scribes) to work from home in support of healthcare providers.
You DO NOT have to have experience! The company is seeking "quick learners who are passionate about medicine" to participate in their Quality Documentation Specialist training program.
These are full-time positions that pay $13 per hour.
No state hiring limitations are noted.
Nuance is rated 3.5 out of 5 stars on Glassdoor.

Here's what the company has to say about this opportunity:
"Nuance is the pioneer and leader in conversational artificial intelligence (AI) innovations that bring intelligence to everyday work and life. We deliver solutions that understand, analyze, and respond to people, amplifying human intelligence to increase productivity and improve security. With decades of both domain and AI expertise, we work with thousands of organizations across a wide range of industries.
Join our team! At Nuance, we are constantly reinventing how people connect with technology and with each other. Our AI-powered solutions empower organizations to transform "business as usual." For decades, the world's leading financial, healthcare, telecommunications, retailers, and government organizations have trusted Nuance to bring them award-winning solutions that deliver more meaningful outcomes and empower a smarter, more connected world. From clinical speech recognition technologies that free physicians to spend more time caring for patients to real-time intelligence that powers billions of customer interactions, we're deeply committed to helping organizations push the boundaries of what's possible.
Job Summary
Nuance Quality Documentation Specialists work nearly in real-time with a physician and their care team to complete documentation of clinic visits. Specialists support healthcare providers and their patients by learning medical documentation and using new technologies to create summaries of patient encounters. Our team saves time for providers by delivering accurate documentation within a couple hours of patient visits. Documentation includes patient histories, exams, radiographic findings, assessments, and treatment plans. Specialists make healthcare functional and efficient by allowing providers to keep their focus on their patients.
This is a full-time, work-from-home position with a rate of $13.00 per hour.
Multiple shifts available (9-5PM, 3-11PM, 11PM-7AM EST). Variations may be offered.
Our team seeks candidates who are passionate about medicine and desire to impact the future of healthcare. We are looking for quick learners who can get up to speed with medical terminology to include anatomy and treatment modalities and strive for continual learning and improvement. Successful candidates will be eager to learn new technology and be open to making changes as new technologies evolve. Training will be provided through our Quality Documentation Specialist training program.
Responsibilities
Provide documentation coverage for a set of healthcare providers, which involves listening to audio recordings of patient clinic visits and leveraging technology to summarize medical facts in professional clinical reports (History of Present Illness, Physical Exam, Results, Assessment & Plan).
Achieve proficiency in navigating EHRs and enter clinical reports and data directly into customer EHRs, adhering to specific clinic guidelines and workflows.
Maintain a high-quality standard and adhere to account-specific documentation which delineates documentation requirements for our customers.
Collaborate with managers on feedback from providers and successfully resolve issues.

Required Qualifications
Prior work experience in a professional office setting. Familiarity with medical terminology is a plus but not required.
Excellent English professional writing skills; including advanced proficiency in grammar and spelling.
Excellent listening skills and ability to understand diverse accents and dialects of physicians, their staff, and patients.
Ability to work independently in a secure and private location with a reliable high-speed internet connection.
Ability to participate in live video chat and screensharing sessions for training.
Preferred Qualifications
Experience as a medical scribe or a transcriptionist a plus but not required
Experience or training in the medical specialty of Orthopedics, Neurology, ENT, Cardiology,
Ophthalmology, GI, Dermatology, Rheumatology, Family Medicine, Pain Medicine, Nephrology, or
Urology preferred but not required
Experience with the Microsoft Office 365 or other cloud-based productivity tools.
Familiarity with Electronic Health Records; Epic or Athena experience is highly preferred."
CLICK HERE for full details and to apply. For more jobs like this, check our Newest Jobs & Gigs page. To be the first to hear about jobs like this, like our Facebook page and check your feed for our posts. May you be rocking your Rebellion soon!
PLEASE SHARE this post – turn your friends into Rat Race Rebels!