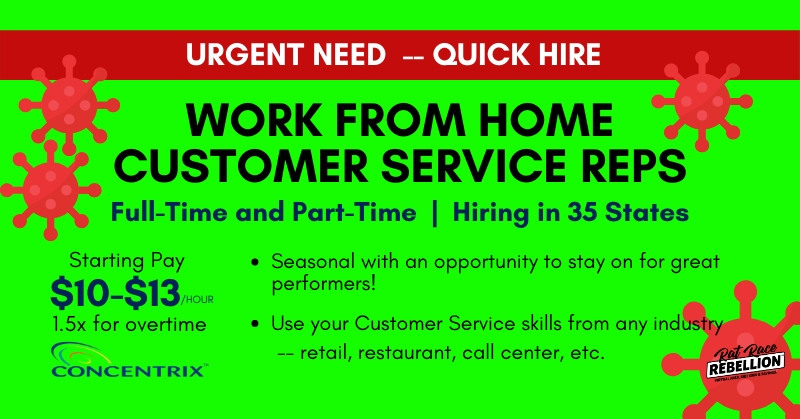 by Chris Durst         Updated April 26, 2020
COVID-19 is causing a lot of flux in the workforce.
Some companies have sent workers home with little to no pay. Other companies, like Concentrix, are in URGENT NEED of people to work from home to manage their virus-related increased traffic.
I don't know about you, but that sounds like the perfect opportunity to "make lemonade" during this trying time…
Here's a quick overview of their openings:
At-A-Glance
| | |
| --- | --- |
| Positions Available: | Seasonal* Customer Service Reps |
| Number of Openings: | "Thousands" |
| Time to Hire: | Under a week from the time you apply (though they are shooting for a 24-hour turn-around whenever possible) |
| Hiring in: | Unites States. All US states EXCEPT: AK, CA, CT, D.C., HI, IL, MA, ME, MD, MT, NE, NJ, NY, OR, RI, and WA** |
| Employee or Contractor: | Employee |
| Full-Time or Part-Time | Both Full- and Part-Time available |
| Starting Pay: | $10-$13/hr depending on the account to which you are assigned |
| Experience: | The required Customer Service experience does not have to be phone-based. If you have serviced customers in a store, restaurant, or other retail environment, that experience counts! Don't ever underestimate the value of your skills and experience. 🙂 |
*I was informed that, while these roles are seasonal, employees who perform well may be offered the opportunity to stay on! This could be the career change you have been looking for.
**Not hiring in your state? Kindness is also contagious — be a great friend and share with those who could benefit from this information!
Here's what the company has to say about this opportunity:
"In the wake of coronavirus (COVID-19) our priority continues to be the health and well being of our staff and Businesses and for that we need you.
You might be asking yourself: Who is Concentrix?
Concentrix, is a technology-enabled global business services company specializing in customer engagement and improving business performance for some of the world's best brands. Every day, from more than 40 countries and across 6 continents, our staff delivers next generation customer experience and helps companies better connect with their customers. We create better business outcomes and differentiate our clients through technology, design, data, process, and people. Concentrix provides services to clients in ten industry verticals: automotive; banking and financial services; insurance; healthcare; technology; consumer electronics; media and communications; retail and e-commerce; travel and transportation; energy and public sector. We are Different by Design.
Exactly what do we do? Instead of working in a traditional call center environment, our Concentrix Anywhere program hires sales & service agents who work from home. For example, when you call the customer service department for your cell phone or cable provider, you just might be talking to a Concentrix home based customer service & sales agent – answering that call on behalf of one of our clients. These calls might involve billing questions, changes or cancellation of services, inquiries on the status of an order, troubleshooting services etc.
In order to provide that customer support and services to our brands, we need YOU!
Why Concentrix Anywhere?
We offer paid training and employee benefits too! You can save a lot of money and time. There is no gas to purchase, no bad weather to drive through, and no eating out, coffee or snacks to purchase daily.
Concentrix Culture
Our culture is made of nine statements that we use as a guiding principle for our everyday business!
We are FANATICAL about our clients & staff
We have HIGH INTEGRITY with exemplary character
We are TENACIOUS in our pursuit of excellence
We value KNOWLEDGE, OPENNESS and TRANSPARENCY
We have CONTRARIAN views on how to run a business
We are BOLD in our decisions
We are DISRUPTIVE in the marketplace
We INVEST in the future
We all CONTRIBUTE and are one Concentrix
Where Are We Hiring?
We are currently hiring in 35 states (see full list of locations on our website).
We have three types of work at home positions that we hire for regularly: Sales & Service, Customer service and Technical Support Representatives. Every position we have is centered on providing excellent Customer Service and some positions are more sales or technically focused. Your answers to the questions during the application process, your qualifications and your experience will all be reviewed as part of the evaluation process to determine which one is the best fit for you.
Minimum Requirements/Additional Info:
High School Diploma or GED and at least one year of customer service experience (One year of sales experience required if you want to be considered for a Sales position).
We need you to have your own PC and high speed Internet service, both of which will be tested as part of the application process. You can work from a laptop, but will need to be hard-wired while working.
Your monitor will need to be between 17 to 21.5 inches; requirements varies by client (capable of 1280 x 766). A flat panel display is highly recommended, the use of a televisions will need to be verified upon hire. (External monitors are permitted for laptops)
A quiet, distraction-free, location in your home to work.
A telephone, landline or cell is required based on position offered.
All positions may require the purchasing of equipment from headset, flash drive to dual monitors. They are not required as part of the application process, so please do not purchase them before we extend a job offer to you.
A strong candidate will be computer/Internet savvy, comfortable operating in several applications simultaneously.
We need you to be a "people person" who enjoys talking and assisting others. Think about how much you enjoy receiving excellent customer service yourself? Well, we need you to take pride in providing that same great service to others.
We require 7 days/week availability, as customer service is something that is provided by most companies every day of the week.
Schedules vary and will be discussed during the interview.
*Equipment and Internet Speeds vary based on client needs, completion of the computer test will need to be submitted to determine compatibility, failing a portion of pc testing does not necessarily disqualify you from consideration*
Career Framework Role
Has program required basic skill set to perform routine tasks within simple processes but lacking program/product specific knowledge. Works with close supervision and clearly defined procedures. Starting to demonstrate familiarity with client terminology, operating standards and procedures. Starter without sustained metric performance levels.

CLICK HERE FOR FULL DETAILS AND TO APPLY. For more jobs like this, see our Daily Jobs & Gigs page. To be the first to hear about the jobs we post, just like our Facebook page and check your feed.
PLEASE SHARE this post – turn your friends into Rat Race Rebels!
[social_warfare]