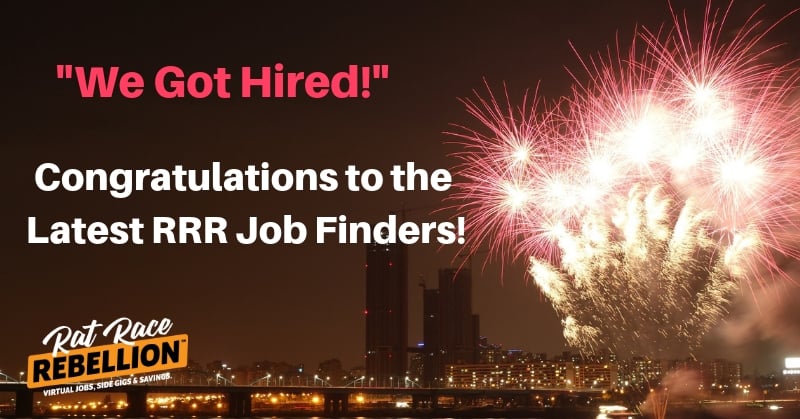 By Mike Haaren & Chris Durst – Founders, Rat Race Rebellion — Nov. 18, 2022
"We Got Hired!" – Congratulations to RRR Job Finders! 
Please join us in congratulating RRR job finders! We've excerpted some of their messages below. We fell behind on our "We Got Hired!" posts, but are catching up now.
Thank you all again for emailing us and posting your wonderful news on our Facebook page! Your messages totally make our day! Thank you for the referrals, too — and the pats on the back! They mean a lot to us here! ~ Chris & Mike 
~*~*~*~*~*~*~
"I just wanted to say thank you to this group! I got hired with Telus! Although it's only been a couple of weeks I absolutely love it!" – Julie B.
~*~*~*~*~*~*~
"I work with U-haul roadside because of you guys . My manager just said I hit 100 days! Thanks RRR!" – Tripp R.
~*~*~*~*~*~*~
"Thanks to RRR I was finally able to see an Amazon posting in time to submit my app before they pulled the posting down. Now I've been with Amazon for over three years and have been promoted up to being a specialist." – Brandi L. 
~*~*~*~*~*~*~
"Thank you all for all you do. It is so much appreciated. I have gotten so many job offers through your postings. May God continue to elevate and bless your endeavors immensely." – Geraldine O. 
~*~*~*~*~*~*~
"Thank you all so much I got hired with PayPal and it's all thanks to your postings. Woohoo go Rat Race Rebellion!" – Lesha H. 
~*~*~*~*~*~*~
"I just wanted to thank RRR as I just received my contract with Working Solutions! RRR is legit and I am grateful for the time you all take to comb through the work from home opportunities! Thank you!" – Ariana D.
~*~*~*~*~*~*~
"A HUGE SUCCESS STORY and I owe it to RRR. I learned about a company from your site and applied. I got the gig and joined the company part-time earning $16.50/hr. on 8/30/2021.
"Less than a year later I have secured a promotion and that $16.50/hour has become a salaried job in which I now earn $65k as the company's new Legal Assistant!
"I would never have even known this company existed were it not for your site and I'm forever grateful." – Candice B.
~*~*~*~*~*~*~
"No question, just a comment. I just wanted to take a minute to appreciate you all..this is the only site that I trust and use for work from home job leads and gigs. I got a job with 2 different companies (that you had posted) in the same week!! I recommend your site to everyone looking for a work from home job! Thanks so much and keep up the great work!!" – Tiffani S.
~*~*~*~*~*~*~
"I want to thank RRR for all the leads. I just started with The Hartford thanks to your Big List of Jobs and Gigs. This website is AMAZING – please never stop!!" – Lola P.
~*~*~*~*~*~*~
"Hey! I wanted to let you know that I got hired with Sutherland (Sutherland Global). It did not take long after I applied for the job and submitted my resume to get the interview setup (via video), finish the background check, and get a drug test. I have paid for nothing. They provide equipment and I provide hardwired internet service and a wired headset. I start training in mid-September for six weeks. They seem to have more positions to fill, too 🎈🌻 This is the third job that I've acquired by using RRR! It's the REAL DEAL! Thank y'all so much!!!" – Phyllis S.
~*~*~*~*~*~*~
"I just wanted to say Thanks to RRR! I've been a rebel for many years. Although I don't change jobs often I was ready for a career change. I found an amazing fit with Unum, of course, found on RRR. Whenever people ask about finding WAH jobs I only give RRR because it really is all you need. I'm excited for my new career adventures!" – Joshica M.
~*~*~*~*~*~*~
We'll look forward to sharing your "I Got Hired!" news soon! For new work from home leads, see our Newest Jobs & Gigs page. To be the first to hear about gigs like these, like our Facebook page. Good luck in your next work from home steps!
PLEASE SHARE this post – turn your friends into Rat Race Rebels!
[social_warfare]