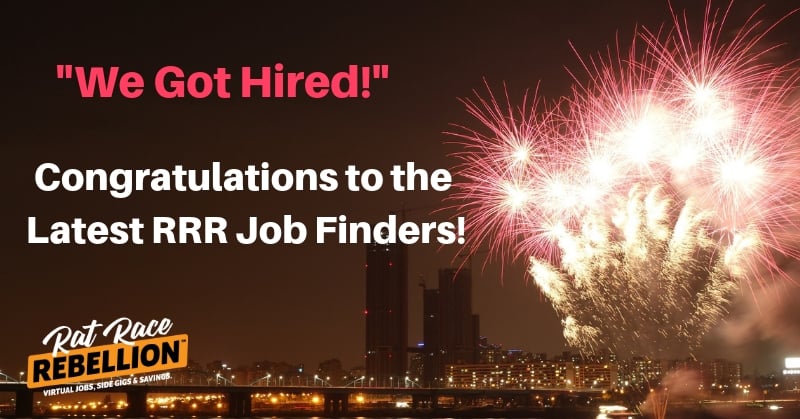 By Chris Durst & Mike Haaren – Founders, Rat Race Rebellion — Feb. 11, 2020
"We Got Hired!" – Congratulations to the Latest RRR Job Finders! 
Please join us in congratulating some of the latest RRR job finders! And thank you again for emailing us and posting your wonderful news on our Facebook page! Your messages totally make our day!!!! Thank you so much for the referrals, too — and the pats on the back! We've excerpted some of your messages below. 
~*~*~*~*~*~*~
I got hired to work for Conduent and starting soon. Because of your daily emails I finally have a job. Thank you guys for all your hard work. – Precious T.
~*~*~*~*~*~*~
I wanted to thank you! I got the job with Dyson. I start March 16! – Samantha G.
~*~*~*~*~*~*~
I got hired [at Hilton] the last round and I start today!!! – Amanda E.-H.
~*~*~*~*~*~*~
I just got hired [at Hilton] from the last posting. I start on 2/4. – Rozita W.
~*~*~*~*~*~*~
I start [at Hilton] that same day! Excited!! – Jennifer F.
~*~*~*~*~*~*~
I applied to Hilton and I got hired. Thank you. – Susan J.
~*~*~*~*~*~*~
I start February 18th [at Hilton]. – Shae E.
~*~*~*~*~*~*~
I was accepted to Sigtrack, and will be applying for more gigs that fit my interest and lifestyle. Thanks! – Tamoka R.
~*~*~*~*~*~*~
♦♦ Screened Ad: Earn Rewards for Being Online – Nielsen (The TV/Radio ratings company) – For installing Nielsen's app on your computer, you will automatically be entered into their $10,000 monthly sweepstakes. Also, if you qualify, "there are opportunities to earn even more rewards by registering more devices and staying with us longer," the company says. For consumer trend data, Nielsen's app — for smartphone, computer or tablet — follows your web use. Your name is separated from the data, and devices run as usual. User IDs and passwords are not collected, the company adds. ♦♦
~*~*~*~*~*~*~
Many other new hires at Sigtrack, including Ronnie B., Carolyn R., Daphine R., Jesee M., Jo B., Ruthie H., Stacey S., Shelli F. and more.
~*~*~*~*~*~*~
I got the StubHub job. I'm so excited. – Laura J.
~*~*~*~*~*~*~
So excited to have been hired by Hilton. Received the email confirmation!!! Thank you RAT RACE REBELLION!!! Was also accepted by Sigtrack! – Silvia P.
~*~*~*~*~*~*~
Just wanted to say thank you for the job listings. I was accepted as a Revver. I'm soo excited!" – Quintessa W.
~*~*~*~*~*~*~
I just started with [Sigtrack] and got my first payment today. – Haley K.
~*~*~*~*~*~*~
I've actually been hired for three [jobs] based upon your listings. Liveops has been the best one for me, working with a large retailer and I've been accepted into Sigtrack… – Dave H.
~*~*~*~*~*~*~
Thank you Rat Race! Thanks to your awesome postings I have signed my W-4 for Sitel start Feb. 13 & my independent contractor contract with Lionbridge as Mobile Reviewer. Keep up the good work… – Sherri J.
~*~*~*~*~*~*~
I was hired by Rev and NexRep! Thank you! – Jamie G.-S.
~*~*~*~*~*~*~
I got hired from Working Solutions for TurboTax and got hired from NexRep for Vroom. – Kelly B.
~*~*~*~*~*~*~
Thank you for recommending Rev. I just got hired for closed captioning! – Pamela L.
~*~*~*~*~*~*~
Thank you Rat Race. I got hired with Jackson Hewitt and Scribe America. – Pebbles E.
~*~*~*~*~*~*~
♦♦ Screened Ad: Answer Simple Questions for Cash – Opinion Outpost: Answer simple opinion questions for cash or (if you prefer) Amazon or other gift cards. Automatic entry in $10,000 sweepstakes every three months. Another legitimate side-income option. ♦♦
~*~*~*~*~*~*~
I got hired faster than you can imagine. I saw the Race Race Rebellion notice for NexRep on Jan 11 and I immediately applied. I received an interview call on the 12th and was offered the job. I completed my certification paperwork on the 13th. That's fast!!! Thanks Rat Race. By the way, the Work From Home Course is GREAT. Everyone should really invest in themselves and sign up for the course. – Sheila S.
~*~*~*~*~*~*~
I got hired a couple of days ago by Teemwork.ai… – Jamie M.
~*~*~*~*~*~*~
I got hired at HCA Parallon. – Kimberley F. 
~*~*~*~*~*~*~
Thank you RRR!!!! I found Arise through you guys and have been working with them since November 2019… I love my life now!!! – Andrea W.
~*~*~*~*~*~*~
I love getting the emails, and the jobs are so helpful!! I will be at KellyConnect for a month on the 11th! Thank you to everyone that makes Rat Race possible!! – Lia R.
~*~*~*~*~*~*~
We'll look forward to sharing your "I Got Hired!" news soon! For new work from home leads, see our Newest Jobs & Gigs page. To be the first to hear about gigs like these, like our Facebook page. Good luck in your next work from home steps!
PLEASE SHARE this post – turn your friends into Rat Race Rebels!