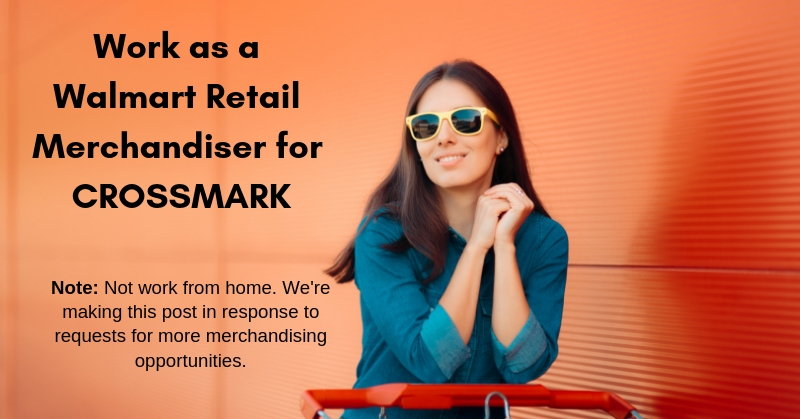 by Chris Durst          Oct. 23, 2020
This is not an at-home position, but many RRRebels like the flexibility and autonomy that merchandiser jobs offer and they've asked us to post more of them.
CROSSMARK, a sales and marketing agency, is looking for Part-Time Walmart Retail Merchandisers/Resets in many areas across the US. Per Glassdoor reviews, the pay is around $12/hr., but that's not official. HS diploma or GED required. Retail experience preferred but not required.
People who do this job rate it an average of 2.9 out of 5 stars on Glassdoor.
In the company's words:
The Reset Merchandiser will be responsible for large-scale rearrangement of a store's products by stocking or restocking a product according to a new plan. This may necessitate tearing down and rebuilding whole sections of the store; the merchandiser must be able to follow a planogram, or diagram, of the new shelf or display. Resets can be quite large and complex, and completing them successfully requires merchandisers to be able to complete the work on schedule and according to plan.
Responsibilities
— Performs stores/tasks in efficient/cost effective manner
— Accurately reports all completed retail tasks via the appropriate designated systems on the day the work is performed.
— Communicates effectively with store personnel regarding tasks, sales activities, promotions, and client/sales plan objectives
— Completes required training and certification programs.
— Engage every work day with CROSSMARK'S communication tools for the purpose of accurately planning, reporting, and reviewing work.
— Ability to implement retail schematics and merchandising materials as assigned.
— Participate in team tasks onsite with clients.
— Follows company policies, procedures, and position responsibilities.
— Schematic implementation: compliance and shelf conditions
— Implement customer approved schematics/Plan-O-Grams, tagging all items and obtaining management approval.
— Must be able to take direction tagging, rotating and placing products on shelf.
— Able to complete timely and accurate reporting (web based) of recaps, expense reports, timesheets, etc.
Qualifications
Education/Experience: High school diploma or general education degree (GED); Prior retail experience is preferred, but not required.
Physical Demands: While performing the duties of this job, the employee is regularly required to stand; walk; use hands to finger, handle or feel; reach with hands and arms; talk or hear; stoop, kneel, crouch, climb or balance. The employee is regularly required to lift up to 25 pounds and to occasionally lift up to 60 pounds from the floor to waist or chest high. Significant time driving a vehicle may be required. In general, resets can be very physical in nature. Reset activities could include: removing items from the shelf, moving shelves, building fixtures, reorganizing the products according to the plan-o-gram provided, replacing shelf tags, filling in new products and retrieving additional stock when necessary.
Computer Skills: Proficient use of a Personal Computer, printer and familiarity with Adobe, Word, Excel, and Outlook.
Click here for full details and to apply. For more jobs like these, check our Newest Jobs & Gigs page. May you be working from home soon!
PLEASE SHARE this post – turn your friends into Rat Race Rebels!
[social_warfare]