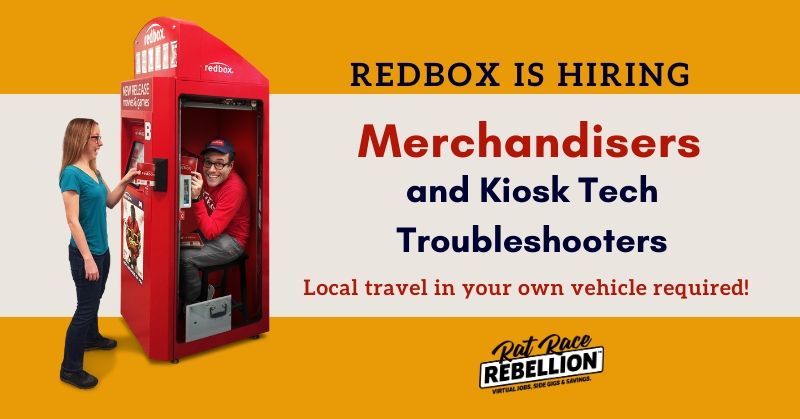 by Chris Durst           May 11, 2022
If you're looking for a gig that gets you out of the house, Redbox is hiring. If you see Redbox movie kiosks in your area, you may wonder who maintains them. Here's the answer — local Field Support Reps and Field Service Technicians (kiosk tech troubleshooters) make sure customers get a good self-serve experience. For these jobs, you'll need a reliable vehicle for local travel.
Average base pay is $16/hr. per Glassdoor, but that's not official. Jobs are open in various metro areas, and new ones open up all the time. So if you don't see something today that fits, be sure to bookmark their page and check back regularly.
Here's what Redbox has to say about the Merchandiser/Field Rep positions:
You could say Field Operations are the magicians of Redbox. They're the energetic, multi-tasking dynamos who make sure Redbox kiosks are always filled and working flawlessly.
Position Overview
At Redbox we're passionate about our products, and we LOVE our customers! Providing them with an exceptional experience is something we strive to do every day. If you share our love for customers and prefer to not be confined to a desk, you might love being a Field Support Representative. You'll work independently throughout the day (in partnership with your manager) to ensure our customers are taken care of and company goals are met. You will have the opportunity to be the face of Redbox and its clients to our customers and will gain valuable knowledge and experience to grow your career.
You'll use your personal vehicle to maintain an assigned merchandising route, assisting with the maintenance, support and upkeep of Redbox and clients' kiosks within an assigned market. You will work in an environment where route, daily tasks and weather conditions can change on a regular basis. You must also be able to store at least 50 cubic feet of company merchandise such as product boxes, marketing materials and cleaning supplies within your personal vehicle and residence.
In this job, we pay you to commute to your kiosks, so it's important that you live within a reasonable commute from the territory.
Key Responsibilities
Using personal vehicle, travels to assigned kiosks and collects products and restocks as needed.
Keeps daily record of product distributed and removed from each machine (mileage reimbursement provided for miles driven for work tasks and pre-determined routes)
Follows a specifically designed daily merchandising route including regular visits to a warehouse location
Provides quality customer service through regular interaction and communication with co-workers, external customers, external contractors, store owners/managers and employees
Communicates status of kiosks and customer accounts to Regional Operations Supervisor (ROS)
Secures all Redbox merchandise and ensures kiosks are properly locked, clean and in proper working order
Loads and unloads product from automobile, residence and warehouse
Other warehouse duties as assigned including shipping/receiving of product
Education & Experience
High School Diploma or GED preferred
Minimum of 1 year of experience in a customer facing position required
Basic computer skills required (internet, email, and using Microsoft Products and Services)
1 year of merchandising or field operations experience preferred
Knowledge, Skills & Abilities
Demonstrates strong organizational, multi-tasking and problem solving skills
Must be able to effectively communicate and collaborate with others
Basic Smartphone operation and App installation knowledge
Ability to work independently with a high degree of self motivation
Must be able to work in a variety of weather conditions including extreme weather
Ability to use small hand tools such as a screwdriver, pliers, cutter, hex wrench or other tools deemed necessary to the job
Ability to read, understand, and follow procedures, safety policies, and company protocols
Other Requirements
Must have a reliable vehicle, valid driver's license, and valid car insurance
Must have an excellent driving record
Must have the ability to securely store at least 50 cubic feet of company merchandise such as product boxes, marketing materials and cleaning supplies within personal vehicle and residence
Must have daily access to a computer with Internet connection in order to access company email, trainings, all work instruction needed to perform job duties, etc.
We conduct MVR, drug screen and background checks
Physical Requirements
Ability to lift and carry up to 50 lbs. frequently throughout the workday
Ability to lift up to 20 lbs. above shoulders on a regular basis throughout the day
Ability to bend, kneel, push, pull and stand on a regular basis throughout the workday
Ability to climb a step stool frequently throughout the day
To go to the jobs, click here. For more jobs like these, check our Newest Jobs & Gigs page. To be the first to hear about jobs like these, like our Facebook page. Good luck in your next steps toward working from home!
PLEASE SHARE this post – turn your friends into Rat Race Rebels!
[social_warfare]