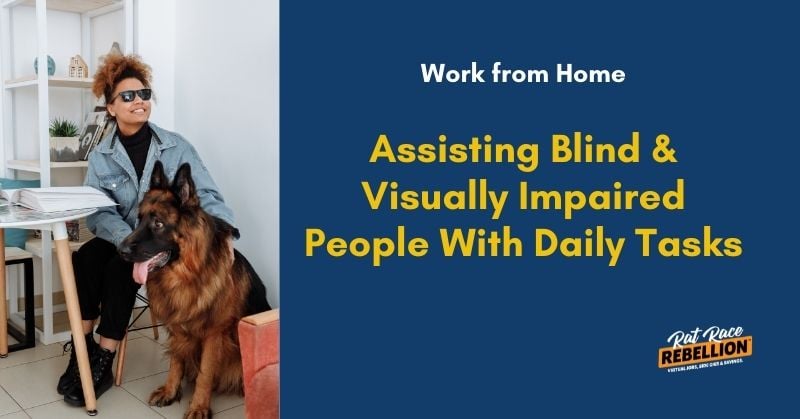 by Chris Durst       Sept. 19, 2022
Work from Home Jobs – Assist Blind and Low-Vision People Remotely, Part-Time – $15/Hr. — No State Hiring Restrictions – College Not Required – Training Provided
This is one of our favorite jobs, in the service it provides, and the company has reopened hiring. They also wrote us that there are no state hiring restrictions.
In a few words, Aira has developed technology that allows you to assist people who are blind or have low vision. Through this technology, they push a button and you see what's in front of them.
As an Aira Agent you then assist them with the issue they've encountered — shopping, reading email, navigating walking routes, or other challenges.

Here's what the company has to say about the job:
Do you have a passion for working with people, a knack for technology and an eye for detail?
We'd love to hear from you!
We're people who love what we do – Our best days are when we've made someone else's day better; that happens every day. We have a positive impact on the world around us.
Well trained and ready to assist – We're selected from thousands of applicants and undergo a rigorous training program of self-directed online study and live sessions with experienced agents and Explorer Trainers.
More than a job. A mission. – We believe that access to visual information is a right, rather than a privilege. Our entire company shares a single mission: to make visual information instantly accessible to anyone, anytime, anywhere.
More about Aira
Aira was purpose-built for someone who desires visual information about their surroundings. Our community consists largely of individual people whom we call "Explorers", who are blind or have low vision and benefit from live, on-demand visual information about their surroundings.
And world-class organizations – businesses, retailers, restaurants, grocers, banks, airports, transit systems, museums, universities and corporate employers – are providing Aira at no cost as a productivity tool for their employees, students, customers, visitors and travelers.
Anywhere a person who is blind or has low vision needs access to visual information or needs to navigate is where Aira fits.
Aira. The description of life.
You must use a Gmail email address to complete [their online application] form.
To be an Aira agent you must:
A high school graduate, some college preferred
Must be 18 years or older and authorized to work in the United States
Fluent in English (bilingual preferred)
Have a private workspace with no background noise that is free from family, friends, pets, etc.
Able to read, understand, and describe locations using a map
A successful Aira Agent is someone who:
Is great problem solver who utilizes all resources to find a solution and pays close attention to detail
Knows how to read a map within a web browser and understands public transportation systems
Is energized by adapting to any situation as it unfolds and is eager to learn new things
Excels in providing top notch customer service
Is familiar with a variety of technologies from computers, to smartphones, to apps, to online software programs
Must have the physical ability to:
Sit or stand for extended periods of time
The ability to use a mouse and keyboard to navigate a computer
The ability to hear to understand and speak clearly on a telephone/microphone
Visual abilities include extended viewing of a computer screen, close vision and the ability to adjust focus
The ability to see, process, and describe spatial concepts and relationships
Technical Requirements:
Have a consistent internet speed of at least 25 MBPS
Have a mouse and keyboard (separate if using a laptop)
Use a headphone with a noise-cancelling microphone
Use a computer with a minimum of 8GB RAM, quad-core processor, and with at least 40 GB of available storage
Please use this site to check your computer processor: https://www.cpubenchmark.net/cpu_list.php

PC Passmark CPU Mark equal or greater than 5,975 with a Rank less than 810 (lower is better)
Mac Passmark CPU Mark equal or greater than 4,303 with a Rank less than 1,104 (lower is better)
Work Requirement (minimums)
20 hours a week if you choose a weekday designation M-Th 4am-10pm PST Fri 4am-2pm PST
12 hours a week if you choose a weekend designation Fri 2pm-10pm PST Sat-Sun 4am-10pm PST
10 hours a week if you choose an overnight designation Mon-Sun 10pm-4am PST
CLICK HERE for full details and to apply. For more jobs like these, check our Newest Jobs & Gigs page. To be the first to hear about jobs like these, like our Facebook page. Good luck in your next steps toward working from home!
PLEASE SHARE this post – turn your friends into Rat Race Rebels!
[social_warfare]