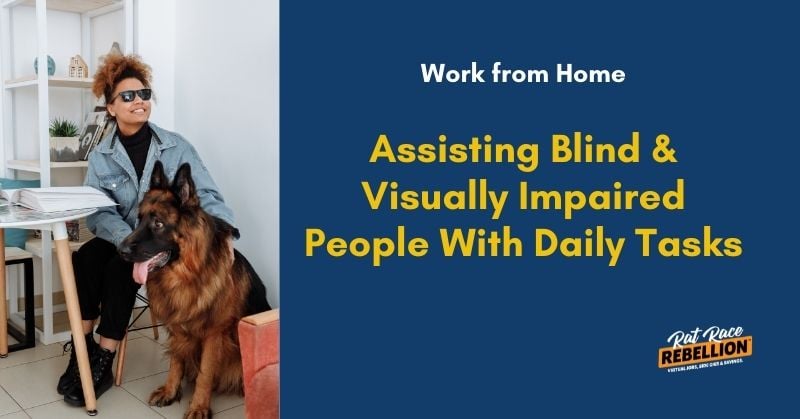 by Chris Durst       Feb. 6, 2023
Work from Home Jobs – Assist Blind and Low-Vision People Remotely – $15/Hr. — No State Hiring Restrictions Mentioned – College Not Required – Paid Training Provided
This is one of our favorite jobs, for the service it provides, and the company has reopened hiring. They also wrote us that there are no state hiring restrictions.
In a few words, Aira has developed technology that allows you to assist people who are blind or have low vision. Through this technology, they push a button and you see what's in front of them.
As an Aira Agent you then assist them with the issue they've encountered — shopping, reading email, navigating walking routes, or other challenges.

Here's what the company has to say about the job (excerpted):
As an Agent, using our proprietary technology platform, you will answer live video calls from our blind and low vision customers. You will then assist, one at a time, with real-time tasks in countless unique scenarios. Please note you will not be on camera during these live video calls.
From assisting with daily personal routines to professional activities to navigating a dream journey around the globe, Aira Agents focus on providing live, personalized support for each customer's unique requirements during live calls….
Working as an Aira Agent is unlike any other job. We've developed our own training and certification process to ensure you'll be ready and able to assist our customers accomplish any task. While our paid training will expand your communication skills, teach you to use a mix of third-party tools and proprietary technologies, and polish your customer service skills, it's the actual real-world calls that will challenge and shape your worldview.
Requirements
Key Skills and Qualifications
The Aira Agent:
Is an enthusiastic, eager, and articulate communicator.
Is mission-driven, and has innate problem solving skills.
Adapts well to new technological systems and processes.
Is comfortable using PCs, Macs, smartphones, applications, and online platforms.
Has strong spatial awareness and a keen sense of direction, with the ability to orient themselves well using 2D and 3D maps and visual cues.
Has strong investigative research skills and is tenacious in the pursuit of information.
Utilizes creative problem-solving skills and thrives under pressure.
Possesses a strong vocabulary and knows how to utilize descriptive language effectively.
Has a strong attention to detail.
Qualifications:
A high school diploma or GED equivalent.
Be 18 years of age or older.
Fluent in English.
Possess US citizenship.
A private workspace with no background noise, that is free from family, friends, pets, visitors, etc.
A computer system that meets our required technical specifications:

Minimum of 8 GB RAM
Windows or Mac computer using Windows 11 or Mac OS High Sierra (no Chromebooks)
Use of headphones with a noise-canceling microphone attached. It must have a USB connection.
Minimum internet speed of 25 Mbps
Minimum Schedule Requirements:
Minimum 40 hours a week
All Agents must work a weekly minimum of 8 hours during the weekend designation

Friday 12 PM – 10 PM PST, Saturday – Sunday 4 AM -10 PM PST*
Benefits
100% remote work – always was, always will be.
Self-selected schedule, updated weekly.
Supportive, integrated team environment with ongoing training opportunities.
Paid training.
$15 per hour, 1099 contractor role.
CLICK HERE for full details and to apply. For more jobs like these, check our Newest Jobs & Gigs page. To be the first to hear about jobs like these, like our Facebook page. Good luck in your next steps toward working from home!
PLEASE SHARE this post – turn your friends into Rat Race Rebels!
[social_warfare]