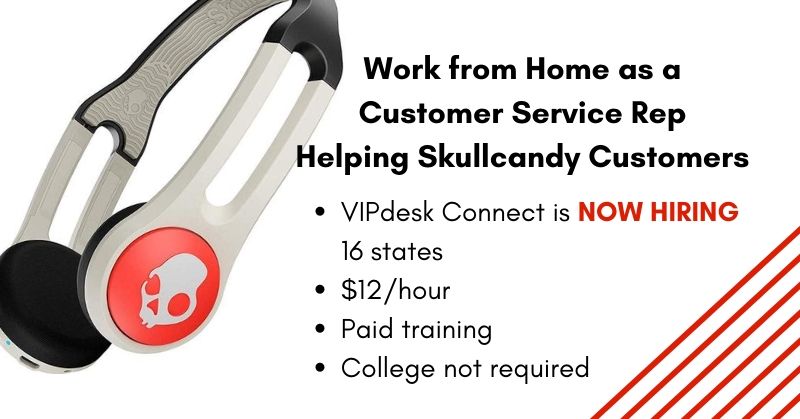 by Chris Durst         Sep. 10, 2020
VIPdesk Connect is currently hiring Customer Service Reps to manage contacts for their client – Skullcandy.
Skullcandy is a US-based company that markets headphones, earphones, hands free devices, audio backpacks, MP3 players, and other products.
At present, they are hiring from the following 16 states ONLY: Arizona, Colorado, Florida, Georgia, Illinois, Indiana, Nevada, New Jersey, New Mexico, North Carolina, Ohio, Tennessee, Texas, Utah, Virginia, or Wisconsin.
Pay is $12/hour. Paid virtual training.
Here's what the company has to say about these opportunities:
"Description
VIPdesk Connect is hiring awesome people who excel in customer service and technical support to join our team in a full-time role to provide support to our client Skullcandy. Be a part of our supportive and fun team while putting your problem-solving skills to work with appreciative and enthusiastic brand-loyal customers.
The Seasonal Customer Service Representative (we call Brand Ambassador) on the Skullcandy Team will assist customers by answering questions about our client's products, product availability, policies, promotions, and provide general customer service resolutions on behalf of our client. The Customer Service Representative is responsible for assisting customers via all contact channels (phone, email, chat, SMS, social).
The Seasonal Customer Service Representative will use his/her passion and knowledge of our client's brand and related experience to ensure an authentic experience that promotes brand loyalty.
Essential Responsibilities Include, but are not limited to:
Interact with customers via all channels (phone, email, chat, SMS, social and other channels) to provide information in response to inquiries about products and services
Meet our clients average handle time targets, quality standards, productivity metrics, and adhere to policies and procedures
Attend training and meetings as required to obtain new and pertinent information about our clients' products and services offered
Apply high-quality customer service guidelines while servicing customers
Applying client and VIPdesk Connect policies as applicable whenever interacting with customers
Requirements
Six (6) or more months experience sales with consumer products brands
Six (6) or more months with tier one troubleshooting
Two (2) or more years related customer service experience
Able to work at a desk/computer for 95% of each scheduled shift
Due to the home-based nature of this job, the Brand Ambassador is required to have a home-office environment, internet access, USB headset, router, modem, web camera and a computer system that meets VIPdesk Connect policies and maintenance requirements, including system upgrades as applicable, which may change over time
Able to work some weekends and holiday hours
High school diploma or equivalent
Working knowledge of Microsoft Office Suite, Office 365
Able to successfully pass a credit, criminal and employment reference security check
Must live in Arizona, Colorado, Florida, Georgia, Illinois, Indiana, Nevada, New Jersey, New Mexico, North Carolina, Ohio, Tennessee, Texas, Utah, Virginia, or Wisconsin
Preferred Qualifications
Some college
Knowledge of audio terminology a plus
Experience with brand loyalty and diverse lines of business
Passion for customer satisfaction
Able to thrive in a performance-based environment and motivated by goals and incentives
Excellent verbal and written communication skills
Able to type at least 35 WPM with proper spelling and use of grammar
Able to learn and work independently as well as in a team environment
Detail-oriented with focus on quality and accuracy, ability to multitask, strong sense of urgency and commitment to excellence
Shifts
Team members are scheduled to work up to 8-hour shifts Monday-Friday between 9:00 am-9:00 pm ET and between 9:00 am-6:00 pm ET on Saturdays and Sundays
Team members work up to 5 days per week between 32-40 hours per week
Team members will work two weekend shifts (Saturday or Sunday) per month.
Who We Are
VIPdesk Connect is the leading call center provider, providing exceptional customer service. Our mission is to provide talented and amazing team members the opportunity to work from home and deliver service for the brands they love.
We're a dynamic, virtual environment focused on diversity, innovation, business results, and above all, delivering an amazing customer experience. When you work here, you partner with smart and interesting people to make things happen.
What Makes Us Stand Out
Our team is comprised of a talented and passionate group of individuals who work from home across the US
All of our amazing Customer Service Representatives (we call Brand Ambassadors) telework from their secure home office
Professional paid and interactive training in a virtual classroom
Compensation: $12.00 per hour plus bonus/incentives"

Click here to learn more and to apply. For more jobs like this, check our Newest Jobs & Gigs page. To get a jump on job offers, like our Facebook page and check your feed for our posts. May you be rocking your Rebellion soon!
PLEASE SHARE this post – turn your friends into Rat Race Rebels!