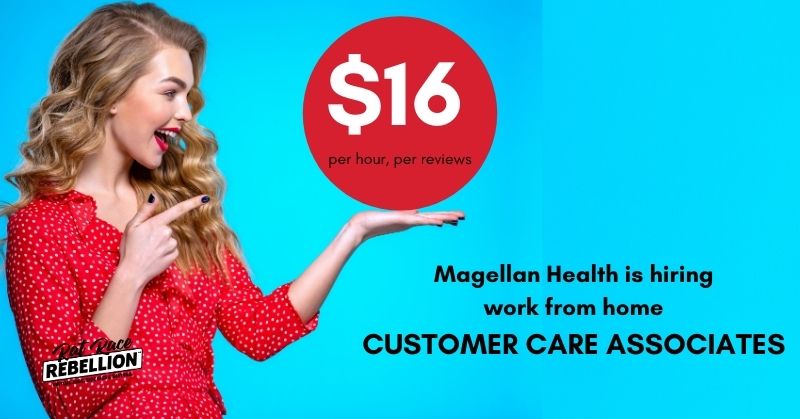 by Chris Durst      Apr. 9, 2021
Magellan Health is a Fortune 500 managed healthcare company. They just reached out to let us know that they have openings for remote Customer Care Associates.
The hours for this position are Tuesday-Saturday 12:00pm-8:30pm CST.
Pay is not listed in their job posting, however, Glassdoor places it at about $16 per hour.
Here's what the company has posted about this opportunity:
"The work schedule for this opening:
Tuesday-Saturday 12:00pm-8:30pm CST
This position is a front-line service position providing assistance to Magellan's members and providers regarding programs, policies, and procedures. Responsibilities include answering incoming calls related to eligibility, benefits, claims and authorization of services from members or providers. Responsibilities also include the administration of intake documentation into the appropriate systems. Overall expectations is to provide outstanding service to internal and external customers and strive to resolve member and provider needs on the first call. Performance expectations are to meet or exceed operations production and quality standards.
Actively listens and probes callers in a professionally and timely manner to determine purpose of the calls.
Researches and articulately communicates information regarding member eligibility, benefits, EAP services, claim status, and authorization inquiries to callers while maintaining confidentiality.
Resolves customer administrative concerns as the first line of contact – this may include claim resolutions and other expressions of dissatisfaction.
Assists efforts to continuously improve by assuming responsibility for identifying and bringing to the attention of responsible entities operations problems and/or inefficiencies.
Assists in the mentoring and training of new staff.
Assumes full responsibility for self-development and career progression; proactively seek and participate in ongoing training sessions (formal and informal).
Comprehensively assembles and enters patient information into the appropriate delivery system to initiate the EAP, Care and Utilization management programs.
Demonstrates flexibility in areas such as job duties and schedule in order to aid in better serving members and help Magellan achieve its business and operational goals.
Educates providers on how to submit claims and when/where to submit a treatment plan.
Identifies and responds to Crisis calls and continues assistance with the
Clinician until the call has been resolved.
Informs providers and members on Magellan's appeal process.
Leads or participates in activities as requested that help improve Care
Center performance, excellence and culture.
Links or makes routine referrals and triage decisions not requiring clinical judgment.
Performs necessary follow-up tasks to ensure member or provider needs are completely met.
Provides information regarding Magellan's in-network and out-of-network reimbursement rates and states multiple networks to providers.
Refers callers requesting provider information to Provider Services regarding Magellan's professional provider selection criteria and application process.
Refers patients/EAP clients to the Magellan's Care Management team for a provider, EAP affiliate, or Facility.
Responsible for updating self on ever changing information to ensure accuracy when dealing with members and providers.
Support team members and participate in team activities to help build a high-performance team.
Thoroughly documents customers' comments/information and forwards required information to the appropriate staff.

Other Job Requirements
Responsibilities
Must be flexible in scheduling and comfortable with change as customer service is an ever-changing environment.
Responsible for meeting call handling requirements and daily telephone standards as set forth by management.
Must agree to observing service for the purpose of training and quality control.
Must be a proficient typist (avg. 35+ WPM) with strong written and verbal communication skills.
Must be able to maneuver through various computer platforms while verifying information on all calls.
Must be able to talk and type simultaneously."
CLICK HERE for full details and to apply. For more jobs like these, check our Newest Jobs & Gigs page. To be the first to hear about jobs like these, like our Facebook page and check your feed for our posts. May you be working from home soon!
PLEASE SHARE this post – turn your friends into Rat Race Rebels!