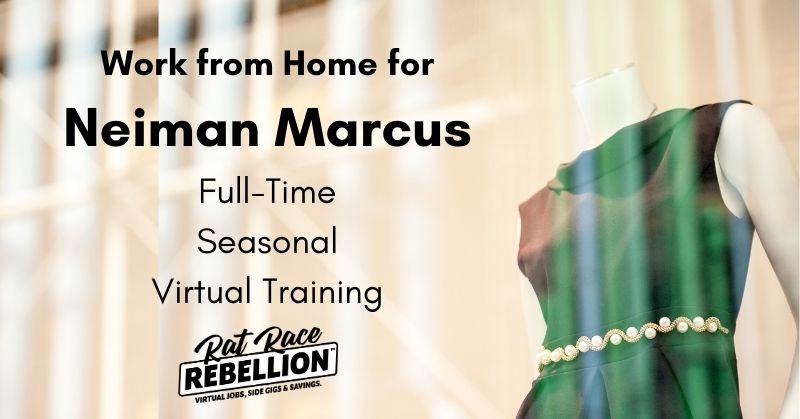 by Chris Durst         Sep. 9, 2020
We're seeing more SHOPPING brands hiring work from home customer service reps and sales reps than ever before. Some contract with virtual call centers that hire and manage workers, and others hire directly.
Neiman Marcus does their own hiring and they have just posted openings for Seasonal Work from Home Customer Care Associates to work with them through the holiday season.
Pay is not listed and there are no excluded states mentioned in their job posting.
Here's what the company has posted about this opportunity:
"As a leading omni-channel luxury retailer, our goal of bringing customers the experience of every-day luxury begins with associates who are enthusiastic, knowledgeable, resourceful, committed to supporting our values and promoting our brand. The Seasonal Remote Customer Care Associate position is responsible for providing exceptional sales and service support to our customers shopping through our catalog, online or store divisions. Customer Care Associates also service customers calling our stores by providing operator assistance through our Store Directory Assistance line.
This is a Seasonal Remote position working full-time hours, 40 hours per week.
KEY RESULT AREAS:
Demonstrate proficiency managing multiple computer applications for research on multiple brands and ensuring timely follow-up on customer requests and inquires.
Utilize selling skills to promote company products and services to our customers to meet departmental and individual goals
Demonstrate outstanding communications skills and the ability to maintain professional attitude in all external and internal customer interactions
Willingness and ability to take ownership of customer concerns and work to find mutually beneficial solutions that consider both the customer and our business
Demonstrate unquestionable desire to provide helpful, knowledgeable resolution to all customer inquiries
Self-manage performance to meet personal and team quantitative and qualitative goals and all key statistical metrics
Flexible and willing to perform any other job tasks as assigned
SKILLS/EXPERIENCE REQUIRED:
Minimum of one-year experience in a service-related role preferred
Demonstrated proficiency with computer applications, internet research and handling multiple tasks in a fast-paced environment
Basic typing, math and negotiation skills
Superior interpersonal and communication skills. This includes listening, verbal and written skills.
Ability to remain calm and focused during challenging customer interactions
Resolve customer issues with first call resolution in mind
Respectful of diverse viewpoints or opinions of others.
Ability to independently solve problems in a changing environment
Professional and enthusiastic team player with a demonstrated commitment to customer service excellence
Demonstrated ability to consistently adhere to an assigned work schedule
ADDITIONAL BEHAVIORAL ATTRIBUTES:
Ability to work in a highly structured environment
Creative/forward thinker/problem solver
Internal drive for excellence
Possesses a customer centric service ethic
Ability to work independently/self-motivated
Resilient – can handle high pressure and can accept constructive feedback
Can display empathy
Good organization and time management skills
Training and Work Schedule Requirements:
All training for this position is conducted virtually and lasts for 4 consecutive weeks (M-F, during normal business hours).
It is mandatory that you attend all scheduled classes in order to complete the training program within the allotted time frame.
You must be available to work any day of the week, including Saturday, Sunday, and Holidays as our contact center is open 365 days per year.
You will be scheduled off two days per week.
Qualifications
Equipment Requirements:

Due to the confidentiality requirements of company/customer information, the use of wireless phones/headsets are not permitted.
In order to work from home, you are required to meet the following minimum equipment standards:
High Speed internet connectivity with a minimum speed of 10 MBPS Download and 3.0 MBPS Upload. The PC/Mac must be wired and directly connected to your modem with an Ethernet cord. The use of WiFi is not permitted.
Supported Operating Systems: Windows 7, Windows 8.1, Windows 10, and MacOS Snow Leopard or above (Chromebooks are not supported).
Minimum RAM Required: 4GB.
Screen resolution of 1280 x 1024 or better.
Sound card allowing sound to be heard from speakers.
Microphone (external or built in).
Dedicated standard home phone line without call waiting, call forwarding or voicemail and used exclusively during scheduled work hours.
Telephone jack must be located within 5 feet of the computer.
Ergonomically correct chair/workspace/desk
Supported Web Browsers: Firefox 27 or higher, Google Chrome 35 or higher, and Internet Explorer 11.
All browsers must have the Adobe Flash Player Plugin enabled.
Adobe Flash player 11 or better.
You must have this equipment before the start of training or you will not be able to work from home."
CLICK HERE for full details and to apply. To see more jobs like these, check our Newest Jobs & Gigs page. To be the first to hear about jobs like these, like our Facebook page and check your feed for our posts. Good luck!
PLEASE SHARE this post – turn your friends into Rat Race Rebels!