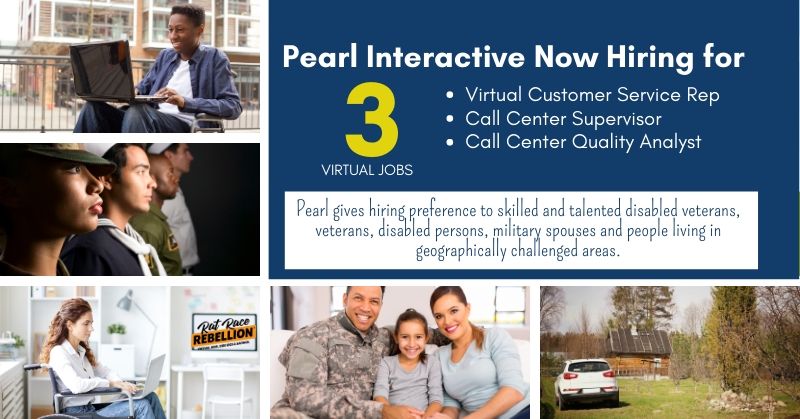 by Chris Durst      May 19, 2020
Pearl Interactive Network prides themselves on being something more than "just another company." They set themselves apart by giving hiring priority to a workforce with barriers to work such as: skilled and talented disabled veterans, veterans, disabled persons, military spouses and people living in geographically challenged areas.
Currently, the company has four virtual work opportunities posted:
Virtual Customer Service Representative
Call Center Supervisor
Call Center Quality Analyst
Each of these positions as listed as being available for workers "Anywhere in the U.S."
Here's a brief description of each opening as posted to the Pearl Interactvie site:
Virtual Customer Service Representative
Bring your high volume customer service experience to a dynamic team. Pearl Interactive Network, Inc. is seeking Virtual Customer Service Representatives to support our business partners throughout the United States.
As a Virtual Customer Service Representative, you will be responsible for handling calls from customers, answer inquires and questions, handle complaints, troubleshoot problems and provide information in a courteous and professional manner.
Job Requirements:
High School diploma or equivalent required.
Minimum 6 months customer service/administrative/telemarketing experience required.
Must be able to speak and read English clearly, professionally and fluently.
Must be able to type a minimum of 20 WPM.
Experience working with a PC and Windows operating system is required.
Embrace our winning Pearl Culture which promotes our employees' desires and efforts to serve our consumers, coworkers, clients and community by exhibiting our Pearl values of customer satisfaction, teamwork & family atmosphere, quality, respect, transparency and innovation.
Call Center Supervisor
TheаWork from HomeаCall Center Supervisor is responsible for providing front-line, first level supervision and leadership toаWork from Home Customer Service Representatives (WHCSR) with the goal of meeting program objectives and customer service level agreements.
Job Requirements:
Associates Degree or equivalent combination of education, technical training, or work experience.
Minimum two (2) years of contact center or customer service experience.
Strong leadership skills.
Experience in a quality assurance and training role, in a contact center environment a plus.
Ability to conduct and manage project reviews and communicate process improvement recommendations.
Proficient in the use of Microsoft Office products.
Excellent organizational, written, and verbal communication skills.
Ability to perform comfortably in a fast-paced, deadline-oriented work environment.
Ability to work as a team member, as well as independently.
Call Center Quality Analyst
The Call Center Quality Analystаmonitors and evaluates various transaction types to identify issues that cause errors, inefficiency, and end user dissatisfaction in order to develop improvements, improve the customer experience, decrease costs, and reduce cycle time.
Job Requirements:
High school diploma or GED required.
Bachelor's Degree from an accredited college or university preferred.
Knowledge of Quality Assurance policies and processes required.
Previous experience in a Quality Assurance role (preferably in a contact center or customer service) preferred.
Previous contact center experience preferred.
Knowledge of program-specific processes, policies and systems preferred.
Ability to perform comfortably in a fast-paced, deadline-oriented work environment.
Demonstrated resourcefulness and ability to take initiative in development and completion of work.
Ability to work as a team member, as well as independently.
Ability to facilitate and/or participate in group discussion and collaborative problem-solving.
Strong analytical skills and attention to detail.
Strong oral and written communication skills.
Good interpersonal skills and ability to work well with a wide range of individuals.
Proficient in PC skills, such as Word, Excel, Outlook, Access, etc.
Click here to learn more and to apply. For more work from home jobs and gigs, see our Newest Jobs & Gigs page. To be the first to hear about jobs like these, like our Facebook page and check your feed for our posts. May you be working from home soon!
PLEASE SHARE this post – turn your friends into Rat Race Rebels!