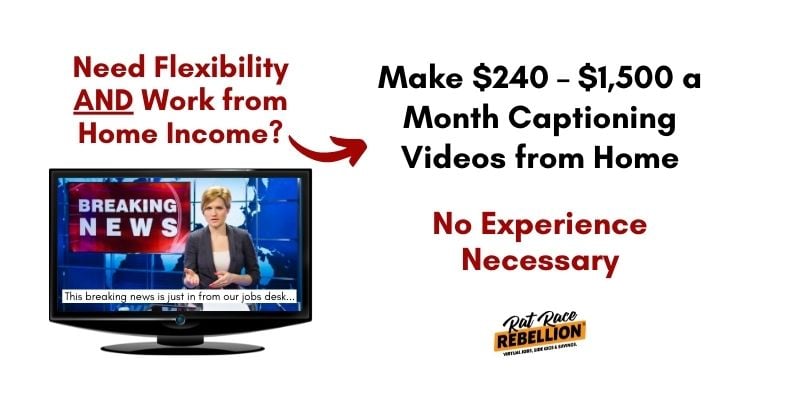 by Chris Durst        Oct. 6, 2022

Side Gig – No Experience Necessary – "Apply, be accepted, and start earning in under 48 hours" – Work When You Want
You know how sometimes you're watching a video or a movie and at the bottom of the screen you see a text of what's being said? Well, people type those in, for pay. You can do it, too, from home. Rev has hired many RRRebels in this role and as Transcriptionists as well.
As a Captioner you'll get to watch a wide variety of content — TV shows, movies, educational vids and more. You'll add the captions using Rev's proprietary captioning software. You won't get rich (details on pay are below), but you can get good captioning experience — and work-from-home experience — that can lead to a higher-paying position. (Sorry, but they say they don't hire from CA or MA.)
No experience required – Rev provides the training. All you need is a computer, headset, broadband internet, and strong English skills.
You won't get rich. This is more of a side-gig-experience-builder than a primary job. Per the company, "$240 average earnings per month; $1570 top monthly earning."
READER TIP – INSIDE INFORMATION:
We received this tip / advice about applying with Rev.com from Kim S., who started working for Rev.com.
Hi Chris and Mike –
Just wanted to take a sec to thank you so much for your Daily Leads… I currently have 3 WAH jobs thanks to your awesome research, the most recent of which is a captioning job with Rev!!
Here's an inside tip for you and your readers: According to the onboarding email I received from Rev yesterday, only 10% of their applicant get hired after the testing phase, so let your readers know to pay extra attention while testing!!
The testing itself is not AT ALL difficult; it's just very detail-oriented… if they focus and give the testing their undivided attention, your readers should NOT have a problem becoming part of that 10%!!
Thanks again for all you do – as a single mom of a 3-year-old son, your help has been invaluable, and we both thank you from the bottom of our hearts!!
Here's what the company has to say about the job:
What is captioning?
Captioning is the creation of text-based closed captions from video audio. In addition to typing the dialogue, captioners also describe sound effects and music cues to help viewers understand what's going on. Captioners then time the captions to the audio.
What does being a freelance captioner with Rev entail?
As a freelance captioner with Rev, you'll have access to a list of customer videos that need captioning. You can claim and work on any jobs you choose, subject to meeting Rev's quality requirements for freelancer work. The video content, pay, and deadline are all listed upfront so you can decide if the captioning job is a good fit for you and your schedule.
Rev provides a web-based captioning editor you use to capture all audible English speech, sound effects, music, and lyrics in a video file. Customers receive an easy to edit version of the caption file that can be downloaded in many forms.
What are the requirements to be a freelance captioner with Rev?
You must have strong English language skills and be able to accurately caption audio. We ask you to take a grammar quiz and submit a caption sample prior to being approved to caption with Rev. We will provide you with guidelines on how to ensure your caption sample meets the quality standards expected by customers.
Captioners do not need demonstrated prior experience or any special qualifications.
Do I need equipment?
You need a desktop or laptop computer and a reliable internet connection. You can claim freelance captioning jobs and complete them all through Rev's online platform.
Where does Rev accept freelancers from?
Rev accepts Transcription and Caption applicants from the following countries: Australia, Canada, India, Ireland, Mexico, Netherlands, New Zealand, South Africa, United Kingdom of Great Britain and Northern Ireland, United States (excluding California)
Does it cost money to be a freelance captioner with Rev?
It is always free to sign up and caption with Rev. We never ask for your payment information.
Can I use a phone or tablet to sign-up and caption with Rev?
No. Unfortunately, you must use a desktop or laptop computer to complete and submit sample captions using our online captions editor. If you are approved, you will also need a computer to complete caption jobs.
What are the requirements for the captioning sample?
Follow the guidelines to ensure you submit accurate sample captions. Take as much time as you need. We are unable to accept freelancers who do not meet the quality requirements. Please use US spelling, describe relevant sound effects and music, and accurately time the captions to the audio.
When will I hear if I have been approved to start captioning with Rev?
Normally within a few days. If you are approved, you can start working immediately.
How does payment work?
You'll be paid through PayPal for the work you completed in the prior week. As of now, PayPal is the only available payout option.
Payment is in USD, which can be converted into other currencies through PayPal.
Do I have to work a minimum amount of hours? Do I have to work at specific times of the week?
There is no minimum requirement to remain active on Rev's platform. You decide when and how often you work. You can claim captioning jobs at any time of the day. Rev's global customer networks means there is a steady stream of work available to caption.
CLICK HERE for full details and to apply. For more jobs like these, check our Newest Jobs & Gigs page. To be the first to hear about jobs like these, like our Facebook page. May you be working from home soon!
PLEASE SHARE this post – turn your friends into Rat Race Rebels!
[social_warfare]