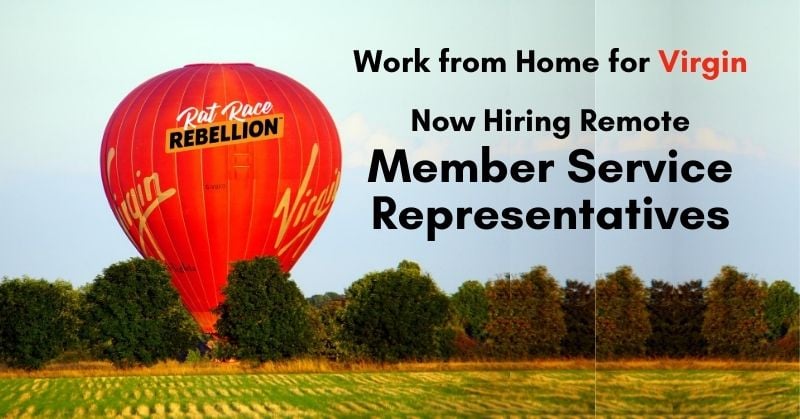 by Chris Durst    June 23, 2021
Virgin Pulse, part of Sir Richard Branson's famed Virgin Group, has posted a Remote Member Service Representative position to their jobs page.
If you have call center experience, have a high school diploma or GED, and, can work the 12:30-9pm ET shift, read on.
Pay is not listed, however, Glassdoor states, "The typical Virgin Pulse Member Service Representative salary is $36,780." We have not confirmed this with the company.
No geographical limitations are posted in the job description.
Here's what the Virgin has posted about this role:
"Who is Virgin Pulse?
Virgin Pulse, founded as part of Sir Richard Branson's famed Virgin Group, helps organizations build employee health and wellbeing into the DNA of their corporate cultures. As the only company to deliver a powerful, mobile-first digital platform infused with live services, including coaching and biometric screenings, Virgin Pulse's takes a high-tech-meets-high-touch-approach to engage employees in improving across all aspects of their health and wellbeing, every day – from prevention and building a healthy lifestyle to condition and disease management to condition reversal, all while engaging users daily in building and sustaining healthy habits and behaviors. A global leader in health and wellbeing, Virgin Pulse is committed to helping change lives and businesses around the world for good so that people and organizations can thrive, together. Today, more than 3100 organizations across the globe are using Virgin Pulse's solutions to improve health, employee wellbeing and engagement, reduce costs and create strong workplace cultures.
Who are our employees?
At Virgin Pulse we're passionate about changing lives for good. We want to make a difference in the world by helping people be healthy so they can perform at their best, every day, at work and home. Our award-winning solutions support leading employers in improving and simplifying the employee health and wellbeing journey and engaging people in all aspects of their health. But our world-class products and programs are nothing without our people – the employees who design, build, promote, sell, test and perfect the latest innovations in workplace health and wellbeing. Our people are our top priority and we invest in their health and happiness. At Virgin Pulse, we have so much more than a strong, supportive company culture – have a shared vision for a healthier, happier world.
Virgin Pulse values and celebrates diversity and is committed to creating an inclusive environment for all employees. We believe in creating teams made up of individuals with various backgrounds, experiences, and perspectives. Why? Because diversity inspires innovation, collaboration, and challenges us to produce better solutions. But more than this, diversity is our strength, and a catalyst in our ability to #changelivesforgood.
Responsibilities
Who you are.
You are an attentive customer service professional with the skills and abilities to help make Virgin Pulse programs come alive for our clients. As Virgin Pulse is committed to providing quality programs to the employees of our client companies, you will use your talents to be the "voice of Virgin Pulse"; the first point of contact for numerous members in the program. You have the ability to lean and best apply your knowledge of our products and services while providing best in class customer service. In the role of Member Service Representative you will know how to address issues, provide support and offer information as needed in order to keep customers satisfied and help preserve business.
SHIFT – 12:30-9pm ET
CANIDATE MUST HAVE CALL CENTER EXPERIENCE
In the role of Member Service Representative you will wear many hats and your talents will be crucial in the following areas:
Using top-notch interpersonal skills able understand customers' inquiries or complaints and deal effectively with callers who may be frustrated or angry
Handling incoming calls from members and clients regarding a variety of requests
Demonstrate and maintain professional oral and written communication with customers, co-workers and other Virgin staff
Navigating multiple databases simultaneously for member research and resolution
Answering questions about client and product design as well as Virgin's involvement with members' overall wellbeing
Assisting members with any technical issues related to website or products and escalate issues to as necessary
Possess a professional and friendly attitude and be able to quickly develop a rapport with customers over the phone
Using excellent listening skills with the ability to ask probing questions, understand concerns, and overcome objections
Identifying, researching, and resolving customer issues using Virgin databases
Follow-up on customer inquiries not immediately resolved
Accepting repetitive work tasks performed in a confined work area
Consistently meeting established performance and quality standards
Maintenance of thorough knowledge of systems so that information can be researched and proper information is given to members
Learning and retain a thorough working knowledge of all existing and new products and services
Discipline to work from home as business needs dictate
Qualifications
What you bring to the team.
In order to represent the best of what we have to offer you come to us with a multitude of positive attributes including:
High school diploma or equivalent required
Some University or Post-secondary Education preferred
Must have at least one year customer service experience in a call center environment
Familiar with cloud based contact center software desirable
Excellent written and verbal communication skills
Strong personal computer usage and Internet proficiency skills
Ability to type 30 wpm minimum with accuracy
You also take pride in offering the following Core Skills, Competencies, and Characteristics:
Ability to adhere to defined schedule of 12:30 p.m. – 9:00 p.m. EST – Monday-Friday
Flexible with scheduling as business needs dictate
Ability to listen attentively and to use information provided to assist members specific needs
Strong work ethic and self-starter, able to effectively manage multiple priorities and adapt to change within a fast-paced business environment
Strong customer service, analytical and decision making skills
Must be able to learn quickly in a fast paced environment
Ability to organize and follow-up on multiple tasks/details with accuracy and timeliness
Ability to effectively interact with employees at all levels of the organization and work with a variety of people from diverse backgrounds
Ability to learn and navigate new software quickly
No candidate will meet every single desired qualification. If you may be a good fit, we encourage you to apply. Virgin Pulse is an equal opportunity organization and is committed to principles of social justice, equity, diversity and inclusion. As we are committed to diversifying our company, we make a particular effort to recruit and encourage candidates that are historically from underrepresented communities to apply for open positions."
CLICK HERE for full details and to apply. For more jobs like these, be sure to see our Newest Jobs & Gigs page. We post new jobs and side gigs every morning except Sunday. To be the first to hear about jobs like these, like our Facebook page. Good luck!
PLEASE SHARE this post – turn your friends into Rat Race Rebels!