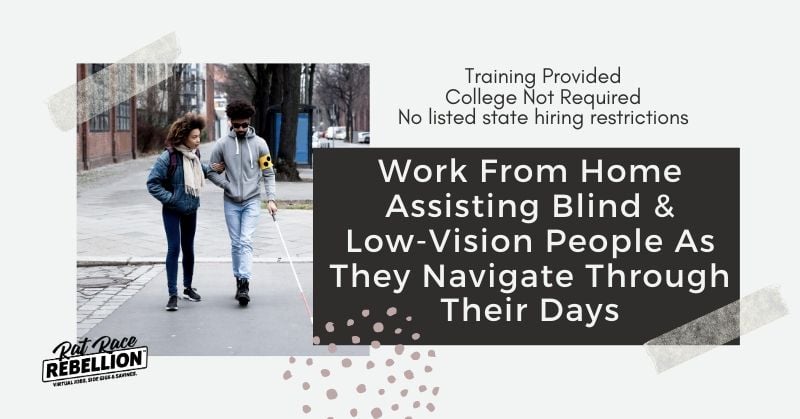 by Chris Durst         March 20, 2020
Work from Home Jobs – Assist Blind and Low-Vision People Remotely – No State Hiring Restrictions Mentioned – College Not Required – Training Provided
This is one of our favorite jobs, and the company is still recruiting. (One of our RRRebels has notified us that the company is not hiring from CA, NY, IL, or Washington, DC, though this isn't official.)
Aira has developed technology that allows you to assist people who are blind or have low vision when they want help. Through this technology, they push a button and YOU SEE what's in front of them.
Now you, as an Aira Agent, can assist them with shopping, reading email or computer screens, identifying obstacles on walking routes and helping them change their course to get around them, and so much more.
The Inside Scoop From a Fellow RRRebel!

We received an email from a fellow RRRebel who works with Aira, wrote to share the following insights:
"Thanks to you guys, I've been with Aira for almost a year now, and I absolutely love it! In return, I wanted to reach out and provide some clarification anonymously in case it might be helpful:
Training is paid
Glasses are being discontinued. Moving forward, agents only see through users' smart phone mobile app. (It's better this way!)
Preferred phrasing is that users "want" help vs "need" help
I make $15/hr
Service is available 24hr/day, 7day/wk. Agents select their own shifts, very flexible. Agents with weekend availability especially needed.
Biggest hurdles: meeting the lofty tech specs, providing effective public transit navigation
Best parts of the job: never boring! Not the type of job where you answer the same questions constantly. Calls take you around the world, live vicariously through others, help people with big stuff (getting to a congressional meeting) to small stuff (take a selfie on vacation)"
Here's what the company has to say about this opportunity:
"Working as an Aira agent is unlike most jobs. That's why we've developed our own training and certification process to ensure you'll be ready and able to help our blind and low vision Explorer's accomplish any task, from day one. Aira agents provide immediate information in order to accomplish any task as a team. From stopping for morning coffee on the way to work, to making that dream journey around the globe.
How does Aira work?
Aira is an information-providing service that empowers individuals who are blind or low vision to live with greater freedom and independence. We want you to join our growing network of Aira agents! Regardless of your current stage in life, becoming an Aira agent is an incredibly fulfilling career with a flexible schedule.
As an Aira agent you simply log onto our specialized dashboard from your personal computer at home and begin answering live video calls from our Explorers. Every day, the scenarios are varied and unique – you could help them shop, read books to their children, cook meals, or navigate to locations in their daily lives.
We are looking for:
People who are enthusiastic, eager, and well-spoken.
People who love to search the web and find the best, most relevant information.
People who can multitask while remaining focused and calm.
People who can work through complicated tasks and technical difficulties.
People located in the United States.

Requirements:
A personal computer, our dashboard is NOT compatible on tablets, Chromebooks or smartphones, and a great internet connection.
Customer service experience.
Must be a high school graduate, some college preferred.
A quiet, private space to work free from family, friends, pets, etc.
Must be able to sit for long periods of time
Computer Requirements:
A minimum of a CPU 4 CORE.
A minimum of 8 GB RAM.
A minimum of 40 GBS available disk space.
A Windows or Mac computer using Windows 10 or Mac OS High Sierra
Internet Requirements:
A minimum speed of 25 MBPS."
Click here for full details and to apply. For more jobs like these, check our Newest Jobs & Gigs page. To be the first to hear about jobs like these, like our Facebook page. Good luck in your next steps toward working from home!
PLEASE SHARE this post – turn your friends into Rat Race Rebels!