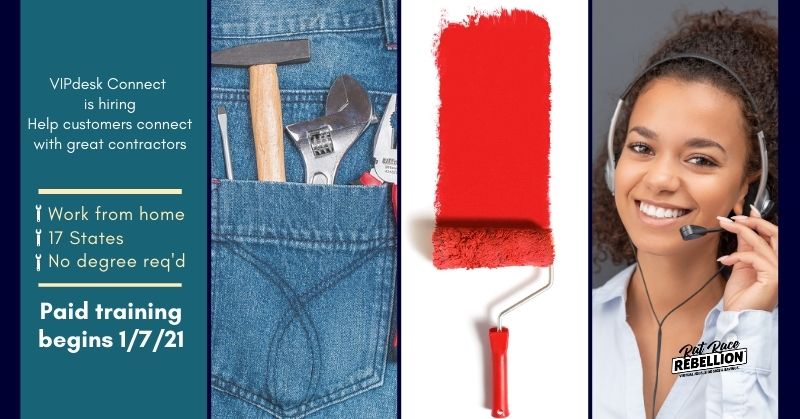 by Chris Durst      Dec. 14, 2020
VIPdesk Connect is hiring Customer Service Representatives for their HomeAdvisor account. Must live in one of the following states: AZ, CO, FL, GA, IL, IN, MD, NV, NM, NJ, NC, OH, TN, TX, UT, VA or WI. (Please share with friends and family who live in these states – they'll love you for it!) No college required, paid virtual training included.
TRAINING BEGINS ON OR ABOUT JAN. 7, 2021. So apply or share quickly if interested!
HomeAdvisor is the nation's largest online home improvement marketplace. It provides a free service to homeowners with the tools and resources they need to complete their home improvement, maintenance and repair projects. In this position you'd be handling customer service queries via phone, email and chat.
In earlier job listings, this was described as a full-time position. The pay rate was "up to $16/hr." (hourly rate plus incentives). The current listing doesn't mention schedules or pay rates, but we'll update if we hear more.
Here's what VIPdesk Connect says about these openings:
What You'll Do
With positive energy, represent HomeAdvisor—the nation's largest online home improvement marketplace—and assist homeowners to find service professionals for their maintenance, repair, and improvement projects.
Assist customers via phone to purchase new or additional home improvement services, answer questions about current or previous sales request, transfer customers to service providers, and facilitate refunds.
Take ownership of customer issues and follow through to solve problems while exercising sound judgment, focusing on achieving a resolution that exceeds customer expectations.
Convey knowledge, authenticity, and a commitment to excellent customer service.
Qualities of Brand Ambassadors:
Effective Communicator – Making connections with customers comes naturally. You are approachable and can adjust your style to adapt to a variety of situations and personalities.
Problem-Solver – When faced with challenges, you use your knowledge of tools, tactics, and techniques to meet customers' expectations and meet weekly goals. You seek alternative solutions and follow through with a new course of action.
Optimism – With a positive attitude, you make customers feel at ease and can de-escalate and turn around interactions. 
Self-motivation –Accomplishing goals is what you live for. You are driven to exceed goals and eager to contribute to the team's success. Your motivation is your greatest strength and the source of your success.
Lives our Values – Helpful. Creative. Flexible. Positive Energy.
What We're Looking For
High-school diploma or equivalent
2+ years of customer service experience
Desire to meet and exceed sales goals and thrive in a performance-based environment
Polite, friendly, warm, and courteous phone demeanor
Confidence in asking questions and guiding conversations to resolve customer requests
Excellent verbal and written communication skills
Open and accepting of coaching and feedback
Ability to respond positively to change, embracing and using new learning to accomplish complex or difficult challenges
Proficiency with Microsoft Office suite of applications including Teams
Able to type at least 35 words per minute with minimal errors
Technically savvy with the ability to pick up new technology, processes, and procedures quickly
Able to provide a work-at-home environment that is ergonomically sound, conducive to taking customer calls, quiet, and free from distraction
Home-office environment, internet connection, web camera, USB headset and a computer system that meets VIPdesk Connect policies and maintenance requirements, including system upgrades as applicable, which may change over time
Able to work weekends
Able to successfully pass background and employment reference security checks where permissible by state and local regulations
Currently reside in Arizona, Colorado, Florida, Georgia, Illinois, Indiana, Maryland, Nevada, New Mexico, New Jersey, North Carolina, Ohio, Tennessee, Texas, Utah, Virginia, or Wisconsin
Preferred Qualifications
Some college
Six months of inbound sales experience with upselling
Previous experience in a fast-paced call environment is a plus
Previous remote experience a plus
Knowledge of basic home repair services
Training
Our next training class is tentatively scheduled to begin on or about January 7, 2021, with daily classes held 10:00 am-4:30 pm ET.
Click here for full details and to apply. For more jobs like these, check our Newest Jobs & Gigs page. To be the first to hear about jobs like these, like our Facebook page. Good luck in your work from home plans!
PLEASE SHARE this post – turn your friends into Rat Race Rebels!