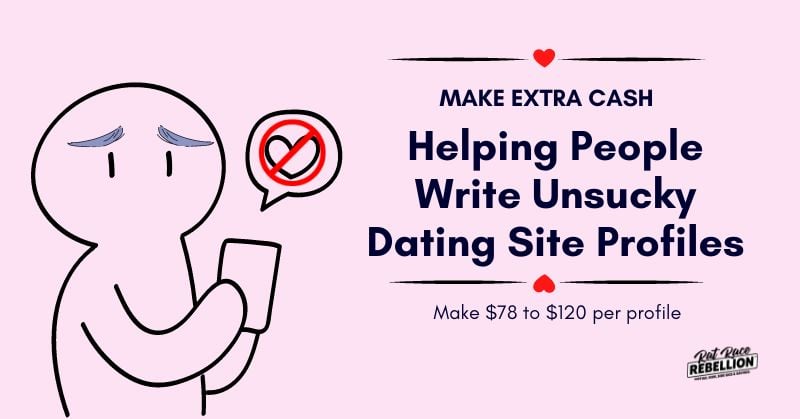 by Chris Durst       Updated April 4, 2023
Dating sites have a reputation for being littered with terrible profiles.
Not sure why? Pop over to Google and search for terrible dating profiles and you'll find out pretty quickly.
If you have a flair for writing, here's your chance to help rescue people from their unfortunate profiles and set them on the right dating track.
e-Cyrano is taking applications for Work from Home Dating Profile Writers. Regarding pay, the company states, "Fees range between $78 and $120 per profile. Most writers take on 1-2 clients per week."
It could be a good way to make some extra cash each month. The application process involves interviewing a friend, taking notes, and writing a 200-word essay about that person and another about their ideal mate.
Here's what the company has to say about the openings:
Let's face it. Most dating profiles suck. That is, before you started writing them.
e-Cyrano is looking to expand its roster of writers and, in the process, help out legions of single people who want to stand out.
This is meaningful, fun, freelance work that pays decently, doesn't take up too much time, and will change the course of your clients' lives.
Before you get started, we must emphasize: this is harder than it looks. So before you start counting your money, we'd like you to try out by writing an online dating profile. Here's how:
Interview a friend, take notes and write two 200-word essays. One essay will be about the person you're interviewing and the other will be about his/her ideal mate. Sure, you can cheat by sending us your own profile, but that's not going to prove whether you can do this for other people. When you're done, upload the profile below and we'll let you know in a week if you made the cut.
Historically, we only take on one writer out of every 15 who apply. But once you're in, the perks are great. We've been around for ten years, and there are writers who have been with us from the very beginning. Whether you're a screenwriter, a stay-at-home mom, or just someone who wants to supplement her income, this is a fun opportunity.
Fees range between $78 and $120 per profile. Most writers take on 1-2 clients per week.
Finally, because we'd rather have some great profile submissions, here are a few tips to get you started: no adjectives, no lists, no clichés, no negativity, no oversharing.
The secret to a great profile is this: tell unique stories that illustrate your client's best qualities and make him/her appealing to the opposite sex. With each story, ask the client:
Is this important? If it's not important, it shouldn't be in your profile. You may have two Radiohead albums on your iPod, but unless music is particularly essential to her life, you wouldn't want to put it in her profile.
Is this specific and finite? Way too many people tell stories that aren't really stories. They're general facts. If the word is "kind", they'll write, "I'm always performing random acts of kindness for strangers, opening doors, donating food, being a great listener. I'm one of the kindest people you'll ever meet."
This is called "redefining the adjective" and it's useless. Instead, tell one specific story about one time your client was kind to her ex.
Is this memorable, interesting or funny? We've had one client talk about how she sang to her autistic students to get them to go to the bathroom. Another talked about watching her brother arrange her family's Christmas ornaments into threesome formations. Another mentioned how she had to learn to use an AK-47 to potentially fight off pirates when she was the chef on a cruise. Great stories make great profiles.
Finally, for any story you tell, ask: Is this appealing to the opposite sex? When you're considering what stories you tell, view them through the prism of the person reading the profile. If your client is creative, tell a story about how she did something creative with her ex-boyfriend. If your client is curious, provide an example of how an ex –girlfriend benefited from his curiosity. You're building a case as to what the reader gets out of dating your client.
We know this is a lot of information to digest, but again, we want you to succeed!
So, call up your friend, write that profile, and send it our way.
CLICK HERE for full details and to apply. To see more jobs like these, check our Newest Jobs & Gigs page. To be the first to hear about jobs like these, like our Facebook page and check your feed for our posts. May you be working from home soon!
PLEASE SHARE this post – turn your friends into Rat Race Rebels!