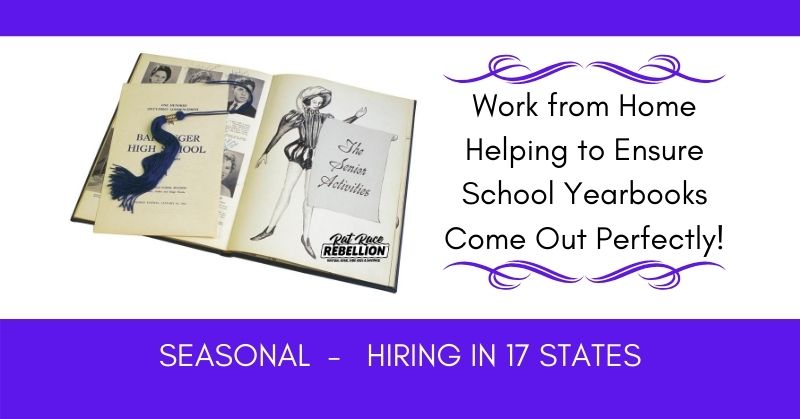 by Chris Durst       Aug. 26, 2020
VIPdesk Connect is currently hiring Seasonal Technical and Customer Service Representatives to provide phone and email support their client — a leading provider of printed yearbooks that create memorable experiences for thousands of schools and students.
These seasonal positions should run through mid-November.
At present, they are hiring from the following 17 states ONLY: Arizona, Colorado, Florida, Georgia, Illinois, Indiana, Maryland, Nevada, New Jersey, New Mexico, North Carolina, Ohio, Tennessee, Texas, Utah, Virginia, or Wisconsin.
Pay is not listed in the job post.
Here's what VIPdesk Connect has posted about this opportunity:
"This is a Seasonal position expected to run through mid-November.
We're looking for passionate, solution-oriented Technical and Customer Service Representatives to temporarily join our team in a Seasonal role to provide phone and email support to our client—the leading provider of printed yearbooks that create memorable experiences for thousands of schools and students. As part of a diverse, engaged team, the Seasonal Technical and Customer Service Representative (we call Technical Support Brand Ambassador) is dedicated exclusively to the Yearbook Services customer care program and provides customer and technical support services to Faculty Advisors, Student Yearbook staff, and other associated parties. The Seasonal Technical Support Brand Ambassador will support a proprietary desktop publishing tool for creating and designing yearbooks and work with customers to resolve technical problems including uploading images to a library, tagging photos, assisting with book setup, setting up tools for yearbook ad sales, submitting pages, uploading portraits, and other related areas.
Technical Support Brand Ambassadors are responsible for assisting VIPdesk Connect client's customers via phone and e-mail while meeting metrics including quality and customer satisfaction. By using empathy as a way to engage and build rapport—communicating from the heart, as well as the head—the Brand Ambassador provides technical support using passion and knowledge of the clients' brands to ensure an authentic and personal experience that promotes brand loyalty. Additionally, the Brand Ambassador answers customer questions about products, client policies, and provides general customer service resolution on behalf of our clients, taking ownership of customer issues and follows through to solve problems while exercising patience and willingness to provide assistance for simple and complex inquiries with positive energy.
Qualities of Brand Ambassadors:
Dynamic Communicators –With the voice of our client, team members provide responsive, accurate, and authentic interactions. While resolving technical issues, they simplify the complex, breaking down to make understandable to those less tech savvy.
Empathetic – Brand Ambassadors know how a message is conveyed is equally important as what is said. By putting themselves in other's shoes, they focus on the customer's experience and connect, human-to-human.
Knowledgeable –Brand Ambassadors are constantly working on improving skills. When new product features are released and tools updated, Brand Ambassadors enthusiastically learn how to support new features and functions to confidently resolve customer issues. No matter what the issue, no matter how complex, Brand Ambassadors are problem solvers who welcome and lean into challenges.
Essential Duties and Responsibilities include the following. Other responsibilities may be assigned.
Handle customer inquiries via phone and email providing appropriate solutions in a timely manner
Creates positive customer touchpoints using friendly, respectful, and professional tone while exhibiting genuine empathy
Accurately follows and complies with all client's Policies
Applies high-quality customer service guidelines, policies, and procedures while servicing customers
Assess customer problems, troubleshoot, and confidently remedy issues
Escalates critical support issues following appropriate policies and procedures
Retains and conveys deep knowledge and benefits of client's products and troubleshooting techniques to continually provide effective support
Accurately documents customer interaction details with limited errors
Embraces the commitment to customer service and nourishes brand loyalty
Attends meetings and trainings as required to obtain new and pertinent information
Meet or exceed program metrics including attendance, quality, and customer satisfaction
Other duties as assigned
QUALIFICATIONS:
HS Degree or equivalent required. Associate degree or some college preferred
3+ years customer service experience required, experience in a virtual contact center a plus
1 year+ experience with problem-solving and complex troubleshooting in technical support or online Help Desk role
Experience with a desktop publishing application required, Adobe InDesign preferred
Experience with Salesforce preferred
Ability to collaborate with team members, contribute ideas, opinions, and skills toward the achievement of common goals
Excellent interpersonal skills; strong oral and written communication skills
Flexible, adaptable, and willing to take on new challenges
Microsoft Office proficiency required
Able to type at least 35 words per minute with minimal errors
Technically savvy with the ability to pick up new technology, processes, and procedures quickly
Ability to work well under pressure in a fast-paced environment, adapting easily to changing priorities
Able to learn and work independently and exhibit ownership as well as in a team environment
Able to use effective and probing questioning and listening techniques to identify customer needs
Detail-oriented with a focus on quality and accuracy, ability to multitask, strong sense of urgency, and commitment to excellence
Due to the home-based nature of this job, the Brand Ambassador is required to have a secure home-office environment, internet access, USB headset, router, modem, and a computer system that meets VIPdesk Connect policies and maintenance requirements, including system upgrades as applicable, which may change over time
Able to provide a work-at-home environment that is ergonomically sound, conducive to taking customer calls, quiet, and free from distraction
Able to successfully pass a credit, criminal and employment reference security checks where permissible by state and local regulations
Currently reside in AZ, CO, FL, GA, IL, IN, MD, NC, NJ, NM, NV, OH, TN, TX, UT, VA, or WI
Available Shifts
Full-time team members are scheduled for up to 5 days per week between 30–40 hours per week. Full-time shifts available:
Monday–Friday between the hours of 8:00 am–5:00 pm ET, up to 5 days per week
Monday–Friday between the hours of 3:00 pm–12:00 am ET, up to 5 days per week
Training
Our next training class is scheduled to begin on or about September 10th with daily classes held Monday–Friday, 10:00 am–6:00 pm ET. New team members will attend training remotely via web cameras from secure, noise-free, distraction-free home offices that meet our requirements.
CLICK HERE for full details and to apply. For more jobs like these, be sure to see our Newest Jobs & Gigs page. We post new jobs and side gigs every morning except Sunday. To be the first to hear about jobs like these, like our Facebook page. Good luck!
PLEASE SHARE this post – turn your friends into Rat Race Rebels!