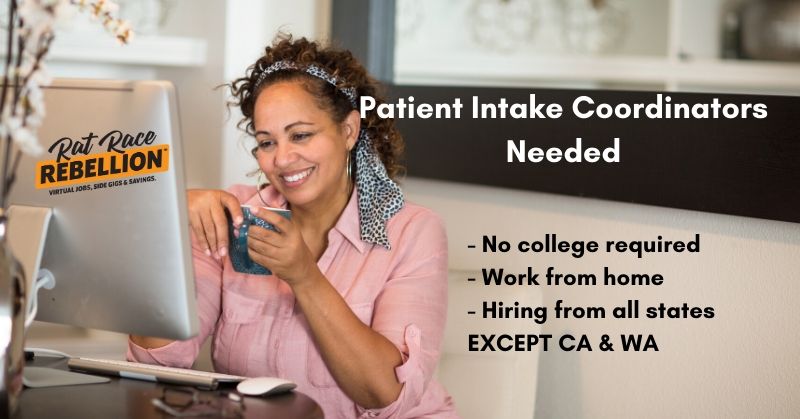 by Mike Haaren – Co-Founder, Rat Race Rebellion – April 9, 2020
American Health Connection is a US-based company that focuses on centralizing appointment scheduling departments, automated reminder calls, patient access consulting, and discharge follow-up calls.
The company continues to recruit f/t Patient Intake Coordinator/Schedulers to work from home nationwide (except for California and Washington). College not required. "Competitive salary and benefits," per the company. A rough estimate based on Glassdoor reviews is $12-$13/hr., but that's not official.
If you've had experience working in a medical-oriented scheduling environment, this might be a fit.
Here's what they have to say about the job:
This is a fast paced, detail oriented position with a competitive benefits package. As a Patient Intake Coordinator/Scheduler, you are the first point of contact for patients. In this position, you will utilize your customer service and critical thinking skills to schedule appointments, verify insurance, complete pre-certifications, make referrals in addition to other job related duties. To ensure that each patient receives the time and care they need efficiently, you will focus solely on working with patients to obtain complete and accurate information. Listening to the patient's needs and finding a working solution for them is crucial while providing excellent customer service to a diverse age and ethnic population by effectively communicating and proficiently handling confidential and sensitive information.
Required Skills & Experience:
Minimum 2 years recent experience in medical-oriented scheduling environment – preferably large physician practice or central scheduling
Bilingual in any of the following languages: Spanish, Mandarin, Polish and/or Cantonese is a plus!
Adept at handling large call volumes, preferably with use of VOIP call systems
Working knowledge of the following systems: EPIC/Cerner and/or PHS
Efficiently schedule radiology and diagnostic procedures
Proficient capability with pre-registration and insurance verification
Experience with basic insurance guidelines
Excellent communication skills, customer service skills and phone etiquette, able to communicate effectively on the telephone.
Ability to multitask – with basic knowledge of PC common applications
Demonstrated, proven ability working in a home remote environment – with dedicated office space that can be closed off by a door for security
Applicants in California & Washington will not be considered at this time.
Physical Requirements:
Finger Dexterity: Using primarily just the fingers to make small movements such as typing, picking up small objects, or pinching fingers together.
Talking: Especially where one must frequently convey detailed or important instructions or ideas
accurately, loudly, or quickly.
Hearing: Able to hear average or normal conversations and receive ordinary information.
Visual Ability: Average, ordinary, visual acuity necessary to prepare or inspect documents or products, or operate machinery.
Physical Strength: Sedentary work; sitting most of the time.
Technical Requirements:
Desktop/tower PC with 22-inch monitor. Laptops are not acceptable.
Operating System: Windows 10 64-bit or newer.
CPU: Intel Core i3-4100M 2.50GHz / AMD A8-3850 APU or better. (You can check here, as any CPU with a Passmark score of 3400 or higher is eligible)
RAM: 8GB or more.
High-Speed Internet with modem connected to PC through Ethernet cable. Wireless internet connections are not acceptable.
Internet speeds must meet a speed test minimum of 30 Mb/Sec download and 10 Mb/Sec upload.
Click here, then scroll down and search with keyword "coordinator" without quotes. For more jobs like this, check our Newest Jobs & Gigs page. To be the first to hear about jobs like this, like our Facebook page and check your feed for our posts. May you be rocking your Rebellion soon!
PLEASE SHARE this post – turn your friends into Rat Race Rebels!
[social_warfare]