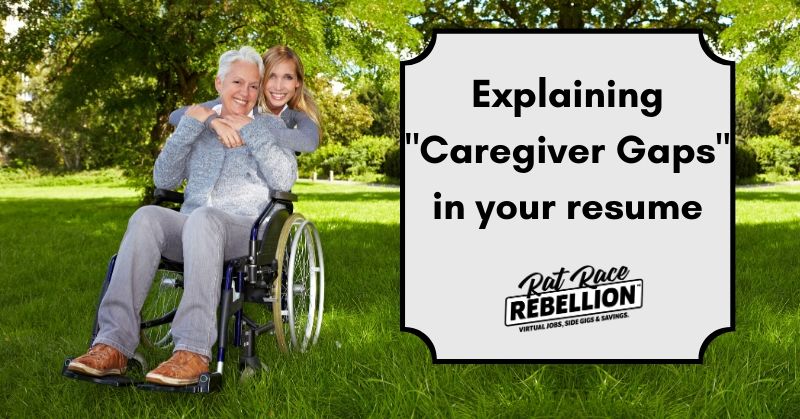 by Chris Durst      Feb. 24, 2020
Many people leave the workforce to take care of a sick or aging family member or friend. On the one hand, people will applaud you and tell you how selfless and caring you've been (and they're right). On the other hand — the "re-entering the workforce" hand — you may find that the gap in your resume has created a barrier to entry. 🙁
If you've already read our posts on Explaining Parenting Gaps and Explaining Illness Gaps in your resume, then you already have a good idea of some of the techniques we suggest for making "back filling"  holes in your resume in a meaningful way.
With Applicant Tracking Systems playing such a big role in pre-screening job applicants, it's important that you create a resume that doesn't raise red flags that will cause the "bots" to kick your resume out before it's ever seen by a human being. In some cases, an extended period of unemployment may be a red flag.
Here are some strategies you may want to employ to round out your resume and explain those Illness Gaps.
Assess Your Transferable Skills
It's time to give some thought to  the "jobs" you performed during that time so you can showcase those that transfer well into the traditional workplace.
Let's start by looking at the many skills you honed or acquired while doing this "job" that wasn't employment. These "transferable skills" you can showcase in your resume and cover letter.
Problem Solving – caring for an older person can be both rewarding and trying. There are problems and challenges to deal with daily. When there are changes to health, appointments, moods, plans, etc., you have to take charge and come up with a solution. You are a problem solver.
Time Management – whether it's managing social engagements, medical appointments, or other obligations, effectively juggling someone elses schedule requires sharp Time Management skills. You've got 'em!
Communication – Communicating effectively with the person you are caring for, as well as their physician(s), therapists, insurance company, medicare, and others demands keen communication skills. You use them every day.
Don't forget about Multi-tasking, Listening, Compassion, Empathy, and a whole host of others.
Create a Role for Your Resume
Now, with your list of transferable skills fresh in your mind, it's time to create a Job Title and role for your resume.
For example:
Full-Time Caregiver            Jul 2015 – Present
Provided care for elderly family members, including scheduling medical and personal appointments, coordinating in-home services, assistance with activities of daily living, managing insurance claims, bookkeeping, bill payments, and other financial tasks.
Performed home and property maintenance, interviewed and hired contractors as-needed.
Be sure to tailor bullet points that mirror/address the needs of the company as described in their job description. This will help you make it past the software!
Now that you have your resume on track, be sure to check our Newest Jobs & Gigs page. May you be working from home soon!
PLEASE SHARE this post – turn your friends into Rat Race Rebels!
[social_warfare]