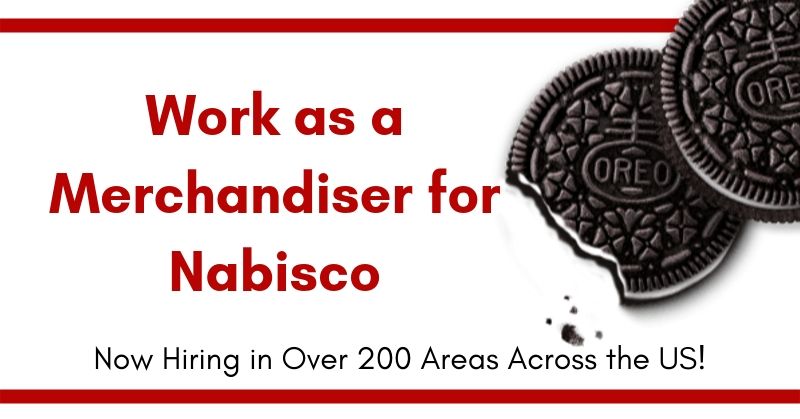 by Chris Durst     Aug. 9, 2023
If you're looking for a part-time gig that gets you out of the house, Mondelēz International — the company that owns Nabisco, Cadbury, Milka and other popular brands — is hiring Merchandisers for their Nabisco product line. They have part-time openings across the US. 
These roles require local travel to stores where Nabisco products are sold. 
The position's pay range starts at about $16/hr., depending on location and/or experience. Some openings offer a sign-on bonus. Mileage reimbursement is also offered. 

Here's what the company has to say about the openings:
Join our Mission to Lead the Future of Snacking. Are you ready to make it happen at Nabisco, a subsidiary of Mondelēz International?
Become one of our Part Time Retail Merchandisers (Stocker) and an ambassador of world-famous brands like Oreo, Ritz, belVita, Chips Ahoy, Triscuit among other delicious industry-leading snacks. Deliver the merchandising needs of our grocery customers through stocking the shelves and building and maintaining displays. Our local customers Walmart, Target, Shoprite, Wegmans, Giant, Food Lionand more.
What we expect from you:
Ensure Nabisco leading brands (Oreo, Ritz, Belvita, Chips Ahoy, Triscuit among others) are well represented, stocked and maintained on shelf and displays.
Ensure Sales Representative's plans within stores are being followed and communicate any issues with your Mondelēz management team.
Follow the daily route plan (store to store) prepared by the operations team to ensure the most efficient instore service.
Work closely with sales representative to optimize visibility of Mondelez products on shelves and the construction of promotional displays.
Enhance seasonal sales, seasonal displays, and new product launches.
Professional, positive, and upbeat attitude while representing Mondelēz in store.
Who is a good fit?
Be at least 18 years of age, have a valid driver's license and proof of auto insurance
Ability to drive your personal vehicle to a variety of store locations (mileage will be reimbursed).
Ability to perform in a fast-paced work environment and to meet the defined physical activities like repetitive lifting, bending, and carrying up to 25 lbs. This includes physically moving our products from the stock rooms and stocking the store's shelves.
Live within 25 miles range from the primary location
What you can expect from us:
The Part Time Retail Merchandiser position offers an hourly compensation rate of <varies by state> per hour based on relative experience.
Work related mileage reimbursement.
Safety equipment such as kneeling pads, safety knives, PPE.
Growth opportunities within the company.
This position is eligible for a Hiring Bonus! (certain states only)
Reimbursement of business internet/data expenses up to $10/per month if company device is not provided.

To learn more and apply CLICK HERE then…
enter the word MERCHANDISER in the "SEARCH" field
select North American, then United States of America from the "Location" drop-down menu

scan through all pages of the list to see if your area is available.
For more jobs like this, see our Daily Jobs & Gigs page. To be the first to hear about the jobs we post, just like our Facebook page and check your feed.

PLEASE SHARE this post – turn your friends into Rat Race Rebels!