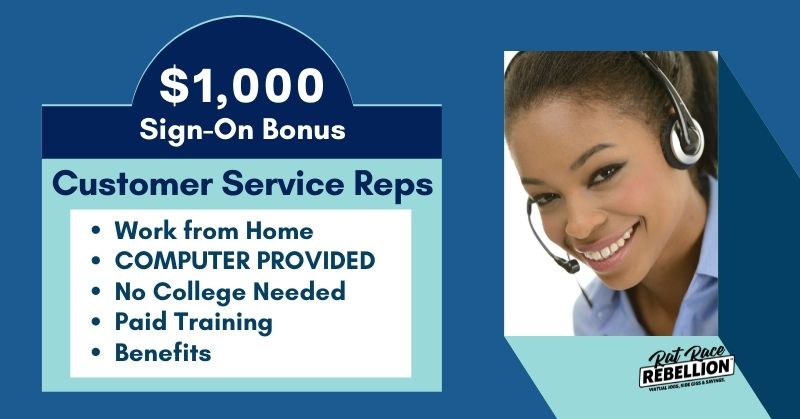 by Chris Durst       Oct. 19, 2021
10/20/21 UPDATE – IT APPEARS UNITEDHEALTH HAS RECEIVED ALL OF THE APPLICATIONS THEY NEED AT THIS TIME. THE JOB LISTING IS NO LONGER ACTIVE.
UnitedHealth just posted another job posting for full-time work from home Customer Service Reps across the US.
The company will provide you with a work computer and paid training to help ensure your success in the job.
Additionally, the company is currently offering a $1,000 sign-on bonus.
The pay range is not listed for all states, however, the rate noted for those states listed (as mandated by law) starts at $15/hr and can go up to $24/hour. UnitedHealth also offers an attractive benefits package.
Here's what the company has posted about this opportunity:
"You'll enjoy the flexibility to telecommute* from anywhere within the U.S. as you take on some tough challenges.
Welcome to one of the toughest and most fulfilling ways to help people, including yourself. We offer the latest tools, most intensive training program in the industry and nearly limitless opportunities for advancement. Join us and start doing your life's best work.SM
Even if you have no prior experience, we have training classes starting soon to help you build the successful career that you want – apply today! We provide the support and structure; you provide the interest and motivation.
You like working with people. Even more so, you like helping them. This is your chance to join a team dedicated to helping our members and their families every day. In this joint role as a Customer Service and Claims Representative, you'll join us on a mission to not only deliver the best customer service in the health care industry, but the best customer service. Period. Your compassion and customer service expertise combined with our support, training and development will ensure your success. This is no small opportunity. This is where you can bring your compassion for others while doing your life's best work.SM
In this role, you play a critical role in creating a quality experience for the callers that you connect with and those that you correspond with. Every interaction gives you that opportunity to improve the lives of our customers and exceed their expectations. You'll spend the majority of your day by responding to calls from our members and help answer questions and resolve issues regarding health care eligibility, claims and payments. You'll also spend a portion of your time reviewing, researching and processing healthcare claims with the goal to ensure that every claim has a fair and thorough review.
This position is full-time (40 hours/week) Monday – Friday. Employees are required to have flexibility to work any of our 8 hour shift in respective time zone. It may be necessary, given the business need, to work occasional overtime.
*All Telecommuters will be required to adhere to UnitedHealth Group's Telecommuter Policy.
Primary Responsibilities:
Answer incoming phone calls from customers and identify the type of assistance the customer needs (i.e. benefit and eligibility, billing and payments, authorizations for treatment and explanation of benefits (EOBs)
Ask appropriate questions and listen actively to identify specific questions or issues while documenting required information in computer systems
Own problem through to resolution on behalf of the customer in real time or through comprehensive and timely follow-up with the member
Review and research incoming healthcare claims from members and providers (doctors, clinics, etc) by navigating multiple computer systems and platforms and verifies the data/information necessary for processing (e.g. pricing, prior authorizations, applicable benefits)
Ensure that the proper benefits are applied to each claim by using the appropriate processes and procedures (e.g. claims processing policies and procedures, grievance procedures, state mandates, CMS/Medicare guidelines, benefit plan documents/certificates)
Communicate and collaborate with members and providers to resolve issues, using clear, simple language to ensure understanding
Meet the performance goals established for the position in the areas of: efficiency, accuracy, quality, member satisfaction and attendance
You'll be rewarded and recognized for your performance in an environment that will challenge you and give you clear direction on what it takes to succeed in your role as well as provide development for other roles you may be interested in.
Required Qualifications:
High school diploma / GED (or higher) OR 10+ years of equivalent working experience
All new hires will be required to successfully complete the Customer Service training classes and demonstrate proficiency of the material
Ability to work regularly scheduled shifts within our hours of operation including the training period, where lunches and breaks are scheduled, with the flexibility to adjust daily schedule, and work over-time and/or weekends, as needed
Preferred Qualifications:
1+ years prior experience in an office setting, call center setting or phone support role
Telecommuting Requirements:
Required to have a dedicated work area established that is separated from other living areas and provides information privacy
Ability to keep all company sensitive documents secure (if applicable)
Must live in a location that can receive a UnitedHealth Group approved high-speed internet connection or leverage an existing high-speed internet service
Soft Skills:
Demonstrated ability to quickly build rapport and respond to customers in a compassionate manner by identifying and exceeding customer expectations (responding in respectful, timely manner, consistently meeting commitments)
Demonstrated ability to listen skillfully, collect relevant information, determine immediate requests and identify the current and future needs of the member
Proficient problem-solving approach to quickly assess current state and formulate recommendations
Proficient in translating healthcare-related jargon and complex processes into simple, step-by-step instructions customers can understand and act upon
Flexibility to customize approach to meet all types of member communication styles and personalities
Proficient conflict management skills to include ability to resolve issues in a stressful situation and demonstrating personal resilience
UnitedHealth Group requires all new hires and employees to report their COVID-19 vaccination status."

CLICK HERE for full details and to apply. For more jobs like these, check our Newest Jobs & Gigs page. May you be working from home soon!
PLEASE SHARE this post – turn your friends into Rat Race Rebels!