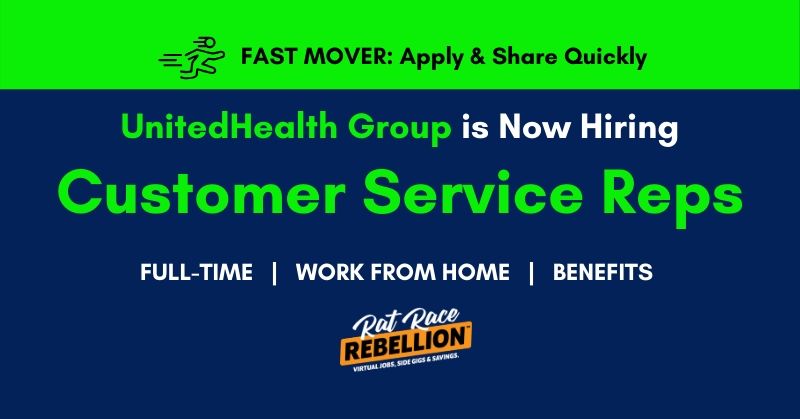 by Chris Durst       Sept. 13, 2022
UnitedHealth always has a large number of work from home jobs available. But their Customer Service jobs are rare and very popular, so APPLY or SHARE QUICKLY if interested. These will likely fill fast.
Update – Looks like the company has received all the applications it needed and deleted the listing. We'll post again when they resume hiring. See our Newest Jobs and Gigs page for more jobs like these.
******************
There's a $1,000 sign-on bonus. Pay is in the range of $16-$25+/hr., depending on your location and experience.
Hiring NATIONWIDE. Equipment provided. No college required.
If you have a "helpful personality" and are looking for something full-time, this might be a fit.
Here's what the company has to say about the openings:
You'll enjoy the flexibility to telecommute* from anywhere within the U.S. as you take on some tough challenges.
You've heard this all your life. Trust matters. Being trusted matters a lot. Here at OptumRx we've earned the trust of more than 65 million people who rely on us for the prescription drugs that improve their health and lifestyle. Now, we trust that you can take advantage of some of the best training and tools in the world to help serve our customers and their care providers. You'll take as many as 50 to 70 calls per day from members who have questions about their prescriptions and you'll use your personality and our tools to make each call successful. This is no small opportunity. This is where you can bring your compassion for others while building your career.
The Customer Service Representative position is full-time based on an anticpated schedule of 35-40 hours per week, Sunday- Saturday. Employees are required to have flexibility to work any of our 8-hour shift schedules during our normal business hours of 5:00 am-10:00 pm local time. Standard training days are Monday – Friday 8:00 am to 5:00 pm CST for 4 – 5 weeks. It may be necessary, given the business need, to work occasional overtime.
For more information on a day in the life of a Customer Service Representative please review this link: Day In the Life of Customer Service V2 For Interviews- (kaltura.com)
*All Telecommuters will be required to adhere to UnitedHealth Group's Telecommuter Policy.
There are several steps in our hiring process. Please make sure that you have filled out all required sections of your employment application. Once you submit your completed application, you will receive an email with information regarding next steps including any pre-employment assessment(s) that are required. Both your application and any required assessment(s) need to be completed before we can consider you for employment so the sooner you complete these two steps, the sooner you will hear from us. To learn more, go to: http://uhg.hr/OurApplicationProcess
Primary Responsibilities
Respond to incoming calls from our customers on issues related to benefit eligibility questions and prescription status inquiries
Guide and educate callers on their prescription benefits, use of plan, formulary, premiums and status of orders and claims or inquiries
Ask appropriate questions and listen actively while documenting required information in computer systems
Identify issues and communicate solutions and steps to customers, pharmacies and physicians with prescription orders and reorders
Make outbound calls to customers on prescription orders and payment issues
This role is equally challenging and rewarding. You'll be called on to research complex issues pertaining to member prescription and /or pharmacy benefits across multiple databases which requires fluency in computer navigation and toggling while confidently and compassionately engaging with the caller.
You'll be rewarded and recognized for your performance in an environment that will challenge you and give you clear direction on what it takes to succeed in your role as well as provide development for other roles you may be interested in
INTERVIEW PROCESS – Our interview process has been streamlined for your convenience! Your digital, recorded interview will consist of 5 questions and last less than 30 minutes. So, please be articulate, clear, and detailed. Once a decision has been made after your interview, we will let you know!
Required Qualifications:
High School Diploma / GED (or higher) OR equivalent work experience
1+ years of customer service experience to include providing service over the phone
Familiarity with computer and Windows PC applications, which includes the ability to navigate and learn new and complex computer system applications
Basic knowledge of Microsoft Office Word (ability to open and navigate a word document) and Microsoft Excel (ability to open and navigate a spreadsheet)
Ability to work any of our 8-hour shift schedules during our normal business hours of Sunday – Saturday 5:00am – 11:00pm local time in Pacific Standard
Time OR Mountain Standard Time depending on location
Preferred Qualifications:
Call Center experience
Customer Service experience
Experience with Adult Learning in virtual environment
Experience working with Digital platforms and systems. Web, Chat, email.
Health Care/Insurance environment (familiarity with medical terminology, health plan documents, or benefit plan design)
Social work, behavioral health, disease prevention, health promotion and behavior change (working with vulnerable populations)
Telecommuting Requirements:
Required to have a dedicated work area established that is separated from other living areas and provides information privacy
Ability to keep all company sensitive documents secure (if applicable)
Must live in a location that can receive a UnitedHealth Group approved high-speed internet connection or leverage an existing high-speed internet service
Must be able to connect directly into internet – via hard wire (either directly to modem or router)

CLICK HERE for full details and to apply. For more job options, see our Daily Jobs & Gigs page. To be the first to hear about jobs like these, like our Facebook page. May you be working from home soon!
PLEASE SHARE this post – turn your friends into Rat Race Rebels!
[social_warfare]