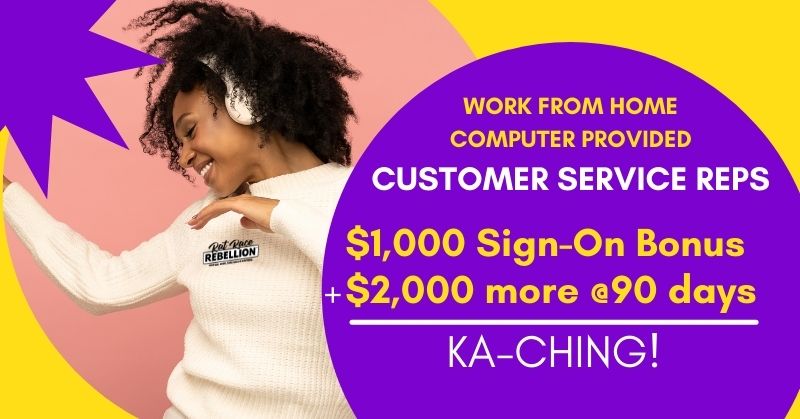 by Chris Durst        Jan. 11, 2022
As the country bounces back from recent shutdowns, companies are competing for qualified workers. It's a great time to be looking for your ideal work from home job — especially when you factor in the many companies that are now offering sign-on bonuses.
CVS is one of the largest providers of pharmacy services, and they own Aetna — one of the largest health insurance companies in the US.
The company has posted openings for Work from Home Customer Service Reps and they are offering TWO bonuses!
There's a $1,000 sign on bonus as well as an additional $2,000 90 days post training!
PLUS, CVS will supply the equipment (computer, etc.) you need to work from home.
Here's what the company has posted about this opportunity:
"This position is permanent work from home in any time zone.
This position also includes a $1000 sign on bonus as well as an additional $2000 90 days post training! (Bonuses are only applicable to specific positions, locations, and business groups. Applicable roles have the bonus language in the job posting.)
Customer Service is the important first-line of contact with customers, setting the tone for how members, doctors and plan sponsor groups view our company. It provides members with the right information at the right time to help them make better decisions about their health and health care.
Customer Service Representative is the face of Aetna and impacts members' service experience by manner of how customer service inquiries and problems via telephone, internet or written correspondence are handled. Customer inquiries are of basic and at times complex nature. Engages, consults and educates members based upon the member's unique needs, preferences and understanding of Aetna plans, tools and resources to help guide the members along a clear path to care.
Answers questions and resolves issues based on phone calls/letters from members, providers, and plan sponsors. -Triages resulting rework to appropriate staff.
Documents and tracks contacts with members, providers and plan sponsors.
The CSR guides the member through their members plan of benefits, Aetna policy and procedures as well as having knowledge of resources to comply with any regulatory guidelines.
Creates an emotional connection with our members by understanding and engaging the member to the fullest to champion for our members' best health.
Taking accountability to fully understand the member's needs by building a trusting and caring relationship with the member.
Anticipates customer needs. Provides the customer with related information to answer the unasked questions, e.g. additional plan details, benefit plan details, member self-service tools, etc.
Uses customer service threshold framework to make financial decisions to resolve member issues.
Explains member's rights and responsibilities in accordance with contract.
Processes claim referrals, new claim handoffs, nurse reviews, complaints (member/provider), grievance and appeals (member/provider) via target system.
Educates providers on our self-service options; Assists providers with credentialing and re-credentialing issues.
Responds to requests received from Aetna's Law —
Document Center regarding litigation; lawsuits
Handles extensive file review requests. Assists in preparation of complaint trend reports. Assists in compiling claim data for customer audits.
Determines medical necessity, applicable coverage provisions and verifies member plan eligibility relating to incoming correspondence and internal referrals.
Handles incoming requests for appeals and pre-authorizations not handled by Clinical Claim Management.
Performs review of member claim history to ensure accurate tracking of benefit maximums and/or coinsurance/deductible.
Performs financial data maintenance as necessary.
Uses applicable system tools and resources to produce quality letters and spreadsheets in response to inquiries received.
Required Qualifications
Customer Service experiences in a transaction based environment such as a call center or retail location, demonstrating ability to be empathetic and compassionate.
All employees are required to commute to the office when experiencing internet outages or any technical problem that prevents them from working remotely
Aetna/CVS Health furnishes the work-at-home equipment and employees are responsible for purchasing reliable internet connection at home with minimum download speed of 25 Mbps and an upload speed of 3Mpbs or more
It is a requirement that an ethernet cord is used while working from home. Wifi does not always provide a reliable connection
COVID Requirements
CVS Health requires its Colleagues to be fully vaccinated against COVID-19 (including any booster shots if required), where allowable under the law, unless they are approved for a reasonable accommodation based on disability, medical condition, or religious belief that prevents them from being vaccinated.
If you are vaccinated, you are required to have received at least one COVID-19 shot prior to your first day of employment and to provide proof of your vaccination status within the first 10 days of your employment. For the two COVID-19 shot regimen, you will be required to provide proof of your second COVID-19 shot within the first 45 days of your employment. In some states and roles, you may be required to provide proof of full vaccination before you can begin to actively work. Failure to provide timely proof of your COVID-19 vaccination status will result in the termination of your employment with CVS Health.
If you are unable to be fully vaccinated due to disability, medical condition, or religious belief, you will be required to apply for a reasonable accommodation within the first 10 days of your employment in order to remain employed with CVS Health. As a part of this process, you will be required to provide information or documentation about the reason you cannot be vaccinated. In some states and roles, you may be required to have an approved reasonable accommodation before you can begin to actively work. If your request for an accommodation is not approved, then your employment may be terminated.
Preferred Qualifications
Ability to multi-task to accomplish workload efficiently.
Understanding of medical terminology.
Oral and written communication skills.
Ability to maintain accuracy and production standards.
Negotiation skills.
Technical skills.
Problem solving skills.
Attention to detail and accuracy.
Analytical skills.
Education
High School or GED equivalent."
CLICK HERE for full details and to apply. For more work from home jobs and gigs, see our Newest Jobs & Gigs page. To be the first to hear about jobs like these, like our Facebook page and check your feed for our posts. May you be working from home soon!
PLEASE SHARE this post – turn your friends into Rat Race Rebels!