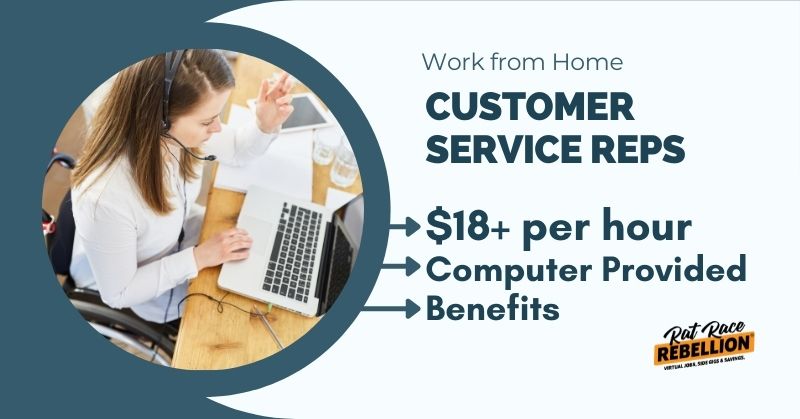 by Chris Durst       Jan. 11, 2022
Pearl Interactive Network prides themselves on being something more than "just another company." They set themselves apart by giving hiring priority to a workforce with barriers to work such as: skilled and talented disabled veterans, veterans, disabled persons, military spouses and people living in geographically challenged areas.
The company is currently looking for Work from Home Customer Service Representatives.
The rate of pay is listed as, "Rate: $18.00 per hour + $4.22 per hour towards Health & Wellness Benefits."
You will have to supply the internet connection, but the company will provide you with computer equipment, monitor(s), and headset.
No state exclusions are noted in their job posting.

Here's what the company has posted about this opportunity:
"The Customer Service Representative (CSR) is responsible for responding to Medicare Part A and/or B telephone inquiries from the Medicare provider community which includes billing offices, medical societies, provider consultants, Managed Care Organizations, attorneys, etc. regarding Medicare Fee-for-Service coverage guidelines and policies covering a wide range of topics to include provider enrollment, Medicare appeals, debt recovery, claim payment information, telephone reopening requests, and general coverage for multiple provider specialties.
Why choose Pearl Interactive Network?
Join Our Team and embrace the winning Pearl Culture which promotes our employee's desires and efforts to serve our consumers, clients, and community. Our values of customer satisfaction, teamwork, a family atmosphere, quality services, respect for each other, transparency, and innovation are what make Pearl, the employer of choice. As a woman-owned, HUBZone certified social enterprise, Pearl offers hiring priority to our Veterans, Military Spouses, and their families, as well as individuals with disabilities.
Pearl offers a Competitive Compensation and Benefits package to include:
Rate: $18.00 per hour + $4.22 per hour towards Health & Wellness Benefits
Medical, Dental, Vision, and Life Insurance
Paid time off, Paid holidays
401K eligibility
Additional ancillary benefits to support your lifestyle professionally, physically, and financially through our professional development and coaching program.
Operating Hours: Monday – Friday, 9 AM – 6 PM (EST) 2 shifts to select from.
Technical/Equipment Requirements:
Broadband internet connection with a minimum upload speed of 20Mbps and download speed of 5Mbps. No Satellite Connections. Test your network at speedtest.com to verify before you apply.
Ethernet cable access. Wi-Fi-only connectivity, prohibited.
Private and secure workspace within your home. Away from noise and distractions.
Computer equipment, monitor(s), and headset provided.
Job Duties:
Respond to each customer's need and request and ensure each customer's encounter is positive and productive.
Access multiple systems to research customer problems and record inquiry types.
Research CMS and company websites to provide knowledge and education to customers on additional resources which can be used in the future.
Access the IVR and Internet Portal systems as needed to help educate customers on self-service options that are available to them.
Review claims processing systems to identify specific claim edits and audits applied on claims. Analyze claim edits and audits to determine reasons for claim denials.
Review debt recovery systems to troubleshoot reasons for pending accounts receivables and the generation of overpayment demand letters. Review and analyze data to determine reasons for overpayments.
Review local medical coverage and national medical coverage policies in order to troubleshoot reasons for claim denials and reductions.
Review other systems to address and determine a resolution to other customer issues to include pending appeals, aged claims, and Medicare Secondary Payer.
Job Requirements:
High School diploma, GED, or equivalent. Some college education is preferred.
Minimum 1-year experience in a call center, customer focus, or claims processing in the insurance industry or medical coding, preferred.
Strong problem solving and decision-making skills
Good listening and strong verbal communication skills
Working on a PC in a Windows or similar environment."
CLICK HERE for full details and to apply. For more work from home jobs and gigs, see our Newest Jobs & Gigs page. To be the first to hear about jobs like these, like our Facebook page and check your feed for our posts. May you be working from home soon!
PLEASE SHARE this post – turn your friends into Rat Race Rebels!