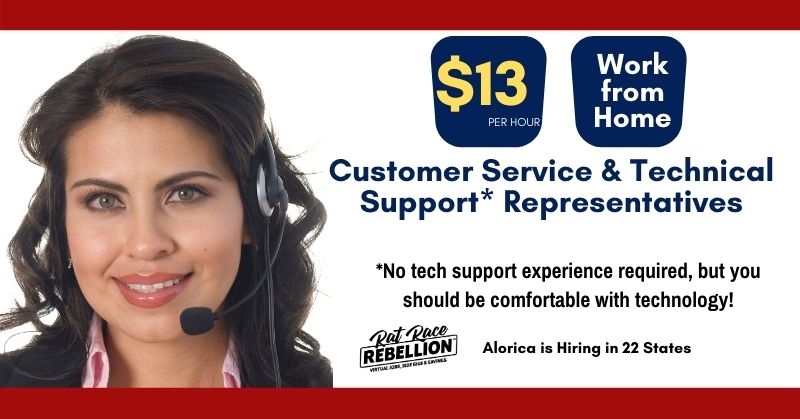 by Chris Durst    Oct. 1, 2020
Alorica, a legitimate and frequent hirer of work from home Agents, is looking for Work at Home Customer Service & Technical Support Representatives.
You do not have to have formal tech support experience to apply!
Pay is listed at $13/hour.
Landline is NOT required!
The company is hiring in AL, AR, CO, FL, GA, IA, KS, LA, MD, MI, MS, NE, NJ, NC, OK, SC, TN, TX, UT, VA, WV, and WI.
Here's what the company has posted about this opportunity:
"Do you have a smart phone or device and know basic troubleshooting solutions?
Are you the "go-to" resource amongst your family and friends when they need help setting up or using their phones, tablets or home entertainment?
Do you enjoy helping others, and providing solutions?
Are you ready for a career and not just another job?
If so….we are looking for you to join our insanely great team!!
JOB SUMMARY
Work from home as a customer service and technical support representative, assisting callers with technical questions regarding their smartphones, home entertainment or appliances. Using your technical aptitude to identify the problem, and walk the customer step by step through trouble shooting guidelines.
You're literally the voice of the brand, and a strong relationship between our clients and their customers starts with you. So only the awesome need apply.
KEY JOB RESPONSIBILITIES
Talks to customers over the phone, and identifies the technical issue they may be experiencing
Navigates through online programs to find solutions, and notate the customer file
Effortlessly multi-tasks by speaking with the customer, troubleshooting, and using a computer to discover and input information
Professionally engage with customers that may be frustrated at times
Work from a distraction free environment, wearing a headset for the duration of the day, and answer inbound phone calls
Ability to work independently in a virtual environment
Calmly de-escalate calls, and walk customers through step by step troubleshooting instructions
Ability to work in a fast paced environment, and ability to learn new concepts in a remote learning environment
WHY JOIN ALORICA?
Every day, we aim to live up to our mission of creating insanely great customer experiences. But as Alorica employees, giving back matters just as much – that's why we're so proud of Making Lives Better with Alorica, a non-profit, 501(c)(3) organization dedicated to providing assistance to employees, their families and the people, organizations and communities who support them.
Simply put, we want to make lives better…one interaction at a time. And to do that, we need the very best people to join us.
But please, allow us to entice you further! As an Alorica employee, you may receive:
Paid training
Medical and dental benefits
Paid time off
Retirement planning options (401(k))
Employee discounts through client programs
Working at Alorica means potentially having the freedom to explore all kinds of career options – from customer service, training, and tech support, to management, recruiting and more. Alorica offers fun, challenging opportunities to pursue your professional goals, and we want you to have fun and succeed – because when you're at your best, that's when we're at our best.
So what do you say? Ready to take the next step?
Job Requirements
Minimum Education and Experience:
High School Diploma or equivalent
Prior customer service experience
Basic technical and troubleshooting skills/experience
Computer navigation and multitasking
Strong communication skills
Must live in one of the following states to be considered for a work at home role: AL, AR, CO, FL, GA, IA, KS, LA, MD, MI, MS, NE, NJ, NC, OK, SC, TN, TX, UT, VA, WV, WI.
Knowledge, Skills and Abilities:
Stellar customer service skills – and an overwhelming desire to make lives better, one interaction at a time
Ability to use phone and computer systems
Excellent oral and written communication skills
Strong listening/comprehension skills
Ability to stay composed and objective
Conversational, patient and confident, with a positive attitude
Ability to thrive in a fast paced environment
Available to work full time hours, and a variety of shifts, including weekends and holidays
Experience in a technical support role preferred
Ability to learn in a remote training environment
Home Office Requirements
Dedicated home workspace, free of noise and distractions
High Speed Internet- No satellite, dial up or wi-fi
DSL or Cable Internet, and must be hard wired into a modem/router via ethernet cable
Laptop or Desktop (Chromebook, MAC devices, and Tablets not supported)
Windows 10
USB Headset with Microphone
Webcam (used during training and internal meetings)
4GB RAM
CLICK HERE for full details and to apply. For more jobs like these, check our Newest Jobs & Gigs page. To be the first to hear about jobs like these, like our Facebook page. Good luck in your next steps toward working from home!
PLEASE SHARE this post – turn your friends into Rat Race Rebels!