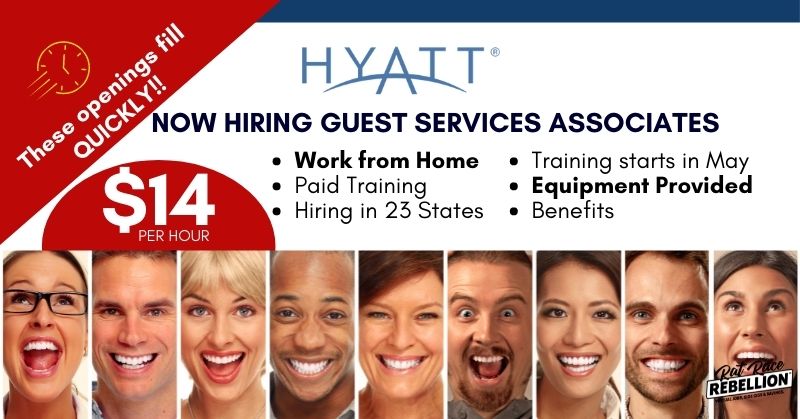 by Chris Durst      June 21, 2021
THESE POSITIONS FILL QUICKLY, SO APPLY & SHARE WITHOUT DELAY!
Update — As expected, the jobs filled fast and the listing has been taken down. Good luck to everyone who applied! For more jobs like these, see our Daily Jobs & Gigs page.
*********************
The folks at Hyatt reached out today to ask if we could share their new work from home Guest Service Associate openings with our RRRebels!
The company can only consider applicants who currently reside in: Arizona, Colorado, Florida, Georgia, Illinois, Indiana, Iowa, Kansas, Louisiana, Michigan, Minnesota, Missouri, Nebraska, North Carolina, North Dakota, Ohio, Oklahoma, South Carolina, South Dakota, Tennessee, Texas, Utah or Wisconsin.
Pay is $14 per hour and, as a full-time employee, you are eligible to receive full benefits.
TRAINING BEGINS IN AUGUST!
Here's what Hyatt has posted about these openings:
"TO BE CONSIDERED FOR THIS POSITION, APPLICANTS MUST LIVE IN THE FOLLOWING STATES: Arizona, Colorado, Florida, Georgia, Illinois, Indiana, Iowa, Kansas, Louisiana, Michigan, Minnesota, Missouri, Nebraska, North Carolina, North Dakota, Ohio, Oklahoma, South Carolina, South Dakota, Tennessee, Texas, Utah and Wisconsin.
These positions will report to the Global Contact Centers located in Omaha, Nebraska and Marion, Illinois. These positions will be worked remotely from home.
STARTING WAGE – $14.00 PER HOUR
NOW HIRING – Guest Service Associates who will provide Hyatt guests with exceptional customer service throughout the inbound reservation process. Strong verbal and written communication skills, the ability to work independently, and have the aptitude and ability to successfully perform in a sales role, in union with a high degree of customer service orientation. A Guest Service Associate must multi-task (talk, type, search multiple screens) without impact to the guest. Must be computer savvy and have the ability to type and utilize keyboard functions to navigate multiple programs and screens quickly and accurately.
Position is highly customer service focused. Associates are to respond to our guests in a friendly, timely and attentive manner while meeting Hyatt's standard of care in every interaction.
Must demonstrate competency, proficiency and meet specific sales goals and metrics on an ongoing basis. Examples of metrics include, but are not limited to: sales conversion, upselling, cross-selling, enrolling guests in Hyatt's loyalty program as well as offering a Hyatt credit card.
Desire to exhibit reliability and dependability to work independently.
Must have the adaptability to change, resilience and open-mindedness and remain receptive to feedback. Will then apply the suggestions for continued achievement of high performance at Hyatt.
Enhance the Hyatt brand by communicating effectively, accurately and clearly in all guest interactions.
Active participation within our learning style. We desire those with self-motivation who are disciplined and require little supervision.
Willingness to provide feedback to management while maintaining a good rapport throughout that communication process.
Must be computer/technology savvy- our future focus will become even more reliant on technology.
Cognitive ability to learn and process new information and choose appropriate action. Reading comprehension skills, situational judgment and advanced interpersonal skills such as professionalism, respect/empathy, social aptitude, friendly disposition, positive attitude and patience are needed in this position to succeed.
Will deliver and exhibit Hyatt values with every guest at all times.
YOUR PLACE AT HYATT – Be a part of something bigger. Make a difference in the lives of those around you. Love where you work. Join a company that values respect, integrity, humility, empathy, creativity, and fun. Discover why Hyatt is consistently ranked one of the world's best places to work.
Fortune's 100 Best Companies to Work For® – FORTUNE and Great Place to Work®
America's Best Employers For Diversity- Forbes
100 Best Workplaces for Millennials – FORTUNE
GROW WITH US – In the Hyatt family we offer training, new skills development and career mobility everyday across multiple functions. We want to grow together.
BENEFITS – We care for people so they can be their best. That includes offering a generous benefit package that we are happy to discuss with you during the interview process.
Pay starting at $14.00/hr
144 PTO hours per year
8 Paid holidays
Paid sabbatical
Paid new child leave
Short term disability
Employee Engagement Event
Learn a new language with Rosetta Stone
12 Complimentary Hotel Nights per year
Tuition Reimbursement
Medical/Dental/Vision Insurance options for you and your family (base premiums range from $50 – $570)
Life Insurance
401K
Employee Stock Purchase Plan
SCHEDULE – The ideal candidate must be able to work one of the following full-time schedules once training is completed. We have a limited number of each schedule with preference given on a first come, first serve basis.
PLEASE NOTE THESE SCHEDULES ARE CENTRAL STANDARD TIME (CST)
All Central Standard Time:
FULL TIME (40 HOUR – 5 x 8 HOURS) SCHEDULES:
10:00am – 6:30pm (Tuesday & Wednesday off)
10:30am – 7:00pm (Wednesday & Thursday off)
11:00am – 7:30pm (Wednesday & Thursday off)
11:30am – 8:00pm (Wednesday & Thursday off)
12:00pm – 8:30pm (Tuesday & Thursday off)
5:30pm – 2:00am (Thursday & Friday off)
5:30pm – 2:00am (Sunday & Monday off)
5:30pm – 2:00am (Friday & Saturday off)
FULL TIME (40 HOUR – 4 x 10 HOURS) SCHEDULES:
9:00am – 7:30pm (Tuesday, Wednesday, & Thursday off)
9:30am – 8:00pm (Monday, Tuesday, & Wednesday off)
10:00am – 8:30pm (Sunday, Monday, & Tuesday off)
3:30pm – 2:00am (Tuesday, Wednesday, & Saturday off)
Colleague is required to provide the following equipment for Home Office:
High Speed Internet Service. High Speed Internet service required. Broadband technologies allowed are DSL, Cable, and Fiber-Optic. All other ISP (Internet Service Provider) technologies are not allowed. Colleague will be required to provide Hyatt with adequate certification of service from provider.

If your ISP provided equipment or your internal network contains a firewall, you must "unblock" or enable "pass through" settings for all communication ports.
Non-work related activities performed by you or others in your household such as gaming (e.g., XBox, Playstation, etc.) or media streaming (e.g., Netflix, Hulu, etc.) during working hours will impact your Hyatt supplied equipment's performance.
Your high-speed internet service is expected to be reliable, connected, and sufficiently fast to enable you to perform your work for Hyatt without disruption or lag (slowness) throughout your shift.

USB wired Keyboard (PS/2 interface and/or wireless are not supported)
USB wired Mouse (PS/2 interface and /or wireless are not supported)
Surge Protector
Patch cables (TWO required) – [Ethernet Cable = cat5, RJ45]
Cable/DSL modem
Router. Router with Ethernet ports for wired connection to thin client and IP Phone. Router can be integrated into the modem device provided by your ISP.
Multi Factor Authentication Capability. The ability to receive a phone call or utilize a smartphone/tablet mobile application for Multi Factor Authentication (security system used when accessing Hyatt systems) when logging in to Hyatt provided thin client equipment. It is required each and every time you are authenticating (logging in) to Hyatt provided thin client equipment to start your work day."
CLICK HERE for full details and to apply. For more jobs and gigs like these, see our Newest Jobs & Gigs page. To be the first to hear about jobs like these, like our Facebook page, and check your feed for our posts.
PLEASE SHARE this post – turn your friends into Rat Race Rebels!