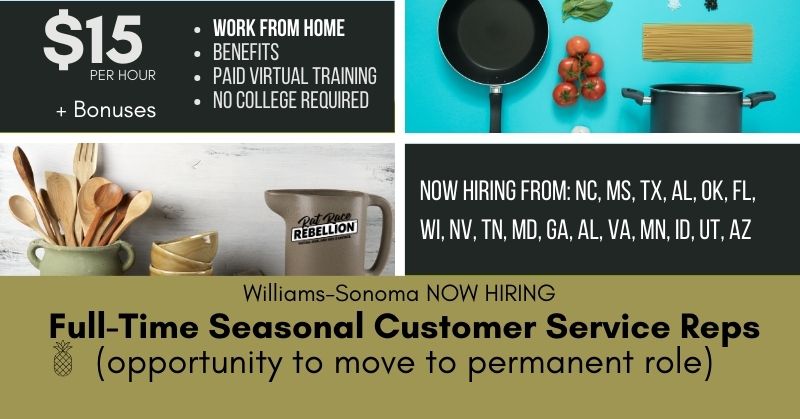 by Chris Durst       Sep. 7, 2023
As we write, this job listing is online and applications appear to be open. But jobs can fill at any time, so apply or share quickly if you're interested! Sorry, but we have no role in the HR processes of other companies. If you encounter difficulties in the application process please contact them directly. Good luck in your hunt, and may you be working from home soon!
If you're looking for a seasonal position with potential to convert to benefited status within 90 days, Williams-Sonoma, the kitchenware and home furnishings company, is hiring full-time, seasonal, work at home Customer Service Reps.
Pay is $15/hr., "monthly bonuses up to $500," paid training and benefits included. They've hired a number of RRRebels over the years.
Per the job listing, applicants must reside in one of these 17 states: NC, MS, TX, AL, OK, FL, WI, NV, TN, MD, GA, AL, VA, MN, ID, UT, or AZ.
Here's what the company has posted about this opportunity:
Why you and why us?
Who are our Customer Service Agents? They are people who truly care about creating a seamless experience for our customers. Agents are trained in taking calls to assist customers with anything from placing orders and facilitating returns, to locating products and scheduling deliveries for all of our Williams-Sonoma brands. If you consider yourself a blend of determination with a heart of gold, THIS.IS.YOUR.OPPORTUNITY.
What Benefits do you offer?
40% Discount on most merchandise!
Monthly performance bonuses up to $500!
Bonuses for perfect attendance during the holidays!
Fun contests / rewards and recognition programs
Paid Training from the comfort of your home
Overtime, overtime, overtime
Opportunity to convert to benefited status within 90 days!
Pay = $15.00/hr
Job Duties: Your day to day
Solve the problem efficiently: Quick with quality
Make it personal: Take ownership
Inspire customer loyalty: Give them a reason to come back
Listen Carefully: Be attentive
Emphasize our effort: Because we care
Essential Functions: The nuts and bolts
Address customer questions and concerns regarding product and delivery information
Provide product information, review alternative solutions if an item is out of stock and place orders for the customer.
Successfully negotiate and appease customers using a variety of methods established by Williams-Sonoma, Inc., guidelines.
Check inventory, process returns, issue replacements and credits for damaged or defective merchandise
Perform other duties as assigned
Qualifications: What you need to apply
High School diploma or GED
1 – 2 years previous customer service experience
Experience in a performance-based or metric-driven environment
Strong ability to communicate both verbally and written with capable data entry skills
Important Facts: MUST HAVE THESE FOR CONSIDERATION
Ability to complete mandatory paid training for 4 weeks – 100% attendance is required
Equipment you must have for training and for work:
Desktop or laptop computer with Windows 8.1, Windows 10, or macOS 10.15 or newer.
No Chromebook, Windows 7, Windows 8 RT, or Windows 10 S
SAntivirus/Anti-malware
6 GB of RAM
Wired USB headset (with microphone) which is compatible with our systems
Ethernet cable hardwired into you modem/router
Wi-Fi is not permitted
USB to Ethernet converter if your computer does not have an Ethernet port
Monitor: 15 inches or larger with minimum resolution of 1024 X 768
Mouse and keyboard
Webcam (built in or external) with minimum resolution of 640 X 480
Landline phone, iOS device (tablet or cell phone), or an Android (tablet or cell phone) for purposes of multi-factor authentication
Computer must be hard wired to your modem, router, or gateway. Wi-Fi is not allowed due to security and bandwidth constraints.
CLICK HERE for full details and to apply. For more jobs like this, check our Newest Jobs & Gigs page. To be the first to hear about jobs like these, like our Facebook page. Good luck as you make your work from home plans a reality!
PLEASE SHARE this post – turn your friends into Rat Race Rebels!