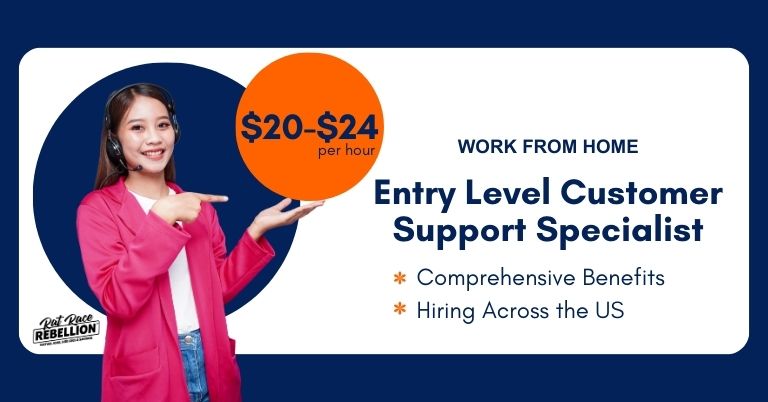 by Chris Durst       Sept. 7, 2023
As we write, this job listing is online and applications appear to be open. But jobs can fill at any time, so apply or share quickly if you're interested! Sorry, but we have no role in the HR processes of other companies. If you encounter difficulties in the application process please contact them directly. Good luck in your hunt, and may you be working from home soon!
Pie Insurance has posted a work from home Customer Support Specialist position to their careers page.
UPDATE – It looks like the company has received all the applications it needed and has deleted the listing. For more jobs like these, see our Daily Jobs & Gigs page and our Big List of Work from Home Jobs & Gigs.
==================
In this entry-level role you'd be answering customer questions and helping to resolve concerns and requests.
Pay range for this position is $20-$24 per hour.
No state exclusions are noted in the job post.
Benefits appear to be broad, and include health, "generous" PTO, 401k match, parental leave, equity, and more.
Past and current employees rate Pie Insurance 4 out of 5 stars on Glassdoor.
Here's what the company has posted about the job:
Pie's mission is to empower small businesses to thrive by making commercial insurance affordable and as easy as pie. We leverage technology to transform how small businesses buy and experience commercial insurance.
Like our small business customers, we are a diverse team of builders, dreamers, and entrepreneurs who are driven by core values and operating principles that guide every decision we make.
The Customer Service Specialist Tier I is an entry-level customer service team member who focuses on answering customer inquiries and customer issues and resolves concerns and requests from commercial insurance customers and partners.
How You'll Do It
Provide responsive, timely, and relevant service to customers and partners
Handles tier 1 phone, email, and platform-based communication with customers and cross-functional partners to provide excellent customer service
Maintains SLA's set by Customer Service team in a consistent and efficient manner
Works as a team member to handle: Email requests, Policy issuance, Agency or Customer questions, Mailing of documents and follow-Up Communication
Model the behaviors and strategies necessary to successfully interact with and resolve issues for small business owners and partners in all channels
Applies Workers Comp training and knowledge to policy, billing and agency questions, concerns and production
Develop relationships with partners and internal teams to provide consistent, excellent communication with customers
Seek and provide resolutions to issues while also anticipating ways in which to prevent future issues
Voices the customer's needs and advocates for the customer and their perspective
Participate in ongoing training
Complete other miscellaneous duties as assigned
The Right Stuff
A High School Diploma or GED is required. Bachelor's Degree or college coursework preferred.
1 year of customer service experience is preferred
Entry-level communication skills: able to clearly and professionally communicate with customers both verbally and in written form
Basic problem solving skills to be able to resolve simple problems quickly and effectively with some guidance
Basic self-direction and responsibility for own tasks, deliverables and timelines
Ability to work in a team environment, strives to develop and sustain collaborative working relationships
G-Suite tools, Salesforce, collaboration tools (Slack is preferred), office equipment like scanning, copying and mailing
Base Compensation Range
$20—$24 USD
Compensation & Benefits
Competitive cash compensation
A piece of the pie (in the form of equity)
Comprehensive health plans
Generous PTO
Future focused 401k match
Generous parental and caregiver leave
Our core values are more than just a poster on the wall; they're tangibly reflected in our work
Our goal is to make all aspects of working with us as easy as pie. That includes our offer process. When we've identified a talented individual who we'd like to be a Pie-oneer , we work hard to present an equitable and fair offer. We look at the candidate's knowledge, skills, and experience, along with their compensation expectations and align that with our company equity processes to determine our offer ranges.
Each year Pie reviews company performance and may grant discretionary bonuses to eligible team members.
CLICK HERE for full details and to apply. For more jobs like this, check our Newest Jobs & Gigs page. To be the first to hear about jobs like these, like our Facebook page. Good luck as you make your work from home plans a reality!
PLEASE SHARE this post – turn your friends into Rat Race Rebels!