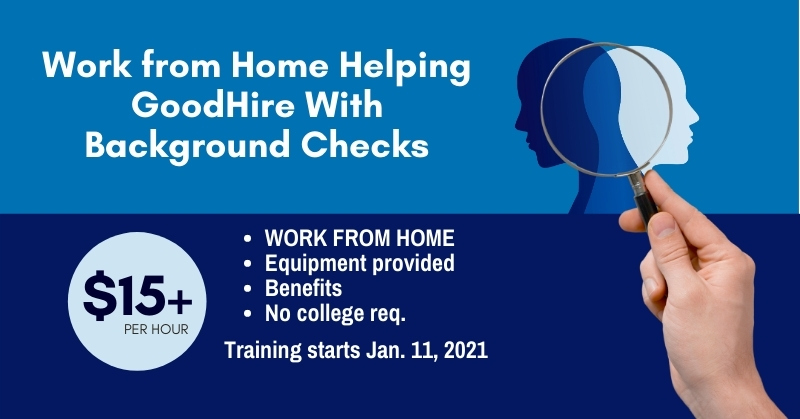 by Chris Durst       Dec. 7, 2020
$15+/ per hour / Benefits /  Equipment Provided  /  Training Starts Jan. 11, 2021
Inflection's GoodHire division provides background checks for more than 80,000 companies.
Currently, the company is looking for Work from Home Agents to respond to inbound requests, research background check information for accuracy, research criminal databases, and more.
This type of work requires high attention to detail, so you should have a distraction-free environment!
Pay is listed at, "$15/hr base pay, with additional earning potential up to $350/month for meeting attainable metrics (16.50+ an hour average!)"
They also offer a comprehensive benefits package including medical/dental coverage, 401K, and life insurance.
Training starts January 11, 2021.
EQUIPMENT PROVIDED!

Here's what the company has posted about this opportunity:
"Inflection is looking for GoodHire Support Agents for our Reports team. As part of our customer support team, you are empowered to do the right thing for our customers while supporting the vision and values of the company. Although this position is within the customer support department, the majority of your work will be back office support. This is a full-time work-from-home opportunity with exceptional benefits available and training starts January 11th, 2021! Ideal shifts are available now, don't wait to apply!
$15/hr base pay, with additional earning potential up to $350/month for meeting attainable metrics (16.50+ an hour average!)
Four weeks paid On-the-Job Training, from your home office!Training starts January 11, 2021, Monday – Friday 9:30a – 6:00p EST / 6:30a – 3:00p PST
Shifts Available after training:
Monday – Friday 8:00am – 4:30pm EST / 5:00am – 1:30pm PST
Monday – Friday 9:00am – 5:30pm EST / 6:00am – 2:30pm PST
Monday – Friday 10:30am – 7:00pm EST / 7:30am – 4:00pm PST
Monday – Friday 11:30am – 8:00pm EST / 8:30am – 5:00pm PST
WHAT YOU'LL DO:
Respond to inbound service requests and answer customer questions about background reports, primarily via email
Research background check information for accuracy
Reach out to data partners and maintain vendor relationships
Research criminal databases to verify information
Utilize opt-out requests when necessary
Assist candidates with product information and site navigation
Understand and adhere to all FCRA compliance laws and regulations applicable to the role
Ensure and maintain FCRA compliance while helping employers follow Fair Credit Reporting Act guidelines
Ensure consumer privacy when handling all consumer and data provider requests
Make outbound calls to obtain additional information needed to complete background checks
Use internal systems as instructed and trained
Accurately record customer trends using internal tools
Escalate issues to appropriate departments as needed
Attend ongoing internal training and develop knowledge in all areas of the company's products
Provide feedback and escalations to management regarding necessary changes and updates; including upgrades, functionality and customer care issues
Work assigned shifts (independent work may be required in certain extended shift situations)
Perform additional related duties as assigned
YOU'LL BE A FANTASTIC MATCH FOR THIS ROLE IF YOU BRING:
Must have high attention to detail
Ability to make discretionary decisions based on research
High School diploma or 2 years customer support work experience
At least six months working in a business office environment is preferred
Strong desire to work to your greatest potential and provide excellent customer service
Self-motivated and ability to maintain standards of adherence and metrics specific to the position
Open to learning and practicing new processes, freely communicating ideas, and demonstrating commitment to the best end result
Assist those who need support with respect and empathy
A strong command of the English language; both written and spoken verbal; 40 WPM typing is highly preferred
Strong proficiency with the Internet and keyboarding skills
Ability to multitask, organize, and prioritize in a fast paced environment
Ability to communicate effectively via telephone by utilizing active listening and clearly speaking to the customer and data providers
Ability to communicate effectively via email transmission by utilizing proper grammar and punctuation skills
Well‐developed sense of urgency while maintaining a high standard of quality
Strong sense of ownership with the desire to see a task all the way through to completion
Ability to complete repetitive tasks while maintaining a high quality of work

WORK-FROM-HOME REQUIREMENTS:
Internet access with at least 25 mbps download speed, and 5 mbps upload speed (10 mbps upload speed recommended for family households)
Inflection will provide the computer, 2 monitors, keyboard, and mouse
Inflection will subsidize a portion of your Internet expense
Ability to set-up Inflection computer equipment, and connect it to the Internet via ethernet cable preferred
Ability to work in a dedicated space with lockable doors and minimal distractions
YOU KNOW YOUR STUFF:
Some experience in HR, banking, or insurance environments with customer interaction is preferred
Strong proficiency with the Internet, including the ability to perform searches
Experience with email and voice contacts
Strong typing skills and ability to multitask in a fast paced environment
A focus on actions and results. Tracking of various actions may be required to assist with trending of customer feedback
Experience with being held to metrics and maintaining a high standard of work is preferred
Direct work experience in dealing with challenging customers and delivering complex messages that address company needs is highly preferred
TO WIT, INFLECTION OFFERS:
Innovative products that customers love
Competitive compensation including equity options
Comprehensive benefits package including medical/dental coverage, 401K, and life insurance
Track record of promoting and hiring internally
Fast paced environment with big opportunities for impact
Learning & Development funds to enhance and learn new skills
Diversity and Inclusion program
3 paid days per year to volunteer with nonprofit organizations of your choosing
Ability to dress casually and work from the comfort of your home
Stipend for home Internet and office furniture needs"

CLICK HERE for full details and to apply. For more jobs like these, check our Newest Jobs & Gigs page. To be the first to hear about jobs like these, like our Facebook page and check your feed for our posts. May you be working from home soon!
PLEASE SHARE this post – turn your friends into Rat Race Rebels!