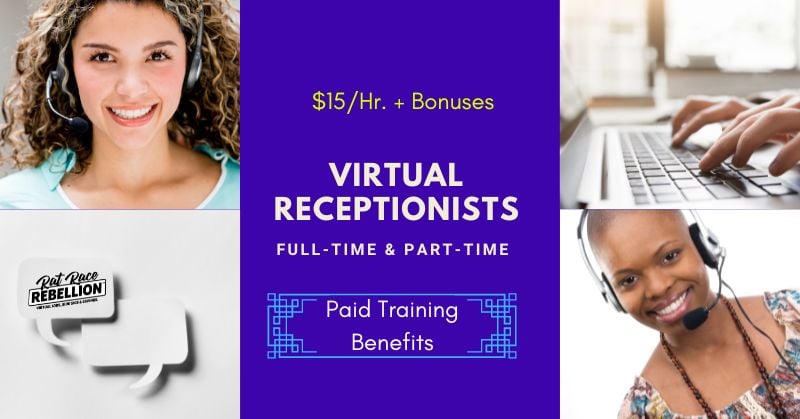 by Chris Durst      Updated Dec. 5, 2022
If you have strong typing and multitasking skills and a quiet place to work, Smith.ai continues to recruit part-time and full-time Virtual Receptionists. No state hiring restrictions mentioned, no college required.
The pay rate for US-based Receptionists is $15/hr., $16 if you're bilingual in Spanish. "Many opportunities for bonuses."
Employee status, paid training. Health benefits included for employees who work 30+ hrs./week.
Here's what the company has posted about the job:
We're on a "happiness" mission.
Yes, it's true! Smith.ai is on a mission to grow a culture of happiness. We have a thriving workforce of happy, successful agents and specialists that have helped Smith.ai grow faster than we could have ever imagined. Now we want to build on that success by empowering and changing the lives of even more highly talented, experienced individuals from all backgrounds and cultures to work in a fulfilling and rewarding workplace.
Our Virtual Receptionists love their jobs.
‍We are passionate about our agents being able to shine and utilize their inner "superpowers" every day by providing the best work environment, pay, and culture. Working at Smith.ai allows you to earn industry-leading wages and grow your career from the comfort and convenience of your home, all while helping small businesses thrive. In addition, every agent on the Smith.ai team is supported by an environment that is challenging, rewarding, and fun. We encourage idea sharing and promote leaders from within.
WHAT YOU WILL DO:
Work 100% remote, in the convenience of your home
Answer calls and/or web chats for a variety of different businesses and professionals.
Take messages, screen new clients, book appointments, collect payments, and transfer calls
Understand caller needs and provide business information
Be part of a team and contribute to continued excellence
YOU SHOULD APPLY IF YOU:
Have strong typing and multitasking skills
Have access to high-speed internet (see requirements below)
Have the ability to work flexible hours in a quiet setting remotely‍
Are a professional and confident communicator with clients
Are a proficient and confident computer user‍
Speak smoothly and confidently in English (bonus points if you are bilingual)

WE WANT "ALL-STAR" AGENTS WHO ARE:
Experienced professional communicators, verbally and in writing. You have worked in a professional setting that requires quality presentation and communication.
Instruction readers and listeners. When receiving or giving information, you adhere to instructions to ensure you have carefully followed through, without skipping or missing anything.
Solid ethical decision-makers. You value and demonstrate a high level of reliability, responsibility, integrity, and supportive team collaboration in everything you do.
Caring and respectful of everyone. You know how to be an active listener and respond empathetically, even in the most demanding situations.
Responsive to change and understanding that there is always room to improve. Whether receiving coaching on the job or helping improve processes, you understand that continual change makes Smith.ai a fantastic place to work.
Multitaskers who can balance serving clients directly, too. You like the challenges and feeling of getting things done with proficiency, while ensuring your clients' needs are met.
Resourceful and able to navigate learning new things with ease. Whether it's a new computer app or process at work, you learn quickly and can efficiently find the answers to your questions.
BEFORE YOU APPLY, YOU MUST HAVE:
Desktop or laptop computer with Google Chrome browser installed
Reliable broadband internet connection. Must have a less than 50 ms ping, greater than 10 Mbps download and greater than 3 Mbps upload (tested by https://www.speedtest.net and https://networktest.twilio.com)
Strong typing skills: at minimum 40 wpm with 100% accuracy (tested by https://livechatinc.com/typing-speed-test/)
Call answering only: a quiet environment for answering calls, plus headset with a microphone arm attached
Choose Full-time or Part-time
We operate 24/7/365. We hire for both full-time (40 hours/week) and part-time positions. For part-time positions, you must be available 5 hours a day, 5 days a week (the more the better). Shifts are broken into 2- to 5-hour blocks, and are scheduled based on the business needs of Smith.ai and its clients, as well as your availability.
COMPENSATION & BENEFITS
We invest in our team members and support their growth towards career advancement in both client-support and management roles as their experience grows. We pay our agents industry-leading wages, based on location and cost of living, to support our mission of hiring qualified candidates and building a strong community of healthy and happy agents at Smith.ai.
This position offers an hourly rate, paid weekly, with many opportunities for bonuses. Periodic raises are given based on performance and longevity with the company.
FOR AGENTS BASED IN THE U.S.:
Starting, entry-level rate of $15/hour
Starting, entry-level rate of $16/hour for bilingual agents who speak fluent English and Spanish
Paid training
Healthcare benefits for agents working 30+ hours weekly
FOR AGENTS BASED OUTSIDE OF THE U.S.:
Starting, entry-level rate of $11/hour
Paid training
ADDITIONAL EARNING OPPORTUNITIES FOR ALL AGENTS INCLUDE:
Employee referral bonus of $150
Many more awards with earning opportunities
CLICK HERE for details and to apply. For more gigs like these, check our Newest Jobs & Gigs page. To be the first to hear about gigs like these, like our Facebook page. Good luck in your next steps toward working from home!
PLEASE SHARE this post – turn your friends into Rat Race Rebels!
[social_warfare]