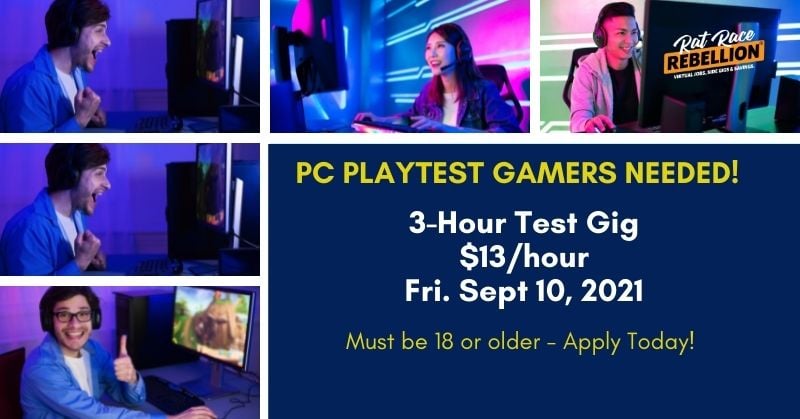 by Chris Durst    Aug. 26, 2021
ACT FAST & SHARE WITH GAMING FRIENDS IF INTERESTED – GIG TAKES PLACE ON FRIDAY, SEPTEMBER 10
If you're interested in a 3-hour side gig, ModSquad reached out to say they're hosting a PC Playtest for Gamers on Friday, September 10. Pay is $13/hr.
You must be at least 18 years old. There's also an advisory that the game contains "gore, blood, and weapons." So you'd need to be at ease with that.
Here's what the company has posted about this opportunity:
"Are you a PC gamer? Would you like to be paid to test out a new game from one of our elite clients? Sign up for our upcoming playtest!
NOTE: Must be comfortable with gore, blood, and weapons.
Date: Friday, September 10, 2021
Time: 3 PM – 6 PM PT (You must be available for all three hours)
Testing Pay: $13/hour. (You will be paid via PayPal)
For this opportunity, you do not need to upload a resume. Instead, please send us your favorite meme.
For this playtest, we will need to confirm your computer specs so will be asking for screenshots of the following information in our pre-screening form.
1. System Summary
2. Components -> Display screens
If you need help with getting screenshots, you can follow these steps:
1. Click Start and in the search bar, type "System Information."
2. Click "System Information" in the search results. Please take a screenshot of this.
3. To see details about your video card, click "Components" and then click "Display." Please also take a screenshot of this.
Pro-Tip: Nearly every Windows computer has a tool called 'Snipping Tool'. If you haven't used it before, you can also find it by searching for it and then use it to take your screenshots.
Game Testers must meet the following requirements:
Must be at least 18 years old.
Access to computers that meet the following recommended specs

Windows 10 64 bit
16 GB+ RAM
GeForce GTX 1080 or above
100 GB free HD space

High-speed internet connection
Have a valid Bethesda.net account (if you don't have one you will need to create a free account before you apply to this opportunity)
The Bethesda.net Windows launcher (download from https://bethesda.net/en/game/bethesda-launcher)
Have a Discord account. (If you do not have a discord account, you can create one here: https://discord.com/register)
Have a Steam Account. (You can create one here:https://store.steampowered.com/join/)
Three hours of playtime during the testing period: 30 minutes to install, 2 hours of game play, 30 minute survey.
Participants must agree to the terms of an in-app Trial agreement, which includes confidentiality notices (confidentiality is required)
Be located in the United States.
Test dates:
September 10th from 3 PM – 6 PM PT (you must be available for the entire 3 hours)
[This is the only test date. If you are not available, please do not apply.]
The testing pays $13/hour and you will be paid via PayPal. Note: In order to be paid, you MUST complete the 30-minute Survey."
CLICK HERE for full details and to get in on this Game Testing gig!! For more jobs like this, see our Daily Jobs & Gigs page. To be the first to hear about the jobs we post, just like our Facebook page and check your feed.
PLEASE SHARE this post – turn your friends into Rat Race Rebels!
[social_warfare]