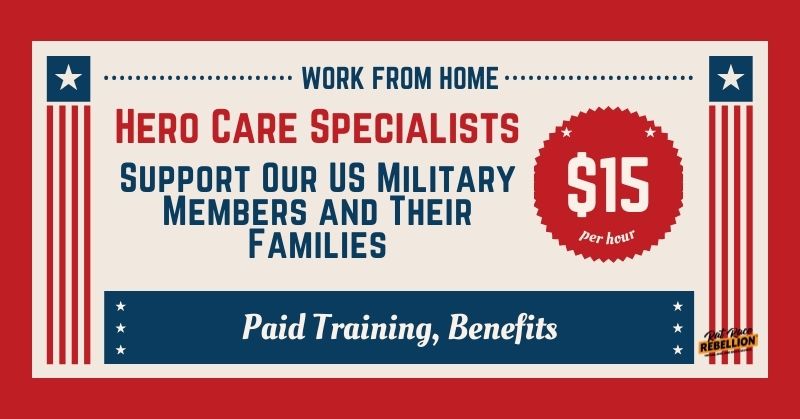 by Chris Durst          Dec. 27, 2021
Based in Seattle, Direct Interactions operates contact centers staffed by American agents nationwide.
Currently, the company is seeking Full-Time Work from Home "Hero Care Specialists" to help US Military members and their families when they are in emergency situations or need assistance.
These are employee positions that pay $15/hour.
They are hiring in all states EXCEPT NY and CA.
Here's what the company has posted about this opportunity:
"The Hero Care Network provides confidential emergency communication and critical services to veterans, military members, and their families all over the world 7 days a week, 24 hours a day, 365 days a year. When a member of the military, a veteran or their family are in an emergency situation or are in need of assistance, The Hero Care Network provides emergency communication services, financial assistance, critical community needs, and training to help build resiliency. If you are someone with strong listening skills and the ability to work with culturally diverse populations, you can help provide a critical link for families during emergency situations. You will be responsible for making outbound calls for verification.
Requirements
Technical Requirements
Laptop or Desktop Computer running Windows 10 or higher. WE DO NOT SUPPORT MACs, Chromebooks or Tablet/iPads
DSL or Cable internet (Wireless and Satellite are not compatible with our software)
Current antivirus and antispyware
Installed, operational firewall
Summary of Essential Skills
Must be able to pass a criminal background check
Must posses a passion for uniform service personnel
Military background/connection highly desired
Ability to communicate professionally
Exercise understanding and patience with doctor's offices, Coroner's and funeral homes
Proper articulation, attention to detail and assertiveness required
Excellent verbal communication skills including grammar and voice quality, tone and pitch
Ability to remain poised under pressure
Documentation, data entry, organization and problem-solving skills are imperative
Ability to handle detailed work with a high degree of accuracy and speed
Legally able to work in the United States
Excellent written communication skills a must
Must type at least 40 wpm; A typing test will be required
Pay Rate
$15.00 per hour
This is an employee position
Bi weekly pay via direct deposit
Employee Benefits
Accrued Paid Time Off (PTO)
Health and Medical/Dental insurance plans are available after 60 days worked
*benefits are only available to those that work 30 or more hours weekly
Shifts
Pick your own hours for a minimum of 20 to 40 hours per week scheduled in 1-hour increments
The call center is open 24/7, however, our greatest need is between the hours of 3pm to 12am EST
(The other hours throughout the day, though available, do not offer an abundance of hours to select from)
Training
Training will span across 3 days at 6 hours per day
Training dates and times are TBD
Training consists of live instructor led training
Training is a paid event
* hours are subject to client needs
* submissions will be reviewed against the current opening and only qualified candidates will be contacted for the next steps
* we are NOT hiring in California or New York at this time"
CLICK HERE for full details and to apply. For more jobs like these, check our Newest Jobs & Gigs page. To be the first to hear about jobs like these, like our Facebook page.
PLEASE SHARE this post – turn your friends into Rat Race Rebels!
[social_warfare]