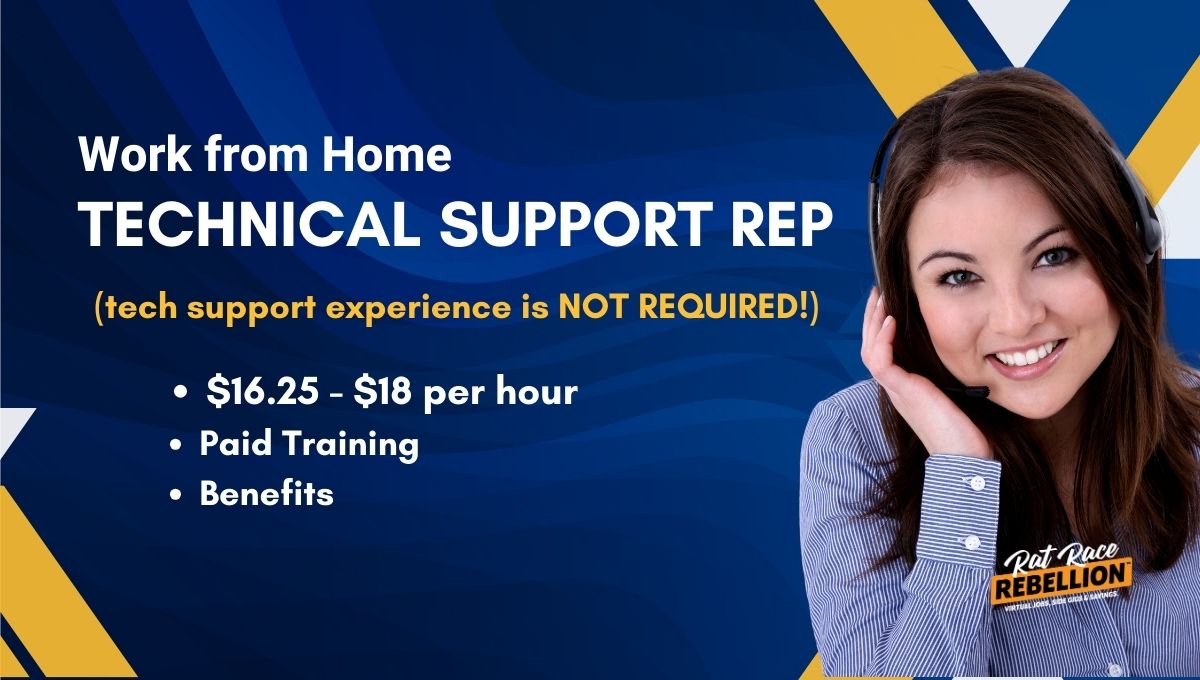 by Chris Durst       Nov. 14, 2023
As we write, this job listing is online and applications appear to be open. But jobs can fill at any time, so apply or share quickly if you're interested! Sorry, but we have no role in the HR processes of other companies. If you encounter difficulties in the application process please contact them directly. Good luck in your hunt, and may you be working from home soon!
HME, a company that specializes in communications, audio, software, and hardware solutions, has posted a work from home Technical Support Representative I position to their careers page.
In this role, you will answer incoming calls and provide troubleshooting and repair support to customers and installers.
Prior customer service and/or troubleshooting experience in a call center or office environment is PREFERRED, but is not required.
Pay Range: $16.25/hour to $18.00/hour.
Broad benefits.
Here's what the company has posted about this opportunity:
HME is currently looking for a Technical Support Representative for our call center. The Call Center is open Monday – Friday 5AM – 7PM and Saturday – Sunday 7AM – 3:30PM. Note: Operating hours are specific to Pacific Standard Time Zone. Candidates must be willing to work a flexible 40-hour work week.
What you will do in the position:
Answer incoming calls from customers and installers
Provide operation, troubleshooting, maintenance, and installation support
Promote and maintain positive customer relations
Provide troubleshooting and repair support to installers and customers over the telephone
Instruct installers and customers in equipment installation, operation, and maintenance of equipment and their responsibilities
Administer service programs to effectively correct service issues
Dispatch installers to perform onsite service to customers with problems beyond the scope of telephone troubleshooting
Prepare and maintains daily logs and records
Identify and makes recommendations for product improvement
Training will be provided
What you will need to succeed in this position:
Prior customer service and/or troubleshooting experience in a call center or office environment is preferred (minimum of 12 months)
Excellent verbal and written communication
Proven excellent attendance history in your previous employment
Computer literacy in various applications including e-mail, MS Office Suite, and customer databases
Must have flexibility with shifts, including weekend coverage
Pay Range: $16.25/hour to $18.00/hour This is the pay range we reasonably expect to pay for the role. This may vary depending on experience and other factors. Our benefits package includes tuition reimbursement; 3 weeks paid vacation your first year, paid holidays, medical, vision and dental coverage, pet insurance, life insurance, and 401K contributions.
The physical demands and work environment described here are representative of those that must be met by an employee to successfully perform the essential functions of this job. While performing the duties of this job. The employee must regularly lift and move up to 10 pounds.
About HME
Five companies. One family name. The HME family of companies is the leading provider of clear, reliable communication solutions for a variety of niche markets; from world-famous restaurant chains to major television networks and global live events to military, aerospace, and government applications – HME products are preferred in 100+ countries.
CLICK HERE for full details and to apply. For more jobs like this, check our Newest Jobs & Gigs page. To be the first to hear about jobs like these, like our Facebook page. Good luck as you make your work from home plans a reality!
PLEASE SHARE this post – turn your friends into Rat Race Rebels!