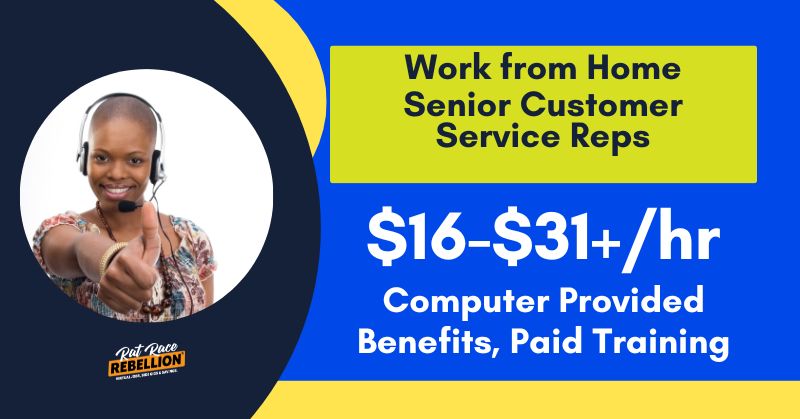 by Chris Durst      Mar. 14, 2023
WellMed, a UnitedHealth Group company, has posted openings for work from home Senior Customer Service Representatives.
Update – It looks like the company has received all the applications it needed and has deleted the listing. For more jobs like these, see our Daily Jobs & Gigs page.
**********
In this role, "you'll provide our members with the information they need to make better decisions about their health, helping them get access to the right care the first time."
Applicants should have a high school diploma or GED, and "1+ years of customer service experience OR experience in a medical office, health care, call-center OR office setting analyzing and solving customer problems."
Pay is not listed for every state, but they do indicate a range of $16.00 – $31.44 per hour in the states they do mention.
Computer provided. No state hiring exclusions noted.
Here's what the company has posted about this opportunity:
"You'll enjoy the flexibility to telecommute* from anywhere within the U.S. as you take on some tough challenges.
WellMed was founded in 1990 with a vision of being a physician-led company that could change the face of healthcare delivery for seniors. Through the WellMed Care Model, we specialize in helping our patients stay healthy by providing the care they need from doctors who care about them. We partner with multiple Medicare Advantage health plans in Texas and Florida and look forward to continuing growth.
Do you have compassion and a passion to help others? Transforming healthcare and millions of lives as a result starts with the values you embrace and the passion you bring to achieve your life's best work.SM
Challenge can often be its own reward. But why settle for just being challenged when you can also be nurtured, mentored and supported as you make an impact in a fast-paced career? At UnitedHealthcare, part of the UnitedHealth Group family of businesses, you can have all of the above, everyday. Now, you can take advantage of some of the best training and tools in the world to help serve our existing and new customers. As a Senior Customer Service Advocate, you'll provide our members with the information they need to make better decisions about their health, helping them get access to the right care the first time. Every day, you'll provide compassionate and empathetic support to 50 to 85 callers providing guidance, support, and resolution for escalated issues. This is no small opportunity. This is where you can bring your compassion for others while building your career.
This position is full-time (40 hours/week) Monday – Friday. Employees are required to have availability to work during our normal business hours of 9:00am – 6:00pm EST. It may be necessary, given the business need, to work occasional overtime.
*All Telecommuters will be required to adhere to UnitedHealth Group's Telecommuter Policy.
Primary Responsibilities:
Serve as a resource or Subject Matter Expert for team members or internal customers
Handle escalated calls, resolving more complex customer issues
Demonstrate outstanding service to identify the source of the caller's issue and work to resolve the inquires in a timely and professional manner
Help guide and educate customers about the fundamentals and benefits of consumer-driven health care topics such as selecting the best benefit plan options, maximizing the value of their health plan benefits and choosing a quality care provider
Contact care providers (doctor's offices) on behalf of the customer to assist with appointment scheduling or connections with internal specialists for assistance
Assist customers in navigating myuhc.com and other UnitedHealth Group websites while encouraging and reassuring them to becoming self-sufficient with our tools
You'll be rewarded and recognized for your performance in an environment that will challenge you and give you clear direction on what it takes to succeed in your role as well as provide development for other roles you may be interested in.
Required Qualifications:
High School Diploma / GED (or higher)
1+ years of customer service experience OR experience in a medical office, health care, call-center OR office setting analyzing and solving customer problems
Familiarity with computer and Windows PC applications (including the ability to navigate and learn new and complex computer system applications)
Proficiency in translating health care-related jargon and complex processes into simple, step-by-step instructions customers can understand and act upon
Ability to work full-time, Monday – Friday between 9:00am – 6:00pm EST including the flexibility to work occasional overtime given the business need
Preferred Requirements:
Health care experience
Knowledge of billing/finance and eligibility processes, practices and concepts
Telecommuting Requirements:
Required to have a dedicated work area established that is separated from other living areas and provides information privacy
Ability to keep all company sensitive documents secure (if applicable)
Must live in a location that can receive a UnitedHealth Group approved high-speed internet connection or leverage an existing high-speed internet service
Soft Skills:
Demonstrated ability to listen skillfully, collect relevant information, build rapport and respond to customers in a compassionate manner
Proficient conflict management skills including the ability to resolve stressful situations
Careers with WellMed. Our focus is simple. We're innovators in preventative health care, striving to change the face of health care for seniors. We're impacting 90,000+ lives primarily Medicare eligible seniors in Texas and Florida, through primary and multi-specialty clinics, and contracted medical management services. We've joined Optum, part of the UnitedHealth Group family of companies, and our mission is to help the sick become well and help patients understand and control their health in a lifelong effort at wellness. Our providers and staff are selected for their dedication and focus on preventative, proactive care. For you, that means one incredible team and a singular opportunity to do your life's best work."
CLICK HERE for full details and to apply. For more jobs like these, check our Newest Jobs & Gigs page. To be the first to hear about jobs like these, like our Facebook page and check your feed for our posts. May you be working from home soon!
PLEASE SHARE this post – turn your friends into Rat Race Rebels!