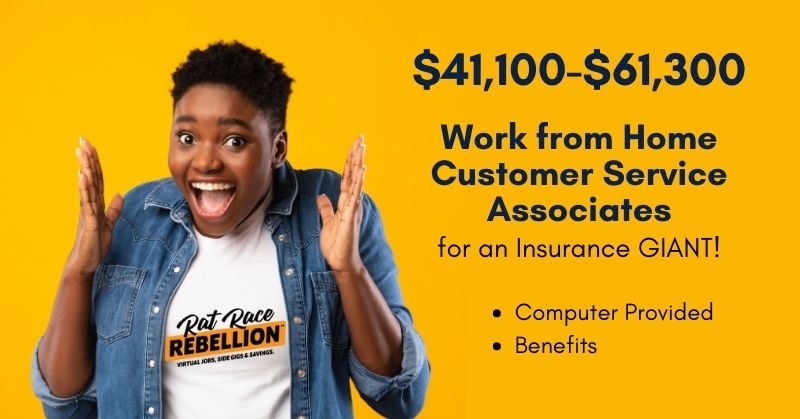 by Chris Durst        Mar. 14, 2023
Prudential, the big insurance company, continues to recruit work from home Customer Service Associates.
They are hiring nationwide in the United States for this position.
The salary range for this role is from $41,100.00 to $61,300.00. These are full-time positions. Benefits begin on the first day.
Paid training is also included.
You must provide the internet connection, but it appears that the company will be providing a computer.
Here's what Prudential has posted about this opportunity:
"Prudential aspires to make lives better by solving the financial challenges of our changing world! At Prudential, our Customer Service Professionals are the first point of contact with our customers and our goal is to provide a customer centric, low effort experience for customers with complex financial needs.
We offer paid training and benefits on day one including tuition reimbursement, paid volunteer days, generous paid time off; vacation, paid holidays, personal days and a reward and recognition plan that includes pay for performance compensation.
We are now hiring Customer Service Professionals who will train and work virtually in the comfort of your home! Join the Prudential team now for this amazing opportunity to launch your career while enjoying all the benefits of being at home.
We are looking for individuals who are self-starters, dependable to their core, and can take ownership of their work and be the advocate our participants deserve. Candidates should also be:
Customer obsessed and engaging communicators who enjoy working directly with the customer and a team
Committed to owning customer issues from start to finish
Looking for long term career growth
Able to learn, retain, and solution on numerous plan nuances, and multiple product offerings.
Intrigued by technology and uses it to drive customer self-service and to help identify and drive opportunities to enhance processes
Able to think on their feet and be flexible with creating solutions for a variety of personalities and customer types
Capable of shaping the customer experience and efficiently troubleshooting challenges across multiple channels
Able to identify other potential customer needs and offer tailored solutions that improve financial wellness
Keen problem solver that connects with each customer with compassion
What you can expect:
Build a career with a great company with exposure to multiple parts of the business
Fast paced, dynamic environment
Tiered promotional opportunities based on performance
This is more than a contact center ……this is an opportunity to build a career while improving lives through financial wellness
Qualifications:
Four-year college degree strongly preferred
Strong people skills.
Proven record of dependability. Punctual and reliable attendance of the service associates is critical to the success of a fast moving, inbound service center!
Financial services industry knowledge is a plus.
Must be able to learn & retain a large amount of technical information in a relatively short period of time.
Must be receptive to detailed and frequent performance feedback.
Proficiency with a keyboard and window-based applications, including Internet.
Proven self-motivation skills.
Active listening skills.
Excellent oral and written communication skills.
Ability to excel in a team environment, as well as work well independently.
Organization and prioritization skills.
Ability to think like the customer, with a passion to deliver top quality service
Training will likely be 9:00am to 5:00pm Eastern Time but will be determined in advance of the training start date. Must be available for these hours – again, these are in the Eastern Time Zone.
Job offer is contingent upon successful completion of pre-hire requirements.
The Retirement call center is open from 8:00am to 6:00pm Eastern Time Monday through Friday. To be considered, candidates must have the flexibility to be able to work any of the shift times within those hours. Actual shift assignments will not be determined prior to hire.

Additional Information:
This position will work virtually; therefore, new hires must be able to provide the following:
High speed internet service must be available in your area. You must be willing to troubleshoot any issues or outages with your home internet service, contacting your service provider as necessary. The internet service cannot be wireless, and the internet speed requirement is: 3.0 mg downstream and 768k upstream.
Must have the capability to handle calls with a cell phone (would need to have unlimited data and minutes) or a landline. You will be logging into Avaya therefore your personal phone number will not be identified to customers.
Candidates must also be comfortable with working at home, setting up equipment, and utilizing multiple systems on multiple screens.
Note: Prudential is required by state specific laws to include the salary range for this role when hiring a resident in applicable locations. The salary range for this role is from $41,100.00 to $61,300.00. Specific pricing for the role may vary within the above range based on many factors including geographic location, candidate experience, and skills. Roles may also be eligible for additional compensation and/or benefits. Eligibility to participate in a discretionary annual incentive program is subject to the rules governing the program, whereby an award, if any, depends on various factors including, without limitation, individual and organizational performance. In addition, employees are eligible for standard benefits package including paid time off, medical, dental and retirement."
CLICK HERE for full details and to apply. For more gigs like these, check our Newest Jobs & Gigs page. To be the first to hear about gigs like these, like our Facebook page. Good luck in your next steps toward working from home!
PLEASE SHARE this post – turn your friends into Rat Race Rebels!