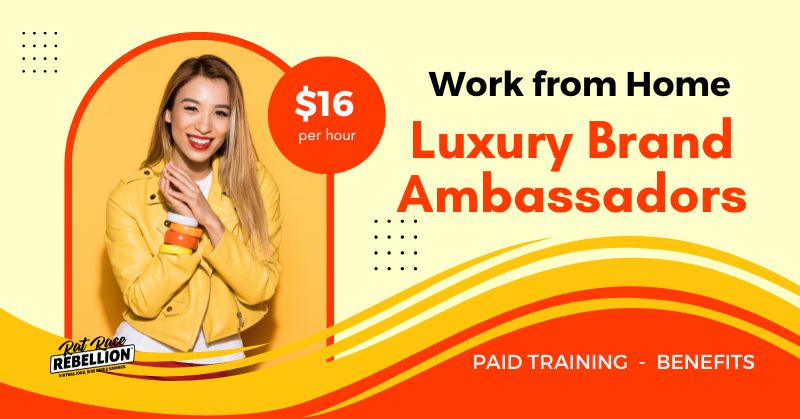 by Chris Durst        Aug. 15, 2022
Activus Connect has posted openings for Work from Home Luxury Brand Ambassadors.
In this role, "you would be taking inbound calls from customers to help them navigate the website for the client, and answer product-related questions for them."
The base pay rate for this job is $16/hour, and there is an opportunity to increase that by $1/hr based on great attendance and sticking to your schedule.
The company has paid training, and a comprehensive benefits package that kicks in after 60 days.
It appears that they may not be hiring in AK, CA, CT, DC, DE, HI, IA, ID, IL, MT, ND, NH, NJ, NM, NY, OR, UT, WA and WY.
Here's what the company has posted about this opportunity:
"Activus Connect is looking for Brand Ambassadors to take calls for a luxury fashion client.
Do you have an interest in fashion? Are you a fan of luxury fashion and merchandise brands? Do you enjoy the thrill of helping a customer find just the right product for them? This may be the job for you.
Some details about the position:
This position is completely remote, but you may be asked to visit one of the clients stores locally as part of the training to familiarize yourself with the brand.
This would be a one-time visit to help you get a feel for the products and the vibe of the business.
We have classes beginning in the next few weeks, so no waiting for months to begin work.
You would be taking inbound calls from customers to help them navigate the website for the client, and answer product-related questions for them.
An eye for fashion, and an interest in luxury brands is a must for this position.
An upbeat, warm personality is paramount as you will be representing the brand in every interaction with customers.
Position Information:
The base rate is $16 per hour, with the opportunity to earn an additional dollar per hour through attendance and schedule adherence.
We offer benefits like health, dental, vision, PTO, etc after 60 days of employment.
We offer fully paid training for this position.
We are a fully virtual company, dedicated to providing the best support for both our clients and our employees.
You will be using your own computer system for this position. Below are the technical requirements for your computer.
Windows Computer, running Windows 10
Minimum 2GHZ processor
Minimum 4 GB of RAM
Wired USB headset for taking calls
Wired keyboard/mouse
Webcam for training (you will be on camera for training), meetings, and coaching sessions.
For your application you will need to take a screenshot of your computer's technical specifications that show Operating System, Processor, and RAM from your system settings. Additionally you will need to run a speedtest using this link and attach a copy of that as well. You will need to provide a photo of YOUR home workspace for your application, to ensure it meets our requirements. These items must be provided in order for you to be eligible to move into the interview stage with us for this position."
CLICK HERE for full details and to apply. For more jobs like these, check our Newest Jobs & Gigs page. May you be working from home soon!
PLEASE SHARE this post – turn your friends into Rat Race Rebels!
[social_warfare]